The tens of thousands of pythons pulsating through the Everglades have essentially no natural predators in Florida to keep them in check.
Except for right now — as more than 600 human hunters scatter across the subtropical wilderness to bag as many Burmese pythons as they can.
It's all part of Florida's Python Challenge 2016, which began in mid-January and wraps up Sunday. During this period, people who register with Florida's Fish and Wildlife Conservation Commission are encouraged to hunt the creatures — and for good cause.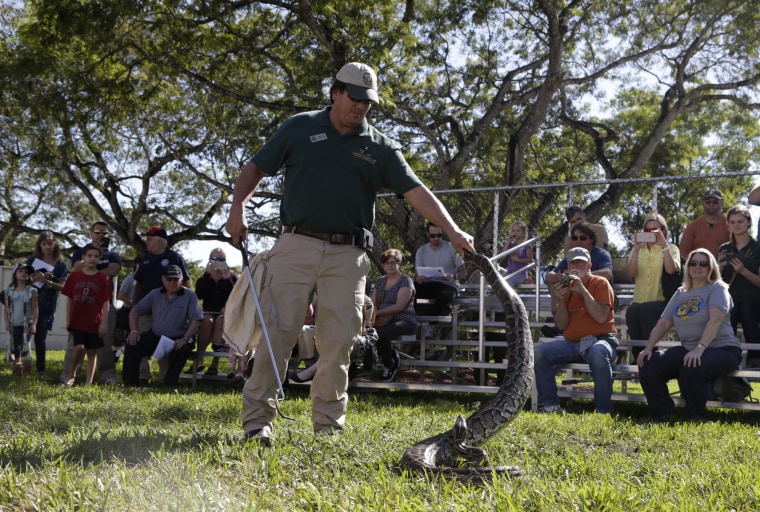 Scientists fear the invasive species might wipe out certain native mammals. Raccoons, rabbits, foxes and even the Florida panther could all be at risk.
For the more masterful hunters, some $16,000 in prize money will be awarded during a ceremony later this month. Teams and individuals can earn a bounty based on how many pythons they've killed or if they catch the longest one.
Either way, it's no easy feat.
Related: Squeeze Play: Cops Save Shop Owner Attacked by 20-Foot Python
"This is the hardest thing that anybody's going to hunt," python pursuer Dusty Crum told NBC News. "It's a 2-foot needle in a 100 million-acre haystack."
The snakes can grow up to 26 feet and weigh a monster 200 pounds.
Snake slayers such as Crum have captured at least 102 of the slithering serpents during this year's hunt — already surpassing the 68 total in 2013, when the first and only other challenge was held, wildlife officials said.

Helping ambitious adventurers this year are cooler temperatures that have blanketed the Sunshine State. During the day, the cold-blooded reptiles come out into the open to warm up.
Crum, along with his hunting partner, Bill Booth, have been exceptionally lucky this year compared with 2013.
In the first 3-1/2 hours of the hunt's opening, they already killed one python. Three years ago, Booth said, it took seven days before they glimpsed even one.
"To get this one early on is amazing," he added. "I hope it's not a jinx that we're not going to see another one throughout."
Photos: 18-Foot Python Captured in Florida Everglades
Despite their early success, both Booth and Crum acknowledge the harm the snakes have had on animals and the delicate Everglades ecosystem.
Making matters worse is that the female pythons can lay as many as 100 eggs at a time.
The pythons originated from Southeast Asia, and were initially sighted in the Everglades in the 1980s.
Researchers believe a private reptile-breeding facility in the Everglades damaged during Hurricane Andrew in 1992 helped the snakes to break free and multiply in the wild.
In addition, officials said, irresponsible pet owners have abandoned their snakes once they grow too large and unruly for the home.
While more than 2,000 pythons have been removed from the area since 2002, officials said, the lack of predators has allowed the population to swell to over 100,000.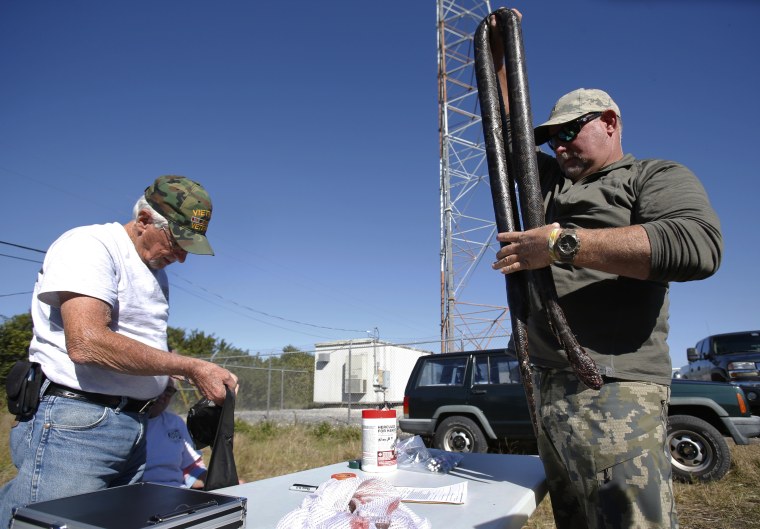 For Floridians like Crum, the state-sanctioned Python Challenge is a chance to keep the species under control.
"I grew up in this area and it's my backyard as a kid," he said. "I've come to hunt these snakes to do my part, to keep it as natural as they used to be."
To curb the snakes' growth, Florida six years ago made it illegal to keep pythons as pets, while the federal government has prohibited importing or transporting them across state lines without a permit, according to the Naples Daily News.
"This is the hardest thing that anybody's going to hunt. It's a 2-foot needle in a 100 million-acre haystack."
Hunters during the challenge are encouraged to use firearms to blast the snakes in their heads instantly.
PETA, while it isn't outright opposed to the hunt, has asked hunters not to hack the creatures' heads off, which the animal rights group says forces them to "writhe in agony for hours if their brains are not immediately destroyed."
But it's not so much the kill, but the thrill of the chase and the head-to-head combat with the non-venomous snakes that has Crum ready to pounce.
"It's just a frenzy when you see a big snake and he's striking at you and you're dancing with him," Crum said. "I get high for a little bit. ... It's definitely an experience that I love."