"Saturday Night Live" set phasers to blast, as the cast and host Scarlett Johansson took aim at the Trump administration in a number of sketches on the late night program.
Alec Baldwin once again appeared as President Donald Trump in the cold open, but this time he addressed a satirical future crisis in 2018.
Aliens have invaded Earth in 2018 — and "they did not come in peace." While Baldwin's Trump is in a position to give an inspiring speech (à la "Independence Day") to a group of American soldiers battling the extraterrestrials, he stumbles from the start.
"What a beautiful day," Baldwin's Trump exclaims, dressed in a green bomber jacket. "Who here loves Trump?"
"I know this guy over here — he loves Trump," he says pointing at a charred and smoldering corpse.
A general, played by longtime "SNL" cast member Kenan Thompson, asks Trump what they should do.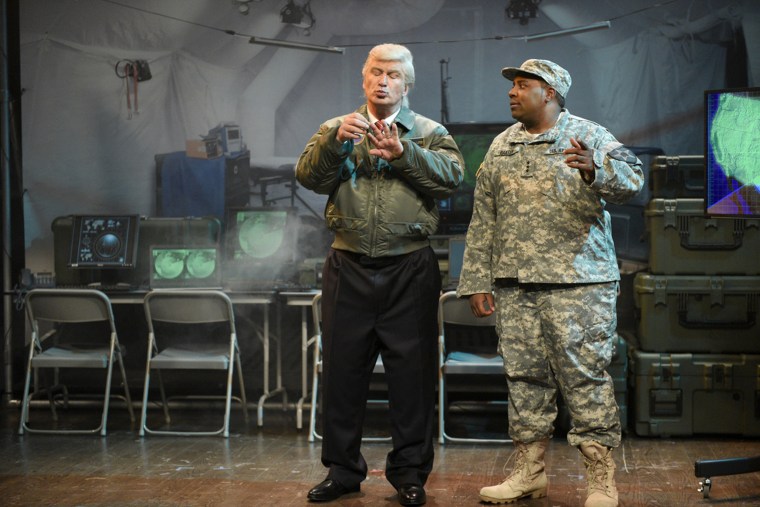 "Here's what we're going to do," Baldwin declares. "We're going to bring coal back. We're going to have so much coal that you're going to say, 'Where did all this coal come from? I never knew there could be this much coal.'"
What about the aliens vaporizing the state of California? Thompson asks.
"So then I won the popular vote?" Baldwin's Trump quickly responds.
The president then questions whether the alien home world was really so bad, blasts NBC — though he liked the show "This is Us" — laments the loss of Trump Hotel in New York, celebrates conspiracy theorist Alex Jones and his radio show InfoWars as a "very reputable source" and then bumbles his way through the Pledge of Allegiance.
When Bobby Moynihan shows up in the guise of an alien, he demands to be taken to the leader.
Though Baldwin-as-Trump tries to pass the buck to his general, the alien is pleasantly surprised to learn who is actually the president.
"Really?" he said, looking at Trump. "This is going to be so easy."
"SNL" then directed its attention to another Trump family member with a filmed segment featuring Johansson as Ivanka Trump. Pseudo-Ivanka stars in in a perfume commercial parody titled "Complicit."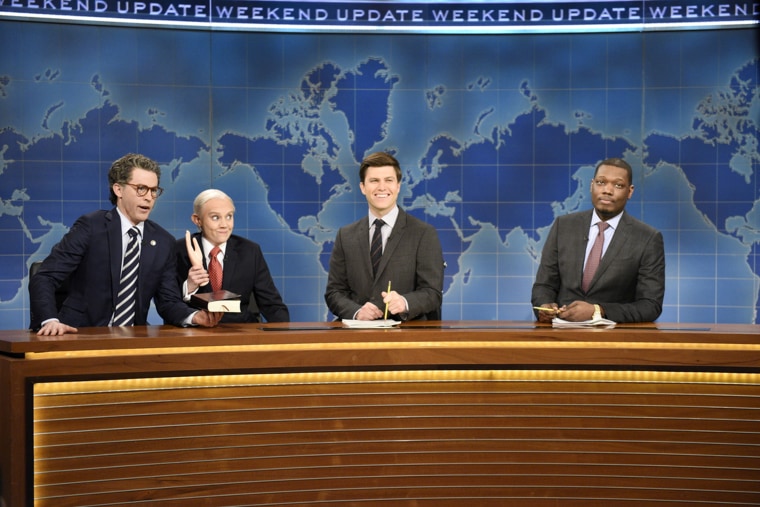 "She's Ivanka. And a woman like her deserves a fragrance all her own," the whispered voice-over says. "A scent made just for her. Because she's beautiful, she's powerful — she's complicit."
The show then continued on the Trump administration train, taking aim at Jeff Sessions and the recent discovery that he had met with the Russian ambassador. Kate McKinnon reprised her role as the attorney general on "Weekend Update" alongside Democratic Sen. Al Franken as played by Alex Moffat.
The two are "actually great friends," McKinnon, as Sessions, declares. While the attorney general took Franken white-water rafting, the senator shared "Jew stuff" like matzo ball soup and the word "schmear."
Moffat took on the ho-hum style of Franken. "We had lunch at a deli," he deadpans.
McKinnon and Moffat then engage in a back-and-forth in which the senator attempts to get the attorney general to "correct the record."
Antics ensue, including a fake hand placed on the Bible, the different Southern pronunciations of "lawyer" and "liar" and an exploration of the different types of "maybes."
The show also provided a sympathetic view of Trump supporters — albeit from a dog's perspective.
Johansson, acting as a scientist, gives her dog Max the ability to speak with the invention of a dog translator. In front of a few supervisors, Max provides his coherent support for Trump, which is met poorly by those in the room.
"I like Trump — he's my man," the dog, voiced by Beck Bennett, says.
"Trump has issues, but one big change is [it's] better than business as usual," Max adds, pointing to the rise in the stock market, taxes and healthcare as reasons to support the new president.
"Trump is bad," Johansson exclaims. "Trump is a racist."
The others in the sketch were quick to agree with the criticism, one even brandishing a gun and threatening to put the dog down.
"You just assume because I'm a Trump supporter that I'm a xenophobic racist," Max responds.
Luckily, the dog — played by a pug — is cute, Johansson says. The entire exchange then leads to an important moment of reflection.
"It's okay, Max," the actress says. "I love you no matter what. We just have to learn to respect each other's point of view, I guess."