The relentless winter of 2014 has taken a toll on everything from airlines and road budgets to vineyards and livestock.
Now school districts are scrambling to figure out how to make up classes lost due to the cold and snow.
Schools in at least 10 states have run out of wiggle room in their academic calendars, The Associated Press reported, forcing schools to cut short planned breaks, hold class on holidays, add extra days to the end of the year or otherwise compensate for the lost time.
Students will make up at least three days in Philadelphia and New Haven, Conn., and two in Washington, D.C. Delaware schools have missed a week's worth of class, and more than half of Maryland's school districts reached or exceeded their allotted snow days. Boston is extending its school year by nearly a week.
Schoolchildren cheer the surprise breaks, but the price will be sitting in class as summer vacation beckons.
"It's crazy. The kids are going to school at the end of June," said Jonathan Selig, a stay-at-home dad from Halifax, Mass. "Most of the schools aren't air-conditioned, so it's not really a conducive learning environment."
"There's no playing around with the life of a child."
After a major storm-preparation-miss in January, Georgia officials are warning residents to get off the roads by Monday afternoon and Atlanta Public Schools announced on Monday afternoon that they would be closed Tuesday and Wednesday.
Georgia Gov. Nathan Deal said it was "almost a certainty" that schools spanning the state would be closed Wednesday, meaning schools that have surpassed their allotment of snow days will most have even more class hours to make up.
Boone County School District in Kentucky, which has already racked up 11 snow days, made headlines last week when one of their elementary school principals chose to announce yet another cancellation to the melody of Queen's Bohemian Rhapsody.
Any amount of snow causes the district to call off school, said Barbara Brady, the community relations coordinator for Boone County, because the district spans 450 square miles. Roads may not be passable in some areas even if they are in others. Still, Brady said she doesn't remember a time when Boone had to cancel so often. "We haven't seen a winter like this in many years," she said.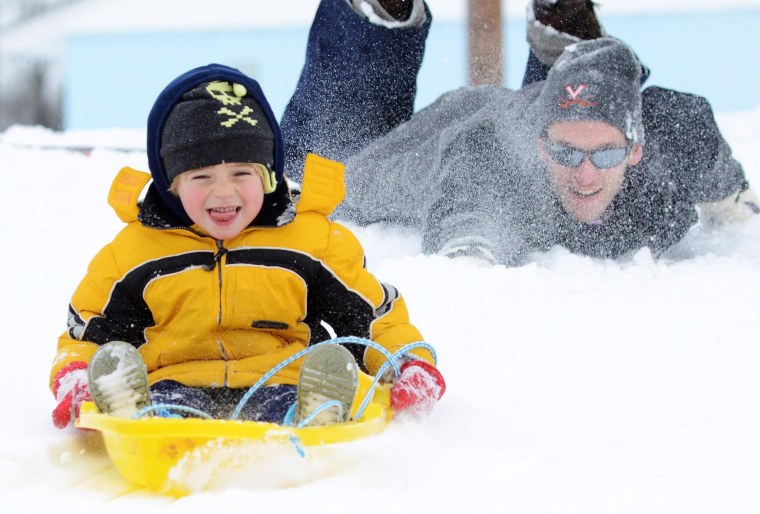 Brady said she agreed with every day called off because "there's no playing around with the life of a child."
School officials agree that snow days and cold-weather days are necessary to ensure safety, but struggle to find ways to compensate for the classroom time while keeping parents and students content.
The amount of calamity days allotted to schools varies by state, said Elaine Quesinberry, a spokeswoman for the U.S. Department of Education, but states require an average amount of 180 in-class days per year, according to the National Center for Education Statistics.
Logan-Hocking schools in Ohio have a different plan to make up for the exceptional 14 days the district has been forced to cancel classes due to weather. The state allows five calamity days so the district plans to cut into students' spring break.
"Psychologically, in June they're ready for summer break," said Trina Barrell, Logan-Hocking's director of curriculum and instruction.
"It's hard when people have plans," Barrell conceded, adding that parents and students gripe about the diminished vacation time.
But students and parents in Ohio may be able to keep at least part of their spring break plans due to a proposal by Ohio Governor John R. Kasich, in which he suggested that the Ohio Department of Education increase the number of snow days allowed.
"Many schools have already hit the maximum number of snow days, or will soon, and if they exceed it and have to extend the school year it can wreak havoc with schools budgets and schedules," Kasich said in the proposal he released on Jan. 27.
"You're kinda darned if you do darned if you don't."
Ohio's senate has yet to approve the bill, and the governor did not specify how many extra days off the schools should be allowed, but "we're deferring to the legislature to put together a solution," said Kashich's spokesman, Robert Nichols.
Barrell agreed with the governor that the winter has been extraordinary. "We don't usually use our five snow days," she said.
Barrell said Logan-Hocking's superintendent is "conservative" with snow days, but he still can't make all parents happy.
Parents get frustrated, she said, when cancellations aren't announced far enough in advance, but calling school off too soon can lead to an even more contentious reaction. "When they really get upset is when we cancel school the night before and we didn't have to," Barrel said.
"You're kinda darned if you do darned if you don't," she added.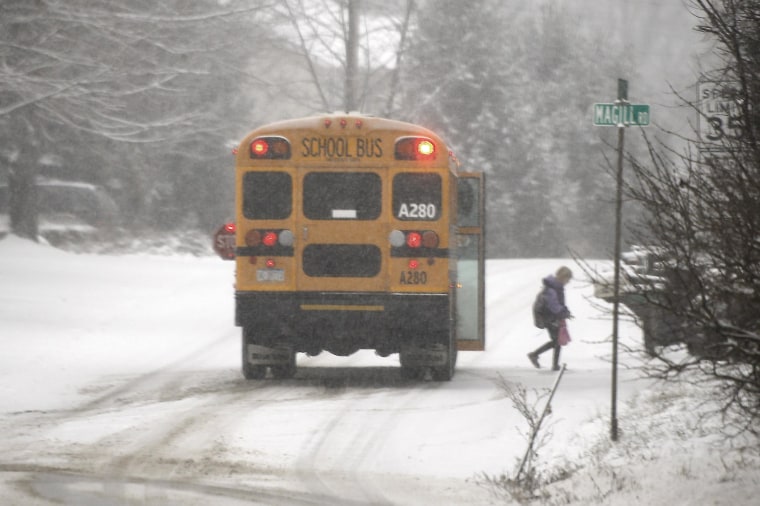 The Associated Press contributed to this report.