Old Man Winter showed no signs of slowing down Friday after pounding the Northwest and Arkansas with snow while crews scrambled to get the power back on for hundreds of thousands of customers in Pensylvania and Maryland.
Snow brought parts of western Oregon and southwest Washington to a practical standstill Friday, shuttering businesses and snarling traffic. Eugene (shown above) and downtown Portland were blanketed as the region was walloped by the second winter storm in two days.
Collisions on Interstate 205 southbound at Oregon 212 and on Interstate 84 westbound near Rooster Rock around 3 p.m. Friday brought traffic to a halt in the area, according to NBC affiliate KGW in Portland.
A collision closed Interstate 5 northbound roughly nine miles north of the city of Albany for about an hour Friday afternoon. And even after the freeway reopened, the traffic was still moving at a snail's pace, the station reported.
The second storm was expected to dump a foot or more of snow in mountainous parts of southern Oregon and 2 to 8 inches in western Oregon valleys that got hammered Thursday, according to the National Weather Service.
Snow will then likely give way to freezing rain Friday night and Saturday in many areas, turning roadways into ice rinks and boosting the chance of downed power lines, forecasters said.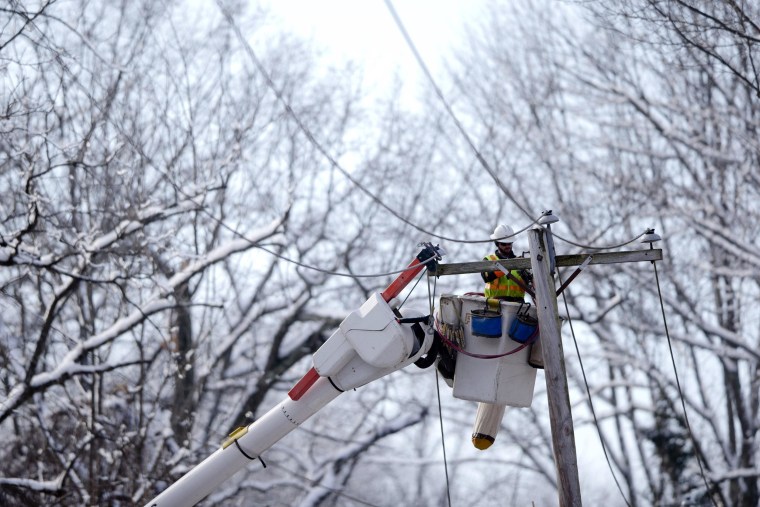 The first storm dropped upwards of a foot of snow on parts of the Pacific Northwest on Thursday and left at least one person dead in an Interstate 5 pileup in southwest Washington, according to the Associated Press.
In central Arkansas, several inches of snow that fell Friday evening brought traffic around Little Rock to a halt. Images on NBC station KARK's website showed lines of vehicles halted in the dark. Some drivers reported being stuck for hours.
Meanwhile, electrical teams worked Friday to reconnect nearly 300,000 customers in Pennsylvania and Maryland as utilities companies warned that some will have to wait several more days.
The vast majority of the power outages Friday were in the Philadelphia suburbs, where several schools were closed for a third day. A spokesman for PECO Energy, the largest electric and natural gas utility in the state, said roughly 250,000 customers were without power late Friday afternoon.
"That number is coming down throughout the course of the day," said PECO spokesman Fred Maher. "We are preparing people for the fact that some folks will be without power over the weekend."
PECO told NBC Philadelphia that the storm was the second worst in company history — as well as the worst winter storm outage ever.
"This is the second-largest storm in terms of customer interruptions that we've had right behind Sandy," PECO spokesman Greg Smore told the station. "We had a total of 715,000 customers without power."
Bone-chilling temperatures that smacked the Mid-Atlantic region Friday were not expected to warm up for days. Forecasters said light flurries were possible over the weekend.
In Maryland, power has been restored to all but roughly 16,000 homes and businesses.