Kevin and Labriah Holt have made their position on reopening during the pandemic clear.
"Yes, sis. We are still closed," reads a post on the Facebook and Instagram pages of Sweetroots Hair Bar, the couple's Atlanta salon.
"We can't wait to welcome all our Sweetroots family back when it is safe to do so," the post says. "That will not be this Friday."
The couple said they are waiting on cues from public health experts in Atlanta and Washington about when to reopen given the number of coronavirus cases in Georgia.
They will not be relying on the guidance of Gov. Brian Kemp, whose plan, announced Monday, gives some businesses, including gyms, hair and nail salons and bowling alleys, permission to reopen Friday. On Monday, restaurants are allowed to resume dine-in service, and movie theaters and other entertainment venues can reopen. The governor's decision drew swift rebukes from mayors and criticism Wednesday from President Donald Trump.
"I love those people that use all of those things — the spas and beauty parlors, barbershops, tattoo parlors," Trump said Wednesday, a day after he had praised Kemp during a White House briefing. "I love them. But they can wait a little bit longer. Just a little bit — not much. Because safety has to predominate."
Full coverage of the coronavirus outbreak
The Holts agree. For them, the decision came down not to dollars but to sense.
Kevin Holt said he believed it was his social responsibility to keep the salon closed.
"The risk isn't worth the reward," Kevin Holt told NBC News on Wednesday. "And when you think about the consequences of COVID-19 — and we've seen the health disparities, we've seen how it's decimated a lot of our community — the upside of getting our hair done is just not worth the risk, the health risk they're associating with it."
Georgia has more than 21,000 confirmed cases of the coronavirus, with 872 deaths, reported as of Thursday, according to state health data.
"And so, knowing that's the case, we would not put this community further at risk by having an unnecessary, unessential service being delivered, such as hair services," he said.
The Holts have fielded inquiries from their many clients about when they plan to reopen.
Kevin Holt said he believes it is better to sacrifice now than to reopen prematurely.
Besides, he said, it is not possible to maintain a distance of 6 feet while doing someone's hair.
Atlanta Mayor Keisha Lance Bottoms has not wavered in her belief that it is too soon to restart the state's economy, which has made her the target of attacks.
On Wednesday, Bottoms uploaded a screenshot of a racist text message — in which she was called the N-word and told to reopen Atlanta — to her social media accounts. She said she received it with her daughter looking over her shoulder.
Bottoms has said she finds Kemp's decision disturbing, especially considering the impact it could have on African Americans.
"Think of our physical imprint in the African American community," she said during an appearance on the "TODAY" show Wednesday. "There are beauty and barbershops nearly on every corner.
"And so when you are opening up businesses like this and you are inviting people in that you have to have close contact [with], it seems to be irresponsible that you are piling on on a community that is already suffering," Bottoms said.
Had she had an opportunity to speak with the governor before he announced the plan, Bottoms said, she certainly would have relayed those concerns.
Bottoms, whose mother owned a salon for almost 25 years, has started a cosmetology relief fund named Strength in Beauty to assist those economically affected by COVID-19. She said the first donation was from Keisha Lance Bottoms for Mayor Inc. in the amount of $10,000.
Download the NBC News app for full coverage and alerts about the coronavirus outbreak
Sabra Dupree, owner of Kids Kuts Salon in Marietta, will be open for business Friday.
"We have the appointments scattered and masks to accommodate staff and clients," Dupree said Thursday. "We cannot social distance this virus into nonexistence."
Dupree has rearranged her salon and removed workstations and she is reducing the number of stylists and clients allowed in the salon at a time to follow the governor's social distancing and hygiene requirements for the businesses reopening Friday. She will also be taking the temperatures of customers before they can enter the salon. Anyone with a fever will be turned away.
Susan Grier, who has owned a hair salon in Georgia since 1997, said she plans to keep her business closed until at least May 13.
"My husband is retired, and so we are doing OK," she said Thursday. "But my feeling is you should keep yourself and others safe."
Grier said that while she understands the concern about restarting the state's economy, she thinks it is a bit too soon for businesses to reopen.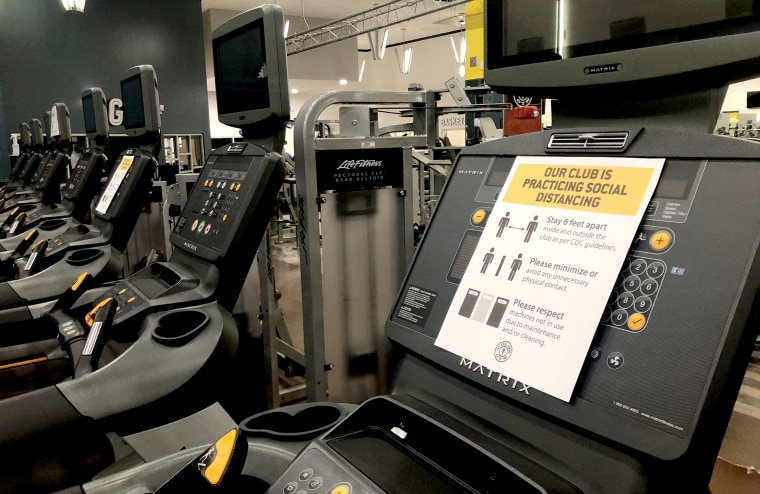 Trainers at Gold's Gym in Lawrenceville will be educating people not only on exercises when they return to work next week but also on how to properly sanitize equipment in the facility.
Adam Ponzio is having a staff meeting Friday ahead of the gym's reopening Monday. On every other piece of cardio equipment will be a sign reminding people of social distancing guidelines.
Ponzio will suspend services that he does not believe can be offered while maintaining social distance, including group fitness classes, tanning and child care. The basketball court and the sauna will also be closed for normal use for the time being. The group fitness room and the basketball court are being repurposed for people to work out while staying 6 feet apart. Staff members will distribute microfiber towels to gymgoers, and sanitizing efforts will increase.
Trainers will also be equipped with sanitizing spray.
"Our personal trainers will actually be carrying a spray bottle with them at all times when they train so that they can get to things," Ponzio said. If they see people who do not properly sanitize machines they have used, they can "talk to them, educate them and coach them." Or they can spray it themselves.
In the two or so weeks the facility has been closed, Ponzio said, it underwent deep cleanings, from the ceilings to the floors.
"We want Gold's Gym to be prepared for people that feel like they are ready to come and be a part of the gym again," he said.
Bo Dorough, the mayor of Albany, one of the areas in Georgia hit hardest by the virus, said he asked Kemp for an exemption to keep stricter measures in place in his city but was denied.
Dorough said that he did not speak to the governor directly but that it was his understanding that the governor's office felt it was important to have uniform restrictions statewide.
He said he will continue to implore Kemp to reconsider for any hot spot, but particularly Albany, Dougherty County and their surrounding areas, where the rate of infections is very high.
"This battle is not going to end on a truce. The virus is not going to raise a white flag," Dorough said. "So we, as a country, and states and local governments have to formulate a better path to reopening the economy under the situation that we're facing."