CHICAGO — As the nation mourned the deaths of 31 people in mass shootings in El Paso, Texas, and Dayton, Ohio, some Chicago neighborhoods experienced their most violent weekend of the year with 59 people shot, seven of them killed.
While many Americans are expressing fear and anxiety about mass shootings in public places, residents of Chicago's West and South Sides say they have lived with an epidemic of gun violence for decades and know the loss the rest of the nation is experiencing.
"We deal with this every day," said Edwin Taylor, 43, who lives in the Austin neighborhood on Chicago's West Side. "Mass shootings are terrible and my heart goes out them, but what people need to understand is that it happens over and over in our neighborhoods."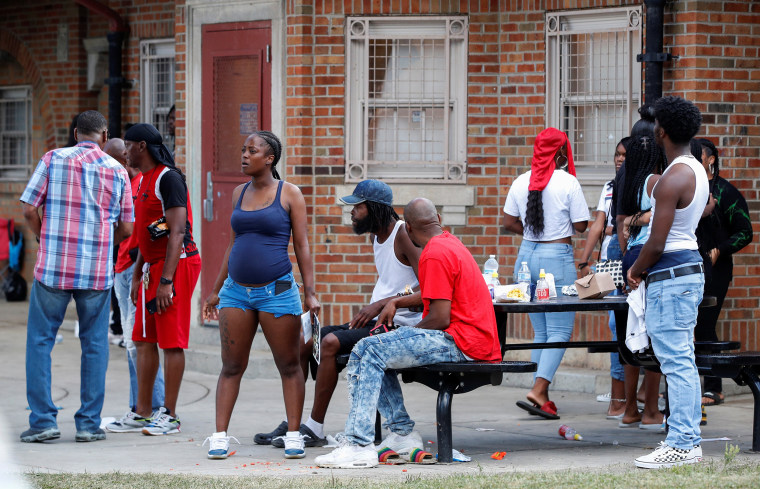 More than four dozen people were hit with bullets in 32 separate shootings over the weekend, according to Chicago police.
Early Sunday morning, seven people were shot when a gunman opened fire on a group near a park on the West Side. Hours later, gunfire erupted at a nearby block party, leaving one dead and seven wounded.
There were so many gunshot victims that one hospital administering to them, Mount Sinai, stopped temporarily stopped accepting them early Sunday morning, hospital officials said in a statement.
Over 1,500 people have been shot— nearly 300 fatally — in Chicago this year, according to The Chicago Tribune.
"We could be at a mall, we could be at a movie, and I'm constantly scanning my surroundings, just making sure we're not in harm's way because we know it happens and we've seen it happen a lot," said George Velazquez, 55, who lives on the West Side.
When gunfire breaks out in these neighborhoods, he said, no one says, "Oh, my gosh" as if it were a rare occurrence.
"Other places got a glimpse of it, and it's terrible and traumatizing and they will never be the same, but they have a chance to heal. We never get that chance to heal because it's happening every day," said Corniki Bonds, 40, who lives on the West Side and lost her only son to gun violence two years ago.
"That feeling of constant threat takes your comfort away," she added.
Although any gun violence is traumatic, the narrative surrounding mass shootings is much different than that of deadly shootings in poor neighborhoods, said Laura Wilson, a psychology professor at the University of Mary Washington in Fredericksburg, Virginia.
"The narrative is typically that mass shooting victims are innocent people who were just living their lives, while other gun-related deaths are wrongly assumed to be deserved," she said. "They are seen as gang-related or drug-related violence, but in actuality, when you read more closely, it's typically innocent bystanders that are just going to church or going out shopping."
All shootings are tragic, Wilson said, and any conversation about stemming gun violence should include places like Chicago.
Shootings in Chicago's poorest neighborhoods do not evoke the same sympathy that a mass shooting does because they are often thought to be crime-fueled, said Lamar Johnson, 29, a violence prevention coordinator who lives on the city's South Side.
"The compassion is not there. If anything the judgment is there," he said.
People feel the same fear and helplessness the moment a gun goes off, so people should look for solutions that include and help everyone, Johnson added.
While President Donald Trump was mum on Chicago's violent weekend, his daughter Ivanka Trump, a senior adviser, tweeted about it Tuesday.
"As we grieve over the evil mass shootings in El Paso and Dayton, let us not overlook that Chicago experienced its deadliest weekend of the year. With 7 dead and 52 wounded near a playground in the Windy City — and little national outrage or media coverage — we mustn't become numb to the violence faced by inner city communities every day," she wrote.
Chicago Mayor Lori Lightfoot, said the tweet was misleading and made it seem as if the shootings took place in one incident. Lightfoot said it would have meant more if the Ivanka Trump had reached out to help.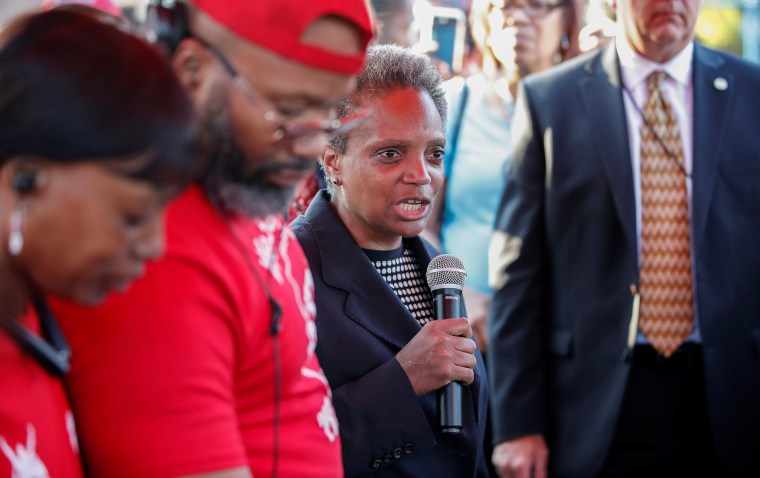 Mass shootings are a collective tragedy, and they can serve as an opportunity for people who are touched by them to connect with and learn from those who deal with gun violence every day, said James Garbarino, a professor of psychology at Loyola University Chicago.
"This can be an opening to get a glimpse of the humanity of people dealing with this kind of trauma and this kind of death toll on a constant basis," he said.
Connecting with one another through a shared trauma is not only good for grieving but effective to take action against gun violence, said Pam Bosley, an anti-gun activist from the South Side whose son was shot and killed more than a decade ago.
"I want people to know that if we don't do anything about it, it will come to your door, no matter where you live," she said. "We can't let these moments divide us and weigh lives against each other to see who matters more. We're all in this together now."