Two days after Hurricane Ida struck Louisiana, leaving hundreds of thousands of customers without power, the mayor of New Orleans said Tuesday that some power might be restored to the city beginning Wednesday.
Mayor LaToya Cantrell said there should be "some level of transmission" to New Orleans late Wednesday, but she cautioned that while the news meant "significant progress" was being made, it did not mean residents could expect the lights to immediately come on across the city.
"The first step is transmission, and there's been significant progress as it relates to that. The next step will be focusing on distribution lines. So we're getting closer. And it could mean we could see some level of electricity or light in the city come tomorrow night," she said. "But, again, the expectation should not be, because it's not a real one, that the entire city would be lit on tomorrow evening."
Cantrell said she got the update from the state's major power company, Entergy, which said earlier Tuesday that it could take several days to complete its damage assessment and give customers an estimated timeline to restore power.
It is not clear whether some power could resume in the wider metropolitan area Wednesday.
Entergy said early Tuesday that the hardest-hit areas should "expect extended power outages lasting for weeks."
St. Charles Parish, an area west of New Orleans that was pummeled by the storm, could be without electricity for "at least a month," local leaders said Tuesday morning.
Louisiana Gov. John Bel Edwards expressed frustration at the prospect of lengthy power outages.
"I know I'm not satisfied with 30 days. The Entergy people aren't satisfied with 30 days. Nobody who's out there needing power is satisfied with that," he said at a news conference Tuesday. "But I am mindful that we just had the strongest hurricane — at least tied for the strongest — that the state has ever experienced, and infrastructure has been damaged."
There were 840,000 customers without power in Louisiana and 25,000 outages in Mississippi at 11 a.m. local time Tuesday, Entergy said in a statement. The company said it had restored power to 85,000 customers after a full day assessing damage.
More than 20,000 linemen, vegetation crews and others are working to restore power, Edwards said. He and Entergy said getting power to critical infrastructure is a priority.
Entergy said: "Essential services such as hospitals, nursing homes, fire and police departments, and water systems are at the head of the restoration list, along with our equipment that supplies electricity to large numbers of customers. Then we will concentrate our resources on getting the greatest number of customers back the fastest."
Ida, which made landfall in southeast Louisiana as a Category 4 storm, took out all eight Entergy transmission lines that supply electricity to the New Orleans area, including Orleans, Jefferson, St. Bernard and Plaquemines parishes, as well as parts of St. Charles and Terrebonne parishes.
Entergy said at least one large tower that spans the Mississippi River collapsed after it withstood Hurricane Katrina in 2005. The tower's conductor landed in the river, the company said. It was not clear whether the others suffered similar catastrophic damage.
Ramsey Green, New Orleans' deputy chief administrative officer for infrastructure, said at a news conference Tuesday that Entergy was assessing all eight transmission lines to determine whether any could be quickly returned to service.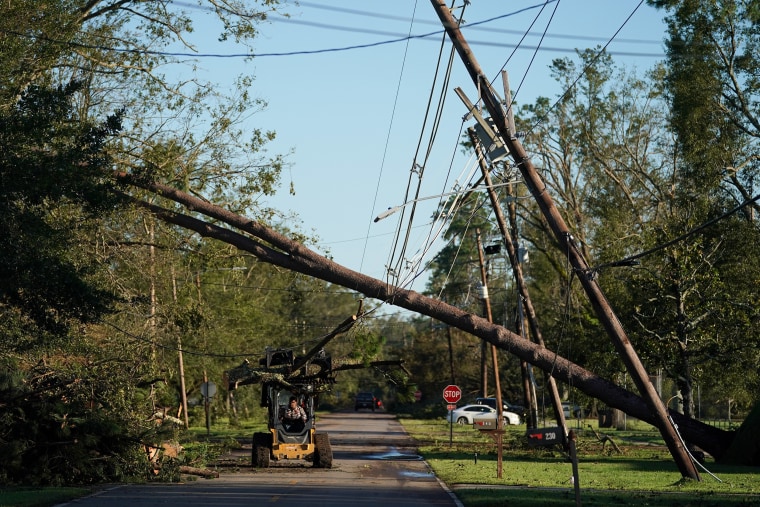 Joshua Rhodes, a research associate with the Webber Energy Group at the University of Texas at Austin, said the 400-foot tower that fell, which held lines from one side of the Mississippi River to the other, could move "massive amounts of power."
"That's a big piece of equipment, and if it has to be custom-built somewhere, that could take months to get back," he said.
Rhodes said the loss of the tower will affect the amount of power that can flow in or out of the area and that it "could have a lasting impact, depending on how much they were counting on that line to be there to serve the load of the city."
For other towers that may need repairs, crews can replace parts or add splints if there are breaks somewhere but the towers are still standing, Rhodes said.
"They'll probably be able to keep it in service even if it has to be replaced later or something like that," he said.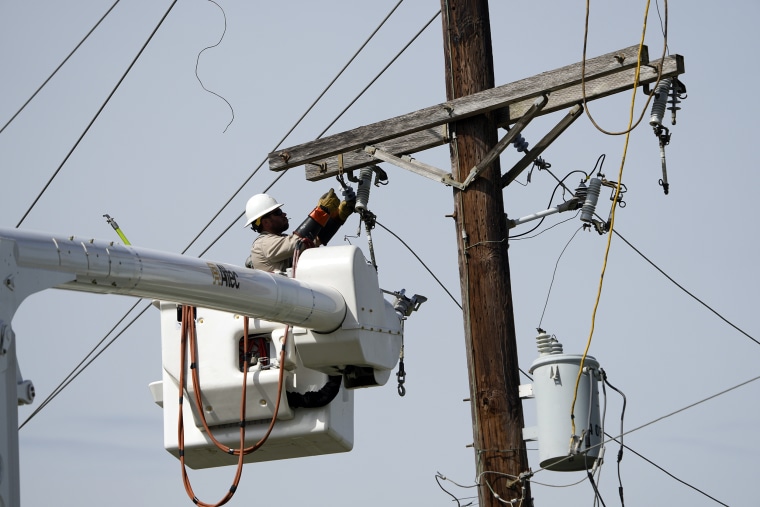 Rhodes said crews are likely to assess and fix the transmission sector as a priority and then address problems like trees that fell onto distribution lines and lines that snapped.
He said the timeline is "really going to depend on how much damage was suffered by the transmission system, because you have to get that up before you can power the distribution network."
"If there's extensive damage in the transmission system, then that can take longer. If that is relatively easier to bring back, then probably a lot of people will get power sooner," he said.
Even in that case, it could be a long time before everybody gets power back, he said, because of "what they call 'the last mile work.'"
"At the very end of the line, the very last customer, that type of thing. It takes a lot of time to do that," he said.