Florence was downgraded to a tropical depression on Sunday as it continued its slog west over the Carolinas, flooding roads and homes, downing trees and power lines and sending thousands to shelters. The storm has been blamed for at least a dozen deaths.
But even as the storm itself weakened, the National Hurricane Center warned early Sunday that "flash flooding and major river flooding will continue over a significant portion of the Carolinas."
More than 400 people were were rescued from floodwaters in New Bern, North Carolina, and officials warned that the flooding risk was not over. Rivers in North Carolina could crest as late as Wednesday, said Gov. Roy Cooper.
"More people now face imminent threat than when the storm was just offshore," Cooper said. "I cannot overstate it: Floodwaters are rising, and if you aren't watching for them, you are risking your life — even in places that don't typically flood."
New Bern, North Carolina, Mayor Dana Outlaw told "Meet the Press" on Sunday that officials remained "very concerned" about additional flooding and trees still toppling.
"A lot of the creeks around New Bern are increasing by the hour," he said.
Outlaw urged residents to stay inside and follow the local curfew as 30 roads were still impassible. He added that 4,200 homes had been damaged, some extensively, and 300 commercial buildings had also been damaged.
The National Hurricane Center warned that parts of central and western North Carolina and far southwest Virginia could receive an additional 5 to 10 inches of rain. There could be a total storm rainfall of 20 inches in western North Carolina and up to 40 inches in the southeastern part of the state.
"These rainfall amounts will produce catastrophic flash flooding, prolonged significant river flooding, and an elevated risk for landslides in western North Carolina and far southwest Virginia," the hurricane center said in a 5 a.m. bulletin.
The center added that tornadoes remained possible across North Carolina and eastern South Carolina on Sunday. Swells generated by Florence are also affecting portions of the east coast and Bermuda and could cause life-threatening surf and rip current conditions.
The U.S. Coast Guard said that 20 to 30 people were rescued Saturday from a subdivision near Jacksonville, North Carolina. Kevin Futrell, a 43-year-old glass cutter who used a boat to help people escape the flooded River Hills subdivision, said he could see "the fear in their eyes." His boat struggled in the strong currents.
"My boat stalled twice and I could definitely see the people in my boat were worried," Futrell said. "I knew I had someone else's life in my hands." He got around 15 people to higher ground near his sister's house, and about three of them were airlifted by the Coast Guard for medical issues.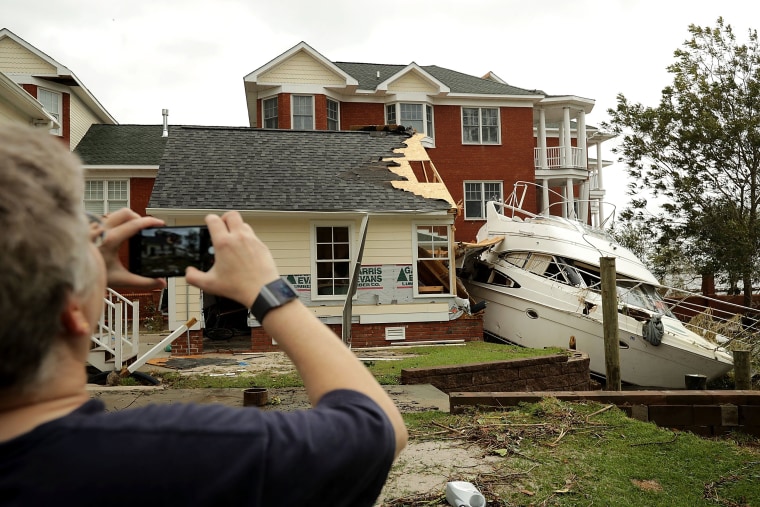 There were more than 658,000 power outages across North Carolina as of 11:15 p.m. Saturday, according to the state Department of Public Safety.
In South Carolina, National Guard Adjutant General Bob Livingston said many residents followed evacuation orders.
"They did not put the rescuers or themselves in danger," he said at a Saturday news conference. "So we appreciate that great cooperation."
Brittany Michelle Robertson, 27, who waited out the storm in Myrtle Beach, South Carolina, said she and the trailer park that the family manages was spared destruction.
"We were out today cleaning up debris," Robertson said, adding that some trailer park residents were returning and none had significant damage. "Some things are starting to open back up."
In Carteret County, North Carolina, six teams performed rescue operations Saturday, but those efforts were challenged by downed trees and power lines.
"While most homes experienced minor shingle and siding damage, there is an extensive amount of homes with damage from falling trees and high flood waters," county officials said in a statement.
Nearly 200 roads were closed throughout New Hanover County, North Carolina, where Wilmington is located, and Wilmington police were asking residents to stay inside and keep off the roads.
"We cannot stress enough how dangerous the road conditions are," police tweeted Saturday afternoon.
Most of the deaths occurred in North Carolina, officials said. A woman and her infant were killed when a tree fell on their home in Wilmington; a woman died in Pender County after suffering a medical condition and large trees blocked roads to her home; two people died in Lenoir County; and three were killed in Duplin County in separate incidents when the cars they were in were washed away in high water, authorities said.
In South Carolina, a 61-year-old woman died after her car struck a downed tree on a highway in Union County Friday night, according to South Carolina Highway Patrol Capt. Kelley Hughes.
Two people in Horry County, South Carolina, died of carbon monoxide poisoning, the South Carolina Department of Public Safety tweeted Saturday night, and the department said that the deaths are being blamed on the storm.
Cooper, the North Carolina governor, said Saturday that around 20,000 people were in more than 150 shelters across the state.
"To the people who have evacuated: If you are safe, stay put," he said.
Jacksonville, North Carolina, received more than 17 inches of rain as of 6 p.m. Saturday, according to preliminary reports released by the National Weather Service.
Futrell, who assisted with rescues in the River Hills subdivision, said he went to bed Saturday morning at around 2:30 a.m. and "when I woke up this morning it had flooded."
"And it happened so quick," he said. "I looked out the second story and the neighborhood is mostly underwater … that has never happened before in the eight years my sister has been here," he said.
In Wilmington, police arrested five people who allegedly broke into and looted a Dollar General store on Saturday, the police department tweeted.
Also on Saturday, President Donald Trump approved a disaster declaration for North Carolina, which makes federal funding available to those affected. On Saturday evening, he tweeted his condolences to the families and friends of those who lost their lives in the storm.
"It's been one of the worst ones. I've been here for years. I never heard of anything like this before," said Tonya Moore, 34, a resident of New Bern. She evacuated with her family before the then-hurricane hit and was able to walk back to their home Saturday to retrieve their car, blankets, food, water and clothing. "It's crazy. I've never seen anything like this before."