The mood will be muted Wednesday evening on Chalk Pond. The faces will be bathed in candlelight and bittersweet memories. On that New Hampshire waterfront, Chief Warrant Officer Charlie Morgan once exchanged vows — in necessary privacy — with her wife, Karen. Earlier this year, Morgan's ashes were sprinkled there. 
Hours after the Supreme Court struck down the Defense of Marriage Act, Karen Morgan plans to stand atop that same sacred ground with family members and her 6-year-old daughter. She will quietly recall the war she and Charlie waged together against DOMA, a law that denied the same-sex couple more than 1,000 federal benefits. 
"It's such an important day. Charlie would loved to have been here. Before she passed away, she felt very strongly DOMA would be found unconstitutional," Morgan said. "Identify what you think is the right thing in life and don't be afraid to stand up for it. 
"Charlie didn't get to see the end of this fight. It's closure to be there in her memory. But for a lot of people, there will be hard memories, always. Those emotional scars will carry forward," she added.
The Pentagon estimates that about 5,600 active-duty troops and 3,400 National Guard and Reserve members are in same-sex marriages and relationships. DOMA, overturned Wednesday in a 5-4 Supreme Court vote, barred gay and lesbian military spouses from receiving a laundry list of benefits granted to heterosexual service members and their spouses. Those included access to on-base commissaries and on-base housing, military-provided health care — and death benefits, which Morgan has been barred from collecting: about $2,000 per month since Charlie Morgan died from breast cancer in February.
Some of those same-sex spouses say a new era of benefit equality within the U.S. military cannot erase the years of disparity they endured based solely on their sexual orientation and a 1996 law signed by President Bill Clinton. The harm done, they say, is forever.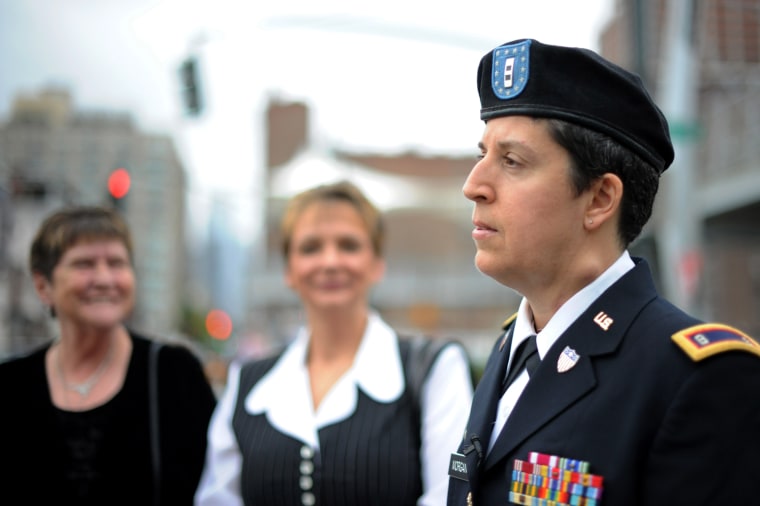 "It's had a pretty deep psychological and emotional impact," said Casey McLaughlin, the wife of Army Maj. Shannon McLaughlin. They were legally married in 2010 in Massachusetts and have 2-year-old twins.
"To know that sanctioned legislation declared that we are less than, that we are less deserving of the equal rights that every American deserves — particularly when it's via a celebration of love and commitment and stability and family — I think that's been the most hurtful component in this experience," McLaughlin said.
She opted to stay home and tend to their two toddlers. But unlike heterosexual spouses of armed forces members, McLaughlin has been blocked from joining the military's TRICARE medical system. Without an employer, she purchased her own health and dental coverage at a cost of $700 per month while her kids and wife have been covered by TRICARE.
"It's really ridiculous, the hoops we have to jump through," said Dan Ross, who is married to Navy Lt. Gary Ross.
Dan Ross, who works part-time at a San Diego health club, has traveled to Mexico several times to obtain affordable medical care in that country because he finds the cost of health insurance "prohibitive" in this country. When he cut his index finger on a table saw, he was forced to get patched up at a local emergency room, paying $2,000 out of pocket. When he needed a tooth extracted, he said it took him several years to save enough money to have the tooth replaced.
"People are just starting to realize, I think, how DOMA has hurt the gay and lesbian families in America because we don't get over 1,000 of the same rights that everybody else gets. People are finally starting to get that," Ross said.
Prior to the Supreme Court ruling, the Pentagon had been preparing to offer limited benefits later this year to same-sex military spouses as part of a plan announced Feb. 11 by former Defense Secretary Leon Panetta. Those were set to include access to base commissaries, recreation programs, sexual-assault counseling, child-care coverage, and travel on military aircraft. 
In light of the high court's decision, NBC News asked the Pentagon how it plans to bring the families of gay troops into the military's benefits system — and when those families should expect to receive full federal benefits. 
Officials at the Department of Defense on Wednesday afternoon emailed a statement on their next steps in the post-DOMA world. Those include updating its process for issuing military ID cards to same-sex spouses (which give military family members access to on-base facilities such as commissaries), and estimated that work would take six to 12 weeks.
"The Supreme Court's ruling means that the Defense Department will extend all benefits to same-sex spouses of military personnel that are currently extended to opposite-sex spouses, including medical, dental, interment at Arlington National Cemetery, and with-dependent Basic Allowance for Housing. The Department will implement these benefit changes as soon as possible for same-sex spouses," the Pentagon said in its written statement. 
Meanwhile, at Karen Morgan's New Hampshire home, on a day long imagined by the widow, the damage from DOMA remained locked into memory, including the recollections of her young daughter, Casey Elena.
"She was with us about a year ago when we had to go to the commissary. The lady at the door of the commissary was checking military IDs. She let Charlie and Casey in then she told me I had to sit on the wall outside the commissary because I couldn't come in," Morgan recalled.
"Casey has a very vivid memory of that moment. For a 6-year-old, she has a pretty good working knowledge of what's been going on."