SANTA FE, Texas — Police responding to shots fired inside Santa Fe High School got locked into a 25-minute gun battle with the gunman, a Texas sheriff said Monday.
Addressing reporters, Galveston County Sheriff Henry Trochesset said that as far as he could tell none of the 10 victims were killed by crossfire from law enforcement officers, but that he won't know for sure until the autopsies are completed.
"There were minimal shots fired, at least from us, from law enforcement," the sheriff said. "But the individual was still trying to shoot us."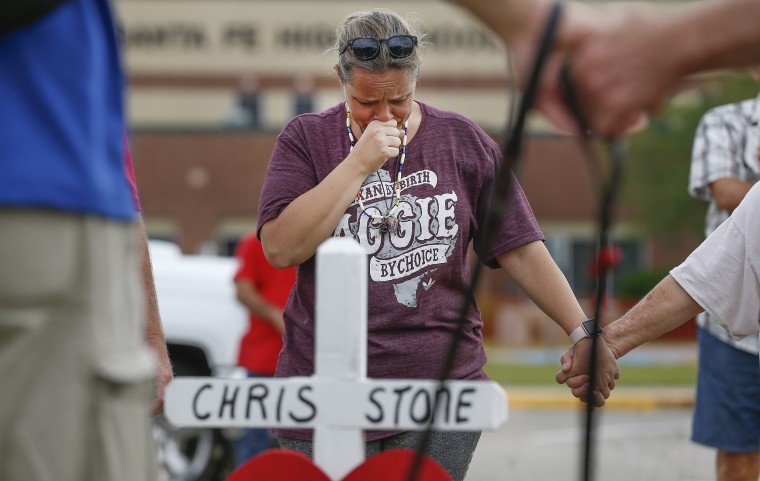 The question of whether any of the eight students and two teachers slain were felled by police bullets came on the heels of a reported confession by murder suspect Dimitrios Pagourtzis, 17, which was contained in a probable-cause affidavit, that he spared students he liked "so he could have his story told."
Calling them "heroes," Trochesset said two police officers arrived at the school's art lab about four minutes after the shooting started and began trading shots with the gunman right away. They were then joined by sheriff's deputies, who also traded shots with the gunman and tried to convince him to give up during lulls in the gunfire.
"And it continued until that subject was placed into custody," he said. "We're lucky the body count's not higher. ... He was in the classroom, the officers were in the hallway."
Trochesset said his own granddaughter was in the classroom three doors away from the epicenter of Friday's mayhem. "Did it hit home? It did," he said.
Pagourtzis was armed with his father's Remington 870 short-barreled shotgun and a .38-caliber Rossi revolver, a law enforcement official told NBC News.
Meanwhile, NBC News has learned that pipe bombs that police say Pagourtzis scattered through the school and across the campus were not the conventional kind, meaning a length of pipe filled with gunpowder with end caps and a fuse.
Instead, the devices found were so-called cricket bombs, made by filling spent carbon dioxide cartridges with gunpowder and adding a fuse.
That kind of device was also planted by the two students who murdered a dozen classmates and a teacher before killing themselves at Columbine High School in 1999, the sources told NBC News.
And like those two Columbine students, Pagourtzis was wearing a trenchcoat when, police say, he went on a killing spree.
So far, police have not come up with a motive. But earlier Monday, Pagourtzis' lawyers pushed back against reports that he had been spurned by one of the female victims.
Pagourtzis is charged with capital murder and aggravated assault of a public servant and is being held without bond at the Galveston County Jail. Trochesset said the suspect is on a suicide watch.
Prior to Friday, Pagourtzis had no criminal record. And other than the trenchcoat he wore incessantly — even in the sweltering South Texas heat — his behavior at school never raised any red flags with school officials.
Ten people were wounded by gunfire, including Police Officer John Barnes, a Santa Fe school district resource officer, who Trochesset said remains in critical condition and in intensive care.
Gabe Gutierrez reported from Santa Fe, and Corky Siemaszko from New York.