The Trump Inauguration hit a sour note Friday when a soprano for the Mormon Tabernacle Choir quit rather than perform for the President-elect.
Jan Chamberlin wrote in a resignation letter to choir president Ron Jarrett — and her fellow singers — that she "could never look myself in the mirror again with self-respect" if she participated in the Jan. 20 ceremony.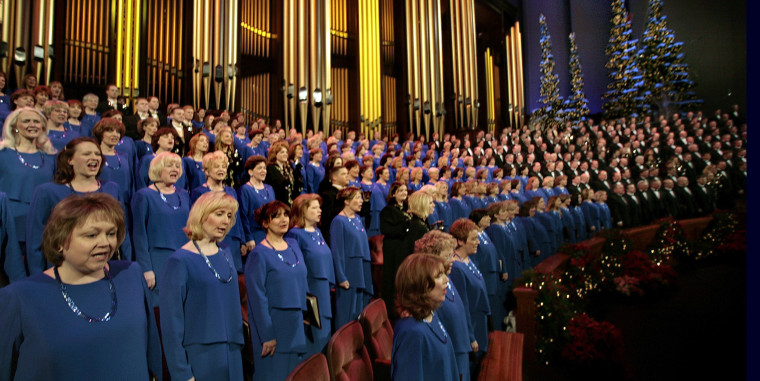 And, in an interview with MSNBC, Chamberlin said she's not the only member of the choir who feels this way.
"There are a number of people who feel that going out to sing for this particular candidate expresses a conflicted message that might undermine the beautiful message that the choir for so many decades has worked so hard to cultivate with so many people," she said. "It's not just America's choir, it's also the world's choir."
Chamberlin, who has sung with the choir for five years, said the reaction from her fellow singers "has been very loving."
"For me, this is a moral issue where I'm concerned about our freedoms being in danger as time goes by," she said.
A veteran performer who runs a vocal studio out of her home in American Fork, Utah, Chamberlin spoke out after she posted a resignation letter on Facebook in which she wrote of the "turmoil and agony" that accompanied her decision.
"I have reflected carefully on both sides of the issue, prayed a lot, talked with family and friends, and searched my soul," she wrote. "I've tried to tell myself that by not going to the inauguration, that I would be able to stay in Choir for all the other good reasons."
"But it's no use," wrote Chamberlin. "I simply cannot continue with the recent turn of events."
Citing Scripture and declaring that "tyranny is now on our doorstep," Chamberlin likened Trump to Adolf Hitler and accused him of "stirring up people with a combination of fanaticism, false promises, and fear."
"I only know I could never 'throw roses to Hitler'," she wrote. "And I certainly could never sing for him."
In a statement, the chief spokesman of The Church of Jesus Christ of Latter-day Saints said it is not mandatory that any of the singers perform at the inauguration.
"Participation in the choir, including the performance at the Inauguration, is voluntary," Eric Hawkins said. "Only a limited number of choir members are participating (the number is limited by the inaugural committee), and none are required to participate."
Chamberlin's defiance came on the heels of renegade Rockette Phoebe Pearl who also caused a stir by publicly refusing to perform for Trump. There was no immediate comment from the Trump team on the letter.
Related: Celebrities Opting Out of Inauguration Criticized
While Utah is a conservative state and Mormons who make up the majority regularly back Republicans for president, the decision by the choir to perform at Trump's inauguration was not widely applauded.
Hawkins admitted as much when the choir announced before Christmas that it would be part of the inaugural extravaganza.
Best known for its stirring renditions of religious and patriotic songs, the Mormon Tabernacle Choir previously sang at the swearing-in ceremonies for Lyndon Johnson, Richard Nixon and George H. W. Bush. It also performed at the inaugural parades for Ronald Reagan, and both Bushes.