The school resource officer who was caught on camera violently flipping a South Carolina high school student at her desk has been fired, authorities announced Wednesday.
Richland County Sheriff Leon Lott said an internal investigation over the Monday incident at Spring Valley High School in Columbia focused on whether Senior Deputy Ben Fields had violated the department's policies.
He said at a news conference that the department looked at cellphone videos taken from the classroom and interviews with witnesses, and concluded that the maneuvers he used in the confrontation were "not acceptable."
Related: Video Shows Cop Slam, Drag High School Girl
"From the very beginning that's what's caused me to be upset, and (what) continued to upset me is that he picked the student up and threw the student across the room," Lott said.
"Deputy Ben Fields did wrong this past Monday," he added.
Fields, 34, was initially suspended without pay, and the FBI, the Justice Department and state law enforcement have opened separate investigations into the brutal take down.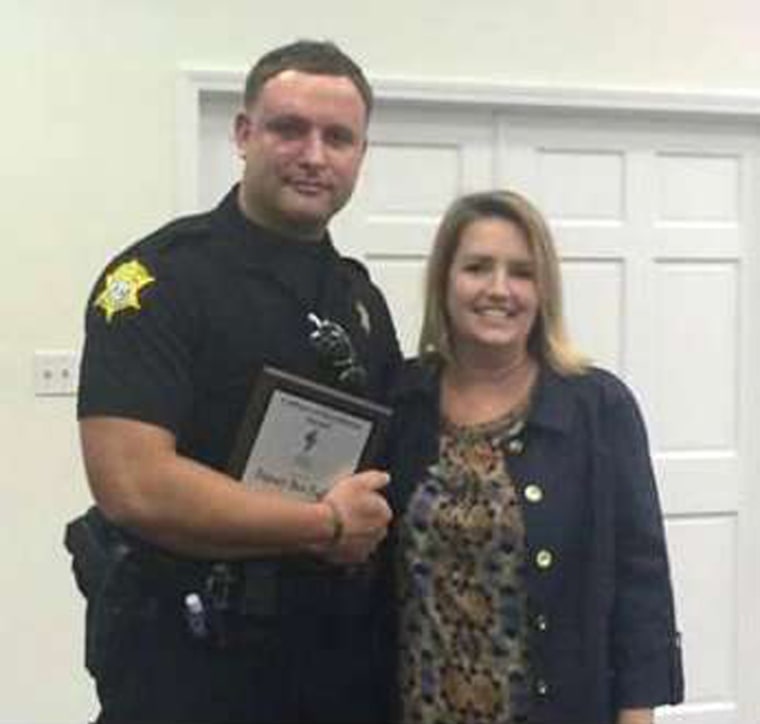 Lott said that while Fields had no prior complaints against him during his seven years at Spring Valley, his actions that day were enough to warrant his termination.
A memo of the results of the department's investigation says deputies, in instances where the suspect is in a seated position and is nonthreatening, are trained to use "tactical communication to try to talk them into compliance." If that fails, deputies can use "pain compliance techniques," but aren't supposed to "throw or push away a suspect" unless the person is trying to harm them.
Still, Lott said, people shouldn't "lose sight" that the student's unruly behavior set off the incident.
"What she did doesn't justify what our deputy did. It doesn't justify his actions, but she needs to be held responsible for what she did," Lott said.
Lott had earlier said the female student, who has not been identified, only suffered a rug burn, although her attorney said on ABC's "Good Morning America" that she "has a cast on her arm, she has neck and back injuries."
Police say the incident began around 11 a.m. when the girl became disruptive in her algebra class and was texting on her phone. Her teacher asked the student to leave, and when she refused, an administrator was called in, Lott said.
Fields was then ordered to the classroom. Cellphone videos taken by students show him standing before the girl, commanding her to stand up or be forcibly removed. She refuses to leave. Fields is then seen body-slamming the student to the ground backwards while she's still in her seat, and then dragging her and her desk across the floor.
Related: South Carolina School Officer's Actions 'Over The Line,' Experts Say
A "third video" reviewed by police for the internal investigation shows the girl swinging at the officer's head after he puts his hands on her, Lott said.
The girl was arrested along with a second student who police say was also "contributing to the chaos." That student, later identified as 18-year-old Niya Kenny, told NBC News on Tuesday that she witnessed the officer put his arm around her classmate's neck, and that's when she fought back.
She said she was stunned to see the mayhem in the room, and said she "felt something bad was going to go down" when Fields entered the class. "He's known as Officer Slam," she added.
Lott said Tuesday that he did not know if race was a factor in the case, but didn't believe so because Fields, who is white, has been dating an African-American woman for "quite some time." Fields, however, has been the subject of racial bias and excessive force allegations.
Lott said he earlier spoke with Fields, who told him he's sorry for how Monday's confrontation played out.
"He tried to do his job, and that's what he felt like he did," the sheriff said. "It happened very quickly. His actions were something that if he had to do it over again, he probably would have done it different."
The FBI and the Justice Department probes will determine whether the girl's civil rights were violated in the incident. Lott said any criminal charges against Fields would also be decided by those agencies.
The president of the South Carolina chapter of the NAACP, meanwhile, has called for Fields to be charged with assault.
School district officials also blasted Fields' actions as "outrageous" and "reprehensible," and the video itself "shamefully shocking."
Schools Superintendent Debbie Hamm said the district is strengthening its training efforts with school resource officers to ensure such an incident doesn't happen again.