Jean Whitehead, 73, isn't surprised that Southerners are now almost evenly split between voting for a Republican or a Democrat. To her, the South has always been more complicated than the conventional thinking would suggest.
A black retired school teacher in Birmingham, Alabama, she's one of the people who proved the region isn't a political monolith when she joined the majority in electing Doug Jones to the Senate last year — the first time a Democrat won a Senate seat in Alabama in more than 25 years.
Whitehead, who participated in the NBC News|SurveyMonkey Poll on attitudes of Southerners released on Thursday, said Republicans should be prepared to lose elections throughout the South in 2018, particularly because the region's black residents have become more politically active since Donald Trump moved into the White House.
"I see more of an interest in voting," she said. "I'm seeing more of an interest in young black people voting especially."
The South has long been the most solidly conservative region in the nation, and its voters are a principal reason why Trump won the presidency. Of the 11 Southern states surveyed in the new NBC News poll, 10 voted for Trump in 2016, many by double-digit margins.
But the poll suggests that the Southern voters who showed up in 2016 are not necessarily representative of the region's rapidly changing views. A majority of respondents said they supported same-sex marriage, legal status for undocumented immigrants and higher taxes for education and infrastructure. And many are cooling on Trump.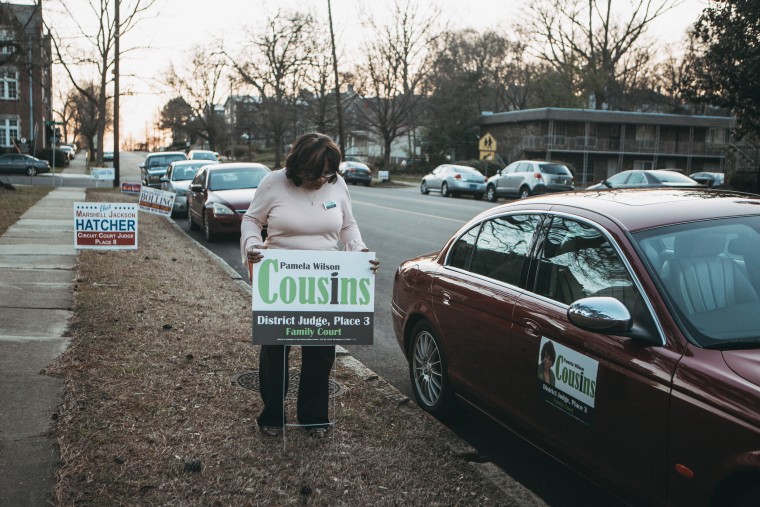 In part, that's because the population of the South has been shifting to more closely resemble that of the nation's.
The 2010 Census concluded that the South is the fastest-growing region in the United States, adding 14.3 million people over a decade, for a total of 114.6 million, and Census estimates show that pace hasn't abated. The South is home to 10 of the 15 fastest-growing cities in the country, which have seen population increases at an average rate of 9.4 percent since 2010.
That population growth has also brought demographic shifts. According to the Census, more than a quarter of the South's population is under 20. From 2010 to 2016, the black population in the region grew by 2 million, while the Hispanic population grew by 3 million, largely in Texas and Florida, according to William Frey, a demographer and author of "Diversity Explosion: How New Racial Demographics Are Remaking America."
Black and Latino voters and young people in the South are friendlier to Democratic candidates than older, white voters are, Frey said, which could affect the region on Election Day.
"If it's close between Republicans and Democrats in the South, that says more millennials are turning out to vote and more minorities are turning out," Frey said. "It also means the white vote is not going to be as strong."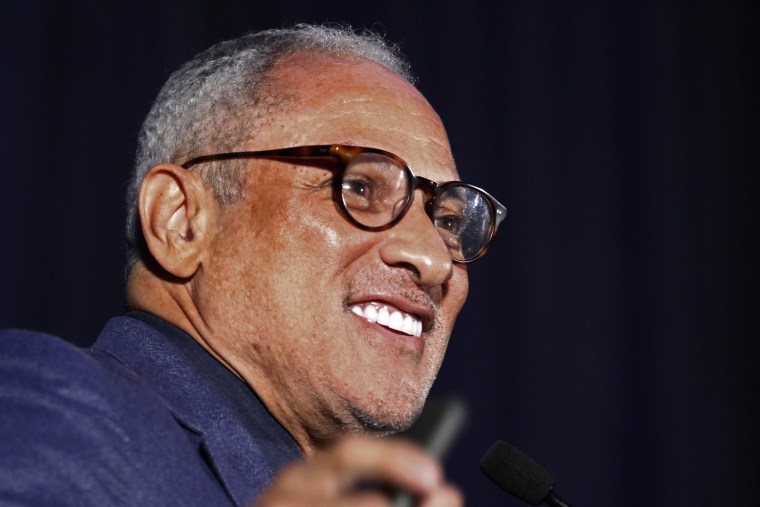 That's why Mike Espy, an African-American Democrat who led the U.S. Department of Agriculture in the Clinton administration, believes he could win the Senate seat that Thad Cochran, a Republican, vacated last month in Mississippi — a state where black people make up nearly 38 percent of the population.
"[The shift] reflects the mood of the country where the parties are sitting at the poles," Espy said. "In Mississippi that's changing. People are really giving more consideration to their own economic interests and desires to improve along the lines of education, obesity, housing and income."
Those issues matter more to voters than the party, Espy said, adding, "These interests are shared across party lines."
It's that economic appeal and the fatigue of partisan rancor in Washington that's proven effective for Democrats in special elections since Trump entered the White House.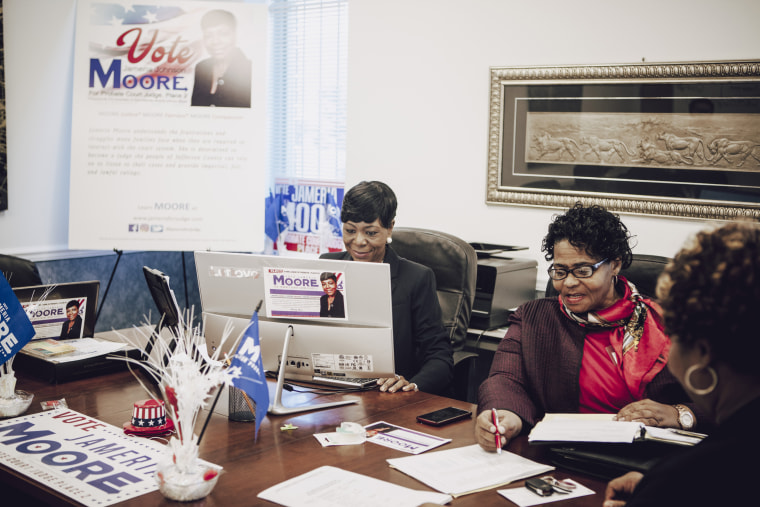 Joe Trippi served as the chief media strategist on Jones' successful campaign, which saw the former prosecutor beat out conservative firebrand Roy Moore by fewer than 21,000 votes, in part because of allegations of sexual misconduct leveled against Moore.
Trippi said an energized left-leaning voter base and an increasingly diverse New South helped Democrats pick up the Alabama seat.
"Honor means something in the South,"Trippi said. "That's a value there. That's what [voters are] looking for."
According to Trippi, who is now advising Espy, Southerners want to be represented by someone who can deliver for constituents and work productively with others, even if that means reaching across the aisle.
Two Republicans are also running for Cochran's seat: Chris McDaniel, a well-funded right-wing candidate, and establishment Republican Cindy Hyde-Smith, who was appointed to Cochran's seat by Gov. Phil Bryant. There will be no party primaries, so if McDaniel and Hyde-Smith split the Republican vote, that could provide Espy a path to victory.
Chip Lake, a GOP strategist from Georgia who was chief of staff to former Rep. Lynn Westmoreland, R-Ga., said Republicans should prepare for a potential wave election in 2018 for multiple reasons — first, as a "market correction" to Republicans' winning the presidency and both chambers of Congress in 2016, and second, because of those changing demographics across the South.
Things look especially dire for Republicans in Georgia, where Trump's approval numbers are among the lowest of the 11 states polled.
"You're seeing the other side of the pendulum with Donald Trump and you're seeing a base of the Democratic Party that are more motivated than they were a week before Barack Obama's first election," Lake said. "They're energized like I've never seen. I'm just concerned their energy is sustainable until the first Tuesday in November this year."
While Georgians maintain high confidence in the state economy and think highly of their Republican governor and state legislature, Lake said that the demographic shift, the left's energized voting base and the uncertainty brewing in the nation's capital all spell trouble for Republicans in 2018.
"And if you throw in the Trump factor," Lake added, "that becomes a feeling of uncertainty on steroids."
Some believe that uncertainty has changed the conversation in the South, especially among young people. A more progressive cohort of young voters, along with the backlash against the Trump administration, could explain why 55 percent of those in the South now support same-sex marriage — a remarkable shift in just a few years — and 69 percent support giving undocumented immigrants a chance to apply for legal status, a key issue for the president.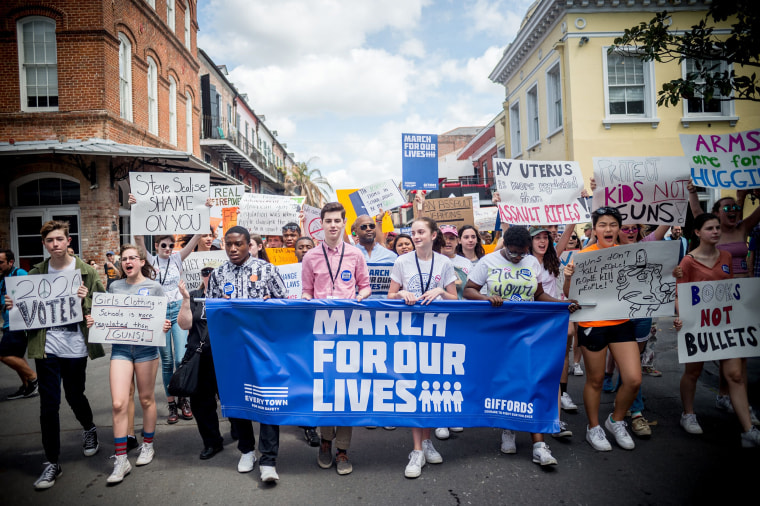 Ted Ownby, director of the Center for the Study of Southern Culture at the University of Mississippi, said that the politics of the South have become more intriguing recently. He pointed to the significant gains Democrats made in the Virginia legislature last year; the special House election in Georgia last year in which Democrat Jon Ossoff nearly won in a safe Republican district; the election of Jones in Alabama; and the March for Our Lives movement that brought out hundreds of thousands of people in Washington and other cities last month in support of gun control legislation.
"Those movements are largely driven by the youth in the South and the larger demographic shift," Ownby said.
I have to equate a lot of this activism to what I experienced as a child of the Civil Rights Movement. Young people provided the real leadership and impetus for things to change in the South and they're doing it once again.
But not everyone sees drastic political change on the horizon.
Miguel Camacho, 48, who works as a business development manager for a construction company in Savannah, Georgia, where he's lived for 27 years, said he noticed more Democratic candidates running against incumbents in the midterms, but he does not believe that there will be a large change.
"I think the demographic shift is not quite there for [a blue wave] to happen," said Camacho, who participated in the poll. "At the end of the day, statewide the Republicans are always going to have an advantage. The gap isn't going to change that much, but in local elections a few things are going to slip."
Nevertheless, 69 percent of voters in the South said they disapprove of how Congress is handling its job, the poll found. Gregg Gulledge, a 56-year-old machinist who works at a nuclear power plant north of Chattanooga, Tennessee, believes that skepticism about Washington boosted Trump in 2016.
"Most people I know feel like the only thing Congress and folks in Washington are interested in is helping themselves," he said. "That's one of the reasons Trump was elected."
Rebecca Nelson, 40, said she hasn't seen the ground shift much where she lives in Jacksonville, Florida. She said that the divisions are nearly as stark as when she was driven off the road in 2008 by a man who didn't like her Hillary Clinton bumper sticker.
"I've spent most of my adult life in the South," Nelson said. "I do think it's changing to some degree, but it's slow. There are certain cities and areas of the country that are becoming more progressive in the South, but then you have tiny small towns that haven't changed in 300 years who have been doing the same thing the whole time."
But Rep. Bennie Thompson, D-Miss., said that civic engagement in his predominantly black district in the Mississippi Delta is at a level he's never seen before. His office has been inundated with internship applications and volunteer requests, and he said young people are even signing up to be poll workers.
That's noteworthy because his district could be a decisive voting block in a state that has two Senate seats up for grabs in the 2018 election.
"I have to equate a lot of this activism to what I experienced as a child of the civil rights movement," Thompson said. "Young people provided the real leadership and impetus for things to change in the South and they're doing it once again."
The NBC News|SurveyMonkey South Poll was conducted March 12-25, 2018, among a national sample of 15,238 adults (+/- 1.1); a regional sample of 4,132 adults who live in Alabama, Arkansas, Florida, Georgia, Louisiana, Mississippi, North Carolina, South Carolina, Tennessee, Texas and Virginia (+/- 2.4); a sample of 1,486 adults who live in Mississippi (+/-4.6); a sample of 1,498 adults who live in Alabama (+/- 4.5); a sample of 2,209 adults who live in Georgia (+/- 3.4); and a sample of 1,710 adults who live in Tennessee (+/- 4.1). For full results and methodology, click here.