Heavy rain inundated roads in South Florida on Wednesday, shutting down Fort Lauderdale's airport until Thursday, stranding travelers and causing "severe flooding" that stalled cars, officials and forecasters said.
The city of 181,000 said early Thursday it had activated its emergency operations center and secured airboats to conduct any rescues.
Radar estimates showed 11 to 12 inches of rain in the Fort Lauderdale area, with up to 17 inches closer to the coast, Chuck Caracozza, a meteorologist at the National Weather Service in Miami, said Wednesday evening.
A flash flood emergency had been issued for areas near Fort Lauderdale and Dania Beach, but even after it expired early Thursday a flood warning remained until 8 a.m. Fort Lauderdale's fire department reported severe flooding.
"It's extremely dangerous here in the Fort Lauderdale area," Caracozza said. "People should be avoiding the roads and staying off the roads."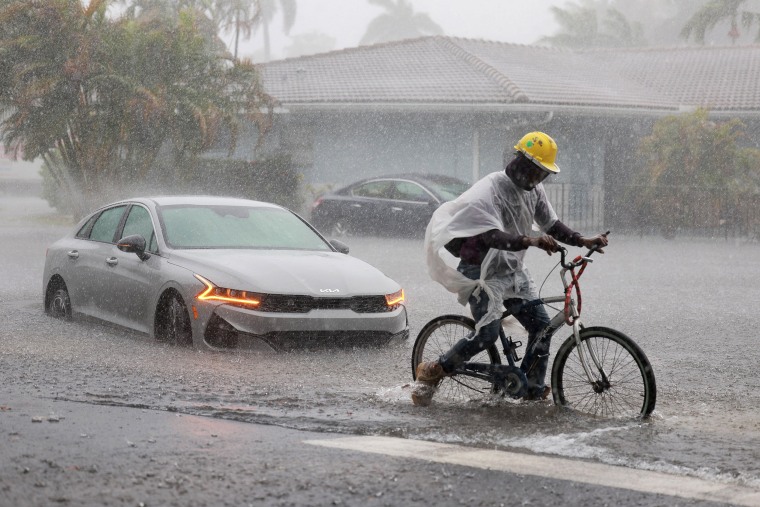 Fort Lauderdale-Hollywood International Airport said it would be closed until at least noon Thursday. Entrance and exit roads flooded, and stalled vehicles were being removed from upper levels.
"The roads, you can't get in or out, so there's an entire airport full of people who are just hostage here," Wendy Sachs, who had been stranded at the airport since 3 p.m., said at around 11:30 p.m. Wednesday.
Sachs' flight to Newark, New Jersey, never left. She described the floods as "biblical" and said everyone was trying to get rental cars — not to leave immediately, as floods made that impossible, but just to save them.
"I've never seen anything like this," said Sachs, who grew up in Miami.
Video broadcast by NBC Miami showed flooding in an airport parking garage and cars driving through flooded streets in Dania Beach, a city just south of Fort Lauderdale.
"We're asking you to stay off the roadways until some of this water dissipates," Fort Lauderdale Fire Chief Stephen Gollan told residents in a video the city manager shared Wednesday. Cars were getting stuck, he said.
Passenger train service between Miami and Fort Lauderdale was suspended, provider Brightline said.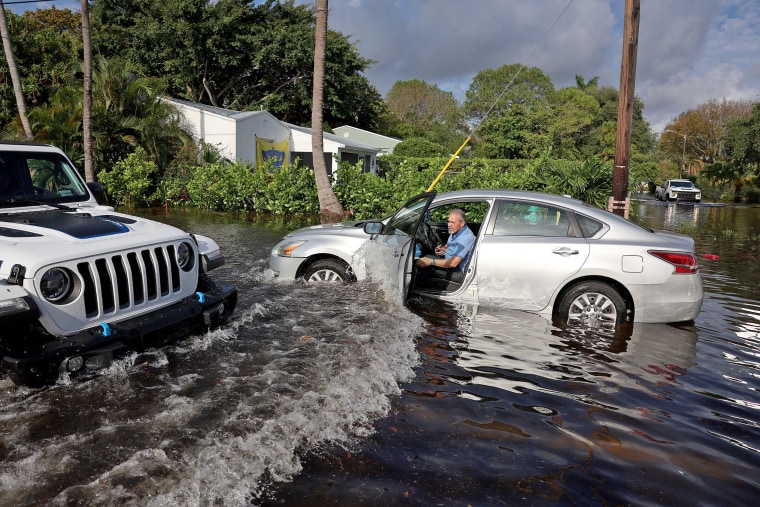 The flash flood emergency for Fort Lauderdale and other parts of Broward County had been due to expire at 11 p.m., but it was extended to 2 a.m.
Broward County Public Schools said schools would be closed Thursday because of the weather.
The county sheriff's office tweeted that a regional communications center was being inundated with 911 calls about the rain and urged people to save the number for emergencies.
Fort Lauderdale's government said city facilities would also be closed Thursday.
It said in a statement that its storm water system is designed to handle 3 inches of rain over 24 hours — and that in some neighborhoods 12 inches fell.
Hollywood, a city of 150,000 is south of Fort Lauderdale, reported that many areas were impassable early Thursday.
"Avoid all unnecessary travel and if you are in a safe location, remain there until flood waters recede," the city tweeted.
The weather service had forecast heavy rain in parts of Florida on Wednesday because of a lifting warm front. Rain and wind are expected to move to the central Gulf Coast on Thursday.