- From NBC San Diego
One San Marcos, California, family thought they were in the clear when their home survived the Cocos Fire. But a quick turn of events changed it all.
Randy Calado thought he was doing everything right.
He keeps an emergency preparedness kit in his car stocked with water, food, sleeping bags and other necessities for his family.
So, when Calado's neighbor knocked on his door telling him to evacuate on Wednesday afternoon, he and his family were out of their San Marcos home in about 10 minutes.
Calado and some other relatives who also had to evacuate due to the Cocos Fire stayed at the Staybridge Suites on Mira Mesa Boulevard until they were allowed back home on Saturday afternoon.
But Saturday morning, they woke up to the unthinkable.
The priceless items the Calado family grabbed as they evacuated – including irreplaceable heirlooms – had been stolen.
The family had parked their car in the hotel parking lot and thieves broke the window to the vehicle and stole many of their valuables.
"You know, my heart dropped to the floor," Calado told NBC 7. "You know, this whole week has been very stressful to say the least. That was kind of like a one-two punch."
Among the stolen items were two safes filled with money and personal documents like birth certificates and social security cards.
But Calado says his family is most saddened by a set of jewelry his wife wore on their wedding day.
The bracelet, necklace and earrings are family heirlooms passed down for generations.
Calado describes the jewelry as a "24-carat gold necklace and a 24-carat gold bracelet, and also some diamond earrings."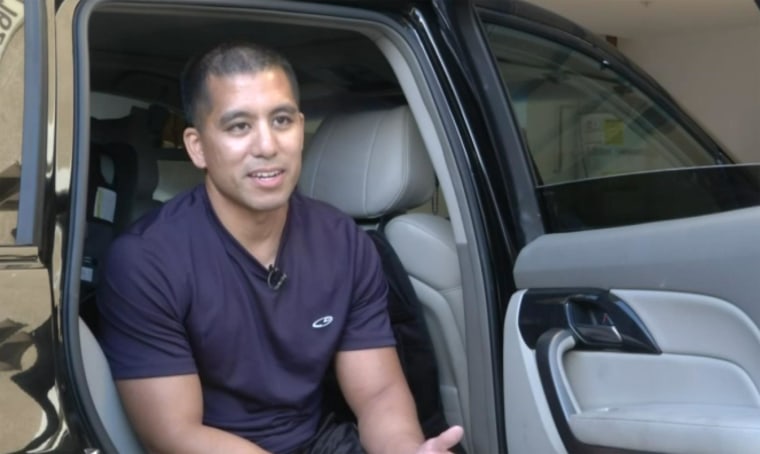 He says he wanted to share his story with NBC 7 because he doesn't want something like this to happen to someone else. He said he made a mistake leaving his valuables in his car overnight.
Calado says in stressful situations, sometimes you can't think about all of the possibilities, especially when you're not sure if you will even have a home after something as devastating as the Cocos Fire.
"It's devastating and I just don't want it to happen to any other family."
Calado suggests keeping the things that are important to you close to you at all times.
Especially during vulnerable times like the May Firestorm when thieves are looking for crimes of opportunity.