Nine fires sent tens of thousands of residents fleeing their homes in Southern California as another day of sky-high temperatures and dry winds loomed Thursday, authorities said.
California Gov. Jerry Brown declared a state of emergency for San Diego County.
COMPLETE COVERAGE OF CALIFORNIA FIRES ON NBCSanDiego.com
The biggest concern was in San Marcos, where the new blaze broke out late Wednesday afternoon and some 21,000 evacuation notices were sent to residents.
By 2:15 a.m. local time (5:15 a.m.ET) Thursday, the fire had grown to 700 acres and was zero percent contained. Three homes were confirmed destroyed and new mandatory evacuations were later ordered. The flames also shut down a California State University campus with nearly 10,000 students in the middle of final exams.
An intense fire burning San Diego's suburb of Carlsbad covered the seaside resort town in a thick layer of smoke. It was about 50 percent contained by early Thursday.
About 6,000 acres burned near the sprawling Marine base Camp Pendleton. Officials said the so-called Tomahawk fire was about 20 percent contained on Thursday.
The nine fires were burning an area of 14 square miles, according to county officials.
Fire officials said resources were stretched thin, with temperatures approaching 100 degrees.
San Diego County Sheriff investigators were on the scene probing the nature of the fires, which are dangerously close to densely populated residential and commercial areas.
Carlsbad Fire Chief Michael Davis said he has not seen a similar event in his entire career. The fires are deemed suspicious until a cause is established, officials said.
"I question whether or not six fires haven't been set by somebody," County Supervisor Bill Horn said. "But I've never seen anything like this in 20 years."
The nearby amusement park Legoland California posted a message on its Facebook page that they had closed.
"LEGOLAND California was affected by several power outages today caused by fires nearby. All the rides have been evacuated to ensure the comfort and safety of Park guests," the post read.
Map: Fires burning in the San Diego area
Earlier in the day, some homeowners tried to protect their property by hosing it down before evacuating, but it was a losing battle.
"I tried to make it as good as possible, but naturally who cares right now you know — house is gone," resident Greg Saska told NBC News. "Our home is right where the fires started. We didn't have a lot of time to prepare for anything. No warning."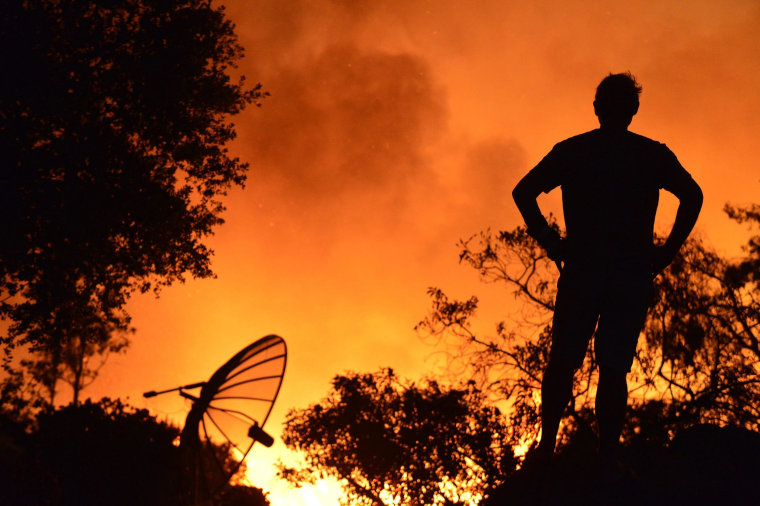 Meanwhile, closer to Los Angeles, a fire burning in Anaheim had closed both directions of the 91 Freeway on Wednesday afternoon, officials said.
Another blaze in Long Beach was threatening a hotel used in various Hollywood productions, according to NBC Los Angeles.
"I think I'm perpetually nervous, as is every other fire service professional in Southern California"
Embers from a collection of brush fires along the Pacific Coast Highway blew a few blocks away at the SeaPort Marina Hotel, Long Beach Fire Department Spokesman Jim Nash told the station.
It has been filmed in television shows including "Dexter," "Modern Family," "CSI Miami," and the movie "Almost Famous."
The dry, hot Santa Ana winds are fueling these fires, but are not typical for this time of year.
Temperatures are expected to reach record-high levels in Southern California. Highs were expected to be in the low-90s to low-100s on Thursday — with wind gusts up to 30 to 40 mph in some areas.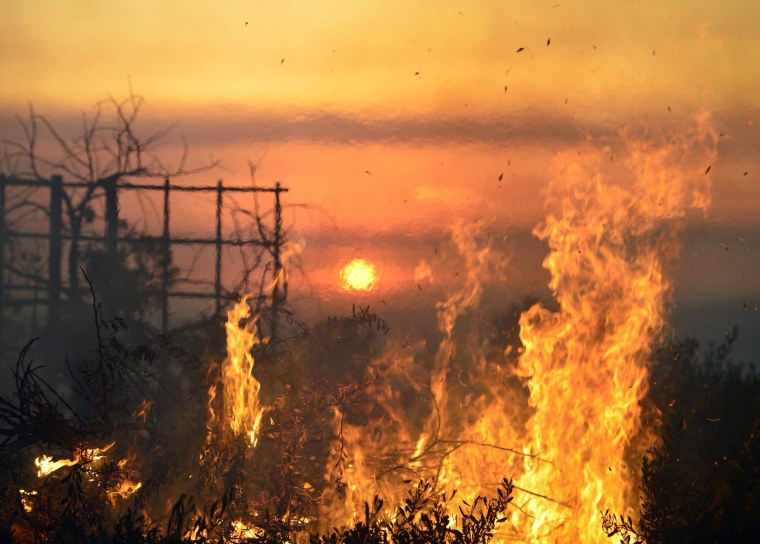 San Diego Fire Chief Javier Mainar said the unusual weather pattern didn't bode well for the rest of the season.
"It is pretty amazing to see these in May," Mainar said. "We certainly have seen climate change and the impact of climate change. My understanding from Cal Fire is that we've seen twice the number of wildfire starts in the state of California as we typically see this time of year."
Asked if he was "nervous," Mainar responded: "I think I'm perpetually nervous, as is every other fire service professional in Southern California. We live in a fire-prone environment here, but when things are this dry, and the humidity is this low, and the winds are blowing as we see here today, were very, very concerned."
The Associated Press contributed to this report.