/ Source: Associated Press
LOS ANGELES — An unseasonably cold storm coated Southern California mountains with snow, dumped heavy rain elsewhere and spawned two small tornadoes Thursday as spring struggled to shake the grip of an exceptionally wet winter.
More than 4 inches of new snow was reported on Mount Wilson, 15 miles northeast of downtown Los Angeles, the National Weather Service said.
Winter weather advisories were posted for mountain ranges across three counties. Forecasters said the highest peaks could end up with 14 inches.
Most of the storm moved through Southern California overnight. But the weather service issued a late-morning warning for winds up to 50 mph and hail as a thunderstorm moved through Los Angeles County.
The weather service confirmed a "brief EF0 tornado" touched down Thursday morning near suburban Carson, and later said a second EF0 twister struck a few miles east of the first one in the Compton area. An EFO tornado is the lowest level on the Enhanced Fujita Scale, typically with winds between 65 mph and 85 mph.
"Based on broadcast media video, there was minor damage to buildings, vehicle damage from debris, and tree damage," the weather service's Los Angeles office said on Twitter.
TV reports showed some roofing torn from industrial and commercial buildings. No injuries were reported. The damage did not appear as extensive as the destruction left by a tornado in LA County in March.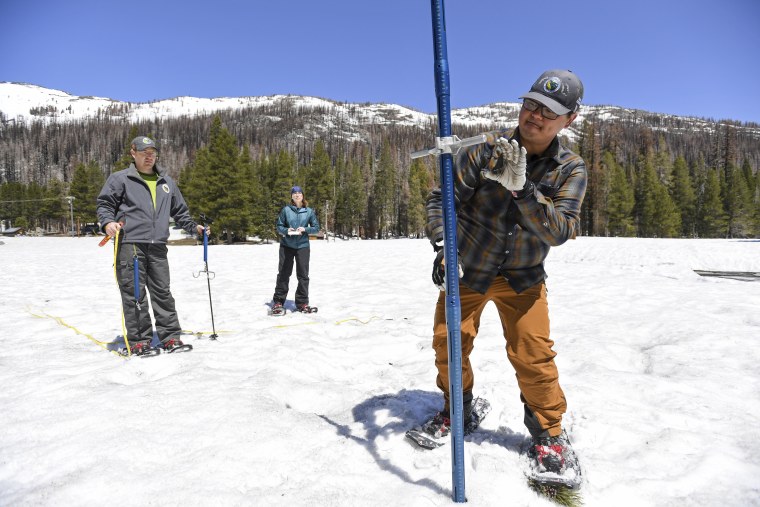 Earlier in the week, the storm's center wobbled around off the San Francisco Bay area, sending rain and snow showers across Northern California. Weather in the north was expected to remain cool and unsettled, with occasional showers, thunderstorms and late-season snowfall with minor accumulations at higher elevations.
California appeared to be heading into a fourth year of devastating drought before back-to-back atmospheric rivers and a blast of arctic air dumped enormous amounts of rain and snow between late December and March, creating a huge Sierra Nevada snowpack.
Storm runoff has caused flooding of San Joaquin Valley agricultural fields below the southern Sierra. But the major melt of the massive snowpack has yet to occur.
The state Department of Water Resources said this week that despite a brief increase in temperatures in late April, the snowpack has melted at a slower pace than average due to below average temperatures early in the month and cloud cover.