An organization that tracks extremist movements in the United States is calling on President-elect Donald Trump to more aggressively condemn what it calls "a national outbreak of hate" in the wake of the election.
The appeal from the Southern Poverty Law Center came on the heels of a new report in which the group documents nearly 900 separate incidents of bias and violence against immigrants, Latinos, African-Americans, women, LGBT people, Muslims and Jews in the ten days after Trump captured the White House.
According to the report, schools have been the most common sites of the spike in harassment and bullying. In a related SPLC online survey of 10,000 teachers and school officials, eighty percent of the respondents reported a "negative impact on students' mood and behavior following the election," and eight in ten said they detected "heightened anxiety on the part of marginalized students, including immigrants, Muslims, African Americans and LGBT students."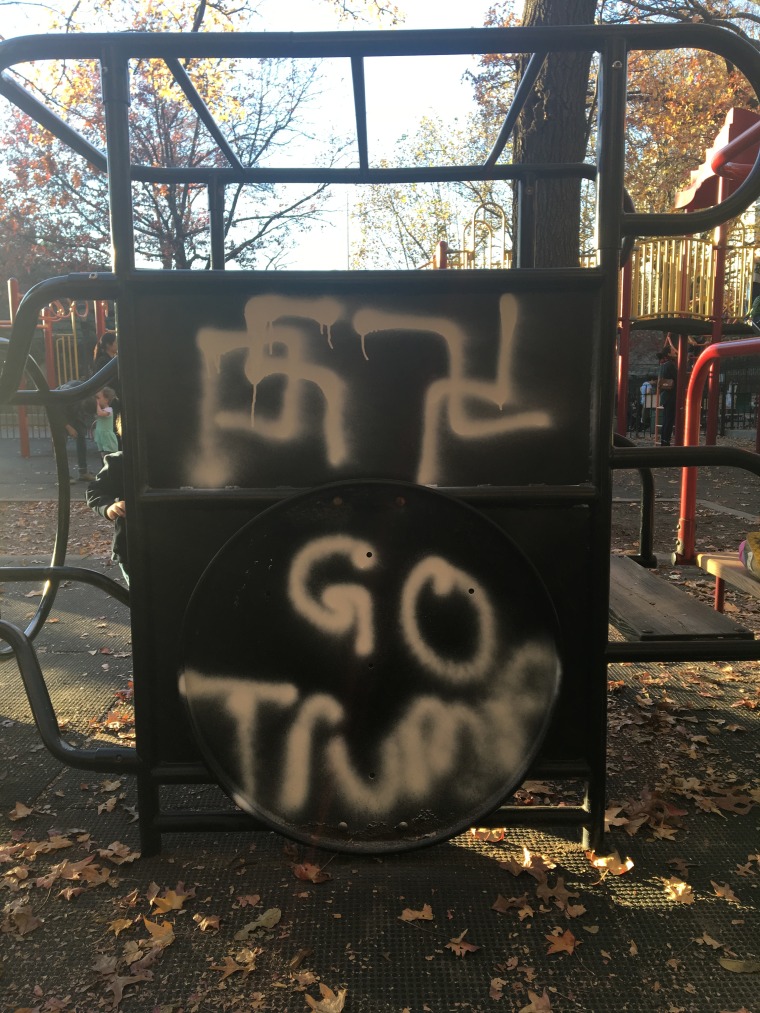 "We need him to strongly reject bigotry in all its forms," said Brenda Abdelall of Muslim Advocates, one of the civil rights groups that appeared alongside representatives from the SPLC at a press conference Tuesday.
Abdelall had muted praise for remarks Trump made in a Nov. 13 interview with CBS' "60 Minutes," during which he told supporters accused of harassment to "stop it." That kind of condemnation, Abdelall said, "is a step in the right direction — but there must be more."
RELATED: 'Stop It': Trump Calls Alleged Harassment by Supporters 'Terrible'
"While he has said he wants to be the president of all Americans, we've heard precious little in response to what is going on in his name," said Janet Murguia, president and CEO of the National Council for La Raza. "Especially when it comes to the impact it has had on children and young people."
The report also says people have been harassed in Trump's name on the street and in retail establishments.
"When an 18-year old service employee in Kalamazoo, Michigan, asked a man if he needed help," the report says, "he replied, 'I don't need to ask you for shit. Donald Trump is president.' He then called her a 'black bitch' and spat on her shoes." Some people have reported harassment in their homes: According to the report, "A Sudanese-American family in Iowa City, Iowa, for example, found a note attached to their door that read, "You can all go home now. We don't want n-----s and terrorists here. #trump.'"
The SPLC drew its numbers from submissions to its #ReportHate website and reports in the press. It did not count online harassment. NBC News has not independently verified the incidents.
"We have excluded incidents that authorities have determined to be hoaxes; however, it was not possible to confirm the veracity of all reports," the report says.
Anti-immigrant sentiments made up the largest share of incidents. The group also notes that 23 of the 867 incidents it documented were anti-Trump in nature.
"With the inauguration coming up we are concerned that there may be another spike as well," said SPLC president Richard Cohen.
"This is not going to go away," Cohen added. "It's going to continue to fester until Trump takes action."