Is there a doctor in the house? It was a plane, but a woman's cries for help Monday were answered all the same — by around 20 medical professionals on board, officials said.
The Southwest Airlines passenger's husband, retired Air Force Col. Tom McCay, fell ill on an Atlanta-to-Houston flight and was stabilized by five of the doctors who stood up to help.
"I was seats behind the couple but the wife started panicking and calling out for help. It became obvious that it was an emergency and I rushed to jump right in, squeezing through the tight seats to get to the patient," Dr. Jeffrey Aycock, an oral surgeon at University of Texas Medical Branch, told NBC News.
Aycock said the patient became semiconscious, sweaty and cold 30 minutes upon descent into Houston. He had to lay him down across three seats that acted as a bed to open the patient's airway and ensure his brain was getting oxygen.
"He had a strong but very, very low pulse rate which we were worried about. We knew, however, that he was going to be OK from his stable blood pressure counts," Aycock added.
Around 20 doctors — all returning from an annual conference — stood up to help, but five concentrated on treating the stricken passenger with the others standing aside.
It took the doctors approximately eight to 10 minutes to fully stabilize the patient, and McCay said someone given him an aspirin.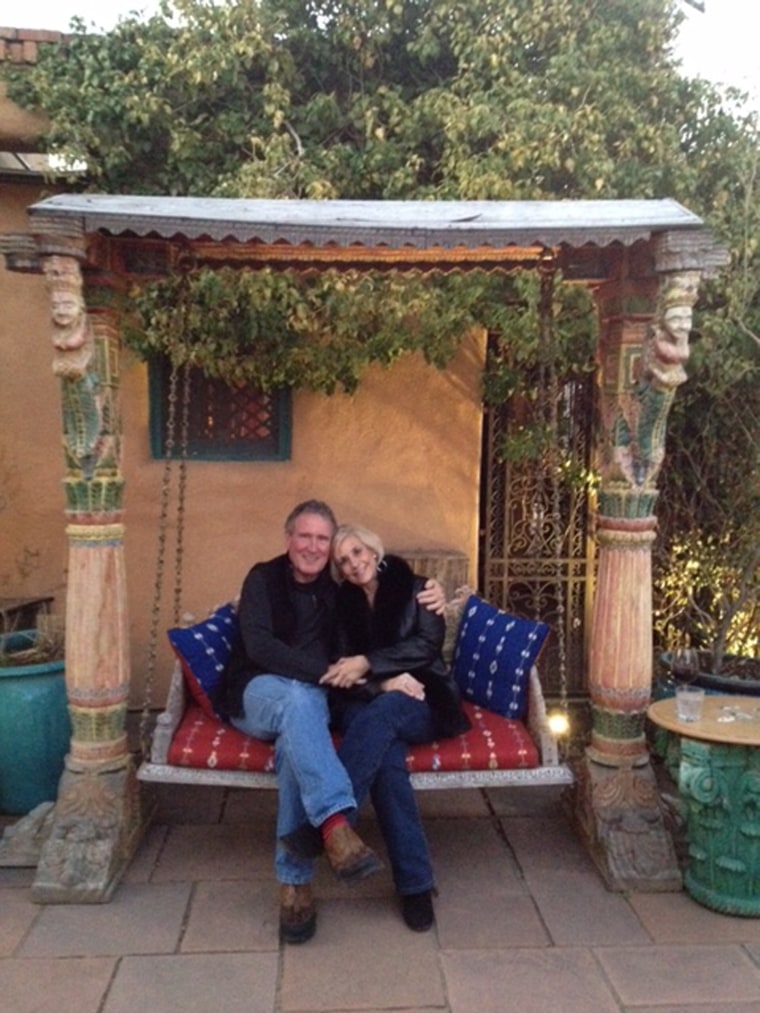 "I passed out. I could hear people around me talking and then gradually I could hear more and more about my low pulse rate," McCay told NBC News."A fantasy of mine has been to help out a pilot if he/she ever passes out. Turns out it was me this time."
His wife, Maggie, said she felt even more helpless because she works as a nurse and couldn't fathom having to treat her own husband in a state of hysteria.
"I was crying, 'He is my world, please help him, please help him,'" Maggie McCay told NBC News. "I just feel like God was hovering over the plane with the amount of doctors there. We can never repay them."
The flight landed safely in Houston and was met by local medical staff, Southwest said in a statement.
"We are beyond grateful for the aid provided by several medical professionals to stabilize the passenger," Southwest spokesman Dan Landson said.
Aycock was joined by his work colleague, Dr. Andrew Grant, a professor of internal medicine, and three other physicians: Dr. Kristen Moore, an allergist at Houston Allergy, Dr. Lenora Noroski, an allergist at the Texas Children's Hospital and Dr. David Corry, a pulmonologist at Baylor College of Medicine in Houston.
Grant, the McCays and Aycock commended Southwest staff on the plane for their quick response.
"I just feel like God was hovering over the plane ... "
"Dr. Aycock jumped right in and we administered the oxygen source," Grant told NBC News. "The Southwest Airlines crew were impressive in their response. They left the medical bag for us and a male staff was constantly updating the pilot and discussing if an emergency landing was required."
Aycock believes the patient's state of semi-consciousness arose from a shortage in fluid intake during the flight. Dr. Corry, however, said the gentleman had taken the medication with an alcoholic drink which he suspects caused the semi-consciousness.
"From what I heard last, the patient refused to seek emergency care after he landed as his condition was back to normal," Aycock said. "I am sure he will follow-up for his condition though."
Tom McCay told NBC News that he had visited Houston's Debakey Clinic to check on his condition, but would only be doing a slew of tests and a complete check-up in the future since there were no relapses. The former Pentagon veteran said he will be enjoying golfing and a non-restrictive diet in the meantime — and ask his "golf buddies" to keep an eye on him.
"I hope we can figure out this out so there is no problem. And manage whatever we need to do," McCay said.
Noroski said most of the doctors on the flight were returning from an annual meeting at the American Academy of Allergy, Asthma and Immunology in Atlanta.
"I had a similar experience on the same airline where the patient had severe heart disease and died in-flight. I am glad that many physicians stepped up in this flight," Grant said. "That's what healthcare should be all about."