CLEVELAND — A Southwest Airlines plane was forced to make an emergency landing in Cleveland on Wednesday after a window cracked during the flight. The emergency occurred just two weeks after a jet engine blew apart and broke a window in a deadly accident aboard another Southwest flight.
There were no reports of injuries after the Boeing 737, traveling from Chicago's Midway Airport to Newark Liberty International Airport in New Jersey, landed safely.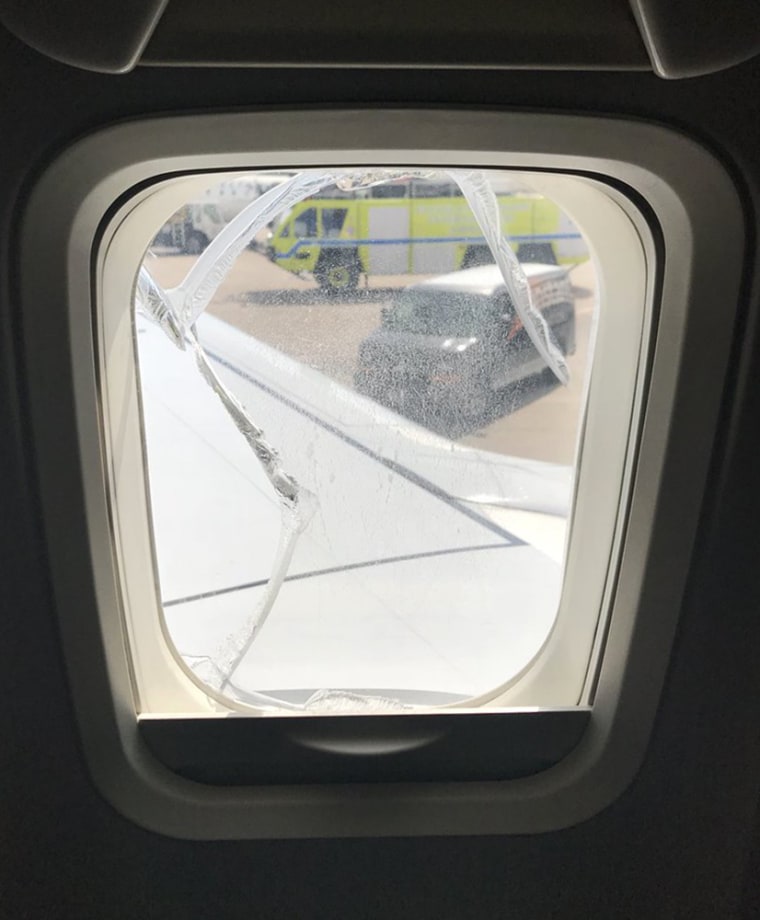 Dallas-based Southwest said the plane diverted to Cleveland for a maintenance review after crew members spotted the damage to one of the multiple layers of windowpane. Photos from inside the plane taken by passengers and posted on social media showed one window with a large, jagged crack.
Southwest didn't immediately release details on how the window was damaged.
Passenger Sylvia Styka of Chicago told NBC News that she heard "like a loud crash, like something very heavy had just fallen off of something, but it was really loud." Styka said she heard a woman say, "Something cracked the window" and she and the passengers around the window quickly scattered. The pilot made the decision to land the plane within about 15 minutes as a precaution to prevent depressurization, she said.
"The pilot said he's been flying since '96 and this has never happened to him," she added. "It's so unusual and he was just great about it."
Southwest Airlines spokeswoman Brandy King said that the plane never lost cabin pressure — that would have triggered oxygen masks to drop down for passengers — and that the pilots did not declare an emergency before landing.
King said there were no other mechanical problems with the plane, which was taken out of service. The airline was trying to make arrangements to get the 76 passengers on Flight 957 to Newark on another plane.
The timing of the incident could hardly be worse for Dallas-based Southwest, the nation's fourth-biggest airline. Company executives said last week that ticket sales have slowed since the April 17 engine failure that sent debris flying into another Boeing 737, breaking a window and killing a passenger, Jennifer Riordan, 43, of Albuquerque, New Mexico. Southwest estimates that the drop in sales will cost the airline $50 million to $100 million.
After the Philadelphia emergency landing, the Federal Aviation Administration ordered inspections of more jet engines like the one that blew apart at 32,000 feet on that jet. The National Transportation Safety Board believes that one of the engine blades snapped on the Southwest flight, hurling debris that broke a window.
Riordan died of injuries suffered after she was partially sucked out of a window that had been broken by shrapnel. The jet, which was headed from New York to Dallas, made an emergency landing in Philadelphia.