A JCPenney shopper went on an expletive-laden tirade against two Latina customers earlier this week, telling them to "go back where they belong" in a rant that was caught on video.
The incident, which was recorded by another customer, happened Tuesday afternoon at the Jefferson Mall in Louisville, Kentucky, and garnered more than 5.6 million views on Facebook.
"Everybody here probably feels the same way I do," the unidentified woman, who is white, says in the video after she sees one of the Latina shoppers checking out and the other joining her at the register with a last-minute purchase.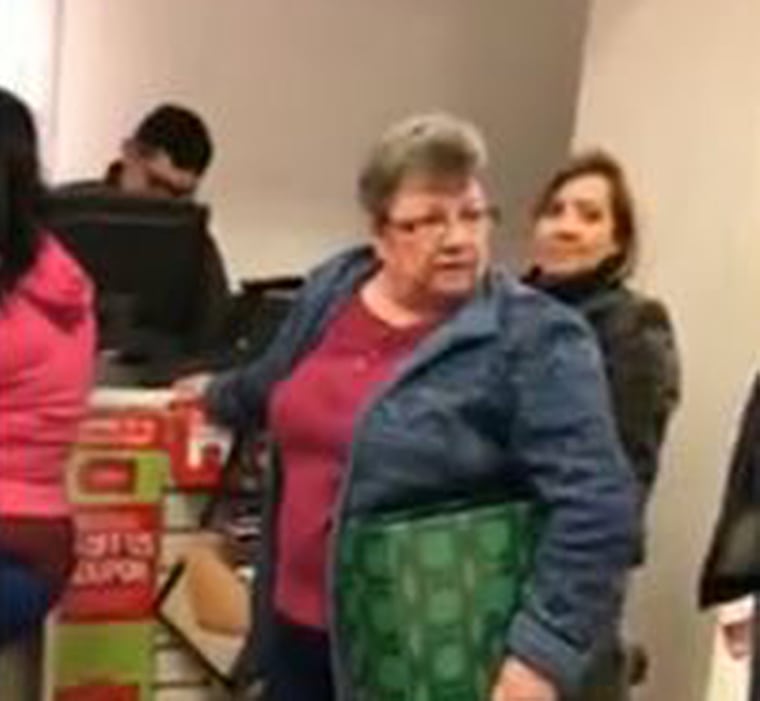 "Go back to wherever the f*** you come from, lady," the woman says as a JCPenney cashier asks her to "please watch your language."
"Speak English. You're in America. If you don't know it, learn it."
"Hey, tell them to go back where they belong. They can't act like the hero, they come here to live and act like everybody else," the woman continues, as stunned shoppers look on. "Get in the back of the line like everybody else does and be somebody. That's the way I look at it. You're nobodies, just because you come from another country, it don't make you nobody."
She then berates the two as "probably on welfare." One starts to respond, and the woman responds, "It's OK, speak English. You're in America. If you don't know it, learn it."
The shocking video was shot by Renee Buckner, a Louisville resident who was finishing up her Christmas shopping at JCPenney at the time.
"This Hispanic lady was purchasing items and the transaction was almost complete, then her friend brings up some shirts to be added to her purchase instead of getting in line," Buckner wrote in her Facebook post. "And this lady went off!!!"
Buckner did not want to speak to the media and directed calls to her pastor.
"She said there was so much more that didn't get taped, and that they did end up taking down the cameras to actually confront the lady, because she talked about how Donald Trump is going to 'fix' this," said Pastor Timothy Findley, Jr., of Kingdom Fellowship Christian Life Center in Louisville, where Buckner has been a church member for the last four years. "But she felt really obligated to get this on camera."
After the video stopped rolling, the woman continued "to just racially heckle these women, and again, she made specific comments regarding Donald Trump and fixing it, he's going to get this country together again, he's going to make it great again," Finley said Buckner told him.
Related: Chobani Founder Gets Threats, Calls for Boycott for Employing Refugees
JCPenney said in a statement to NBC News that it was "deeply disturbed" by the incident "in which one customer made extremely inappropriate remarks to two other customers."
"We absolutely do not tolerate this behavior in our stores, and are working with our associates to ensure any future incidents of this nature will be addressed quickly and appropriately," the chain said. "JCPenney is asking for the community's help in identifying the two women who were targeted for such remarks, as we would like to reimburse them for their entire purchase and offer a sincere apology for their experience."
Jefferson Mall said it was working with JCPenney to identify the woman and would permanently ban her from the mall once she was identified. Louisville Metro Police Department did not immediately return calls from NBC News about whether they had gotten involved.
Louisville Mayor Greg Fischer tweeted that he was "sad and disappointed" to see what had happened and apologized to the women on behalf of the community.
"As a country of immigrants, we must understand we only move forward through peace, acceptance and embracing those who are different from us," he tweeted.
Buckner has since removed her Facebook profile because of the overwhelming amount of responses — including criticism for filming the rant and not interfering.
But Findley said he thought she did "a service to the country" by putting the video online and said Buckner was part of a group who confronted the woman after the video ended.
"It's shocking, but it's necessary, and I think many minorities feel almost a responsibility, even in the face of consequences, to put it out there," he told NBC News. "Not just minorities will see this, but others will say, we're not going to stand for this, and we're going to come together."