WASHINGTON — While discussions are underway about President Donald Trump possibly speaking with special counsel Robert Mueller's team, FBI investigators have not so far requested an interview with Vice President Mike Pence, a person familiar with the matter said.
Pence — who has been a key figure during moments in the Trump campaign, transition and White House that Mueller is investigating — would cooperate with a request for an interview, this person said.
"Our position has always been that if asked we'll cooperate," this person said.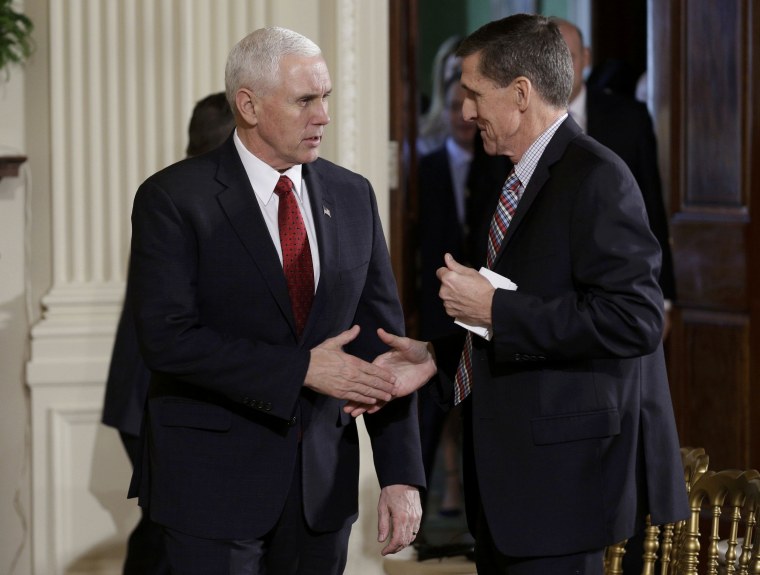 A second person familiar with the matter said the special counsel has not indicated an interest in interviewing the vice president, beyond initial document requests early on.
The president's legal team has been discussing the . possible parameters and scope of an interview with the special counsel's office as part of its investigation into Russia's meddling in the 2016 election and possible collusion with the Trump's campaign, NBC News has reported.
Trump on Wednesday played down the possibility of an interview, saying "it seems unlikely" one would take place if the special counsel has no evidence of collusion.
A spokesman for the special counsel's office declined to comment on the possibility of a Pence interview.
Pence was named Trump's running mate in July 2016 and was the head of the Trump transition after the election. He also was at the center of a controversy over Trump's former national security adviser Michael Flynn, which is part of the Mueller investigation and which led to Flynn's firing after just 24 days on the job.
During the transition, Flynn had assured Pence that he did not discuss U.S. sanctions with Russia's ambassador to the U.S., a statement Pence then repeatedly publicly. Once it became public that Flynn had discussed sanctions with the ambassador and had lied to Pence, he was fired.
Pence has said he only learned that Flynn had lied to him from news reports, even though Trump and other senior White House officials were aware well before then.
Flynn pleaded guilty to lying to the FBI about his discussions with Russia's ambassador and is cooperating with the Mueller investigation.
Mueller's team is looking into possible obstruction of justice by the president. Given his role inside the White House, Pence could have information Mueller may want about the Flynn firing and other matters.