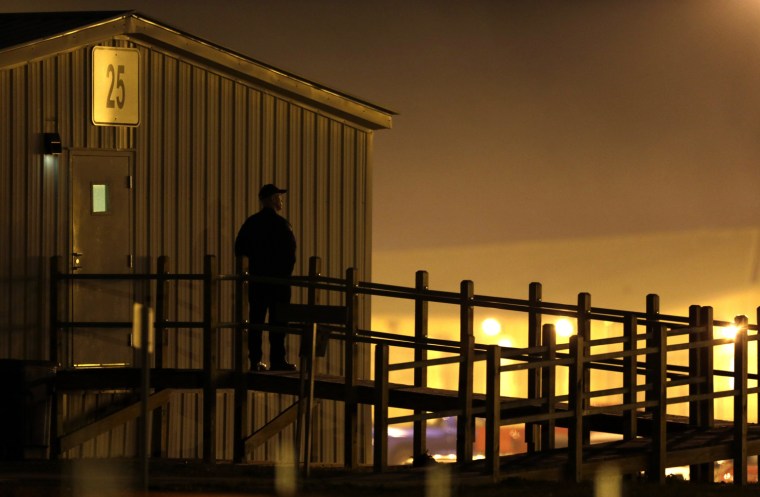 Death penalty states, suddenly faced with a shortage of drugs for executions, are increasingly turning to loosely regulated compounding pharmacies for the lethal dose — raising concerns about safety and secrecy.
Compounding pharmacies, which mix drugs under custom orders, drew national attention last year, after a meningitis outbreak killed 64 people and was traced to steroid injections brewed at a compounding pharmacy in Massachusetts.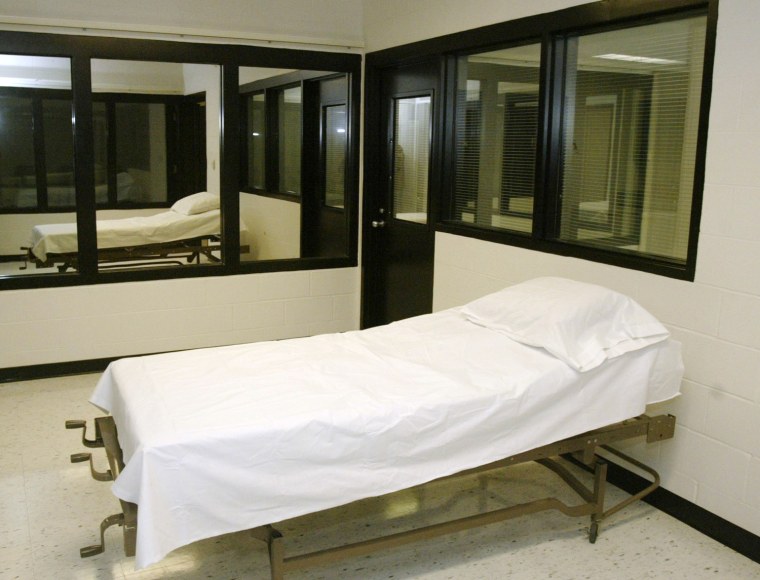 The Food and Drug Administration does not regulate compounding pharmacies, although a bill awaiting President Barack Obama's signature would give the FDA limited power to inspect and close the largest of them.
States are using compounding pharmacies to mix lethal injections because some major drug companies in recent years have stopped making drugs for executions or ordered that they not be used to put inmates to death.
On Wednesday, the state of Missouri used the product of a compounding pharmacy to execute a man convicted in a cross-country killing spree in the late 1970s. The convict, a white supremacist named Joseph Paul Franklin, is also the man who shot Larry Flynt in 1978, leaving him partly paralyzed.
The state put Franklin to death with an injection of pentobarbital, a barbiturate that it ordered from a compounding pharmacy. He stopped breathing three minutes after the injection and was declared dead seven minutes after that, according to witnesses.
For years, Missouri used a sequence of three drugs to execute inmates. In April 2012, as more drugmakers stopped selling them to prisons and corrections departments, the state switched to a single drug, the anesthetic propofol.
Then came an outcry from Europe, where most propofol is made. The European Union, strongly opposed to the death penalty, threatened to limit exports of the drug — which would have caused complications for countless hospitals.
Missouri Gov. Jay Nixon ordered a switch to pentobarbital. The state also designated the compounding pharmacy mixing it as a member of its official execution team, which under state law allows its identity to be kept secret.
A federal judge, Nanette Laughrey, granted Franklin a stay of execution on Tuesday and pointed out that the state had issued three different execution protocols in three months, one as recently as five days earlier.
"Franklin has been given no time to research the risk of pain associated with the department's new protocol, the quality of the pentobarbital provided, and the record of the source of the pentobarbital," she wrote.
A federal appeals court and the Supreme Court ruled against Franklin, however. He was put to death Wednesday minutes after the Supreme Court decision. The governor's office did not return a request for comment.
'We don't know quite what they're getting'
Compounding pharmacies are at the center of a raft of recent legal challenges aimed at forestalling executions. Death penalty opponents say that the pharmacies cannot be trusted to produce safe drugs and that executions could be unusually cruel as a result.
"We don't know quite what they're getting," said Deborah W. Denno, a professor at Fordham University law school who has written extensively about the death penalty. "It's not being tested or approved in the way that it typically would be."
Compounding pharmacies have to get a state license, and there is a national accrediting board, but accreditation is not required. The board's executive director, Joe Cabaleiro, told NBC News that the board has no position on the use of compounded drugs for executions.
At least seven states have obtained or made plans to obtain execution drugs from compounding pharmacies, according to the Death Penalty Information Center, which opposes the death penalty.
That list includes Texas, which executes more inmates than any other state, and which turned to a compounding pharmacy last month to get its lethal drugs, according to documents obtained by The Associated Press under the Freedom of Information Act.
In Ohio, lawyers for a condemned child killer and rapist argued that he should not be put to death because the state planned to secure pentobarbital from a compounding pharmacy.
Because the compounding pharmacy supplying the state was mostly unregulated, and because the pentobarbital would be untested, the compounder — knowing he was mixing a deadly drug for a brutal killer — might be tempted to tamper, they wrote.
The lawyers wrote that the killer, Ronald Phillips, had a justified and extreme fear "that he will be chemically tortured if and when he is injected with compounded execution drugs."
Days before Phillips was to die, the state abandoned the plan to use pentobarbital and said it would use an untested combination of the sedative midazolam and the painkiller hydromorphone.
Gov. John Kasich delayed the execution until July, but not for that reason. He said it was to give the state time to study Phillips' last-minute request to donate his organs.
Denno said she was unaware of any "botched" lethal injections using drugs from compounding pharmacies. But just because an execution looks normal doesn't mean something hasn't gone wrong, such as inmates not getting enough sedative, she said.
The courts have struck back in some cases, she said. In Colorado and Georgia, judges have held this year that the state cannot withhold certain information about how it conducts lethal injection.
Denno said that executions are far from the basic purposes of compounding pharmacies, like mixing a special version of a prescription because a patient is allergic to a particular chemical.
"If I get a face cream and a compounding pharmacy leaves out an ingredient, maybe I can get a rash," she said. "When we're talking about somebody being executed, not sedated properly, the drug is creating more pain for them."
The Associated Press contributed to this report.