"Sdrucciola." "Augenphilologie."
The last two competitors on stage at the Scripps National Spelling Bee fought each other with big words — one letter at a time — but in the end, camaraderie was the word of the day as the two teenagers became co-champions.
"It's a dream come true," Sriram Hathwar, 14, of Painted Post, New York, said, as the two hoisted the trophy.
"I'm even happier that I'm a co-champion," Ansun Sunjoe, 13, of Fort Worth, Texas, added.
It was the first time the Bee crowned co-champions since 1962. Nettie Crawford and Michael Day both won that year.
Thursday night, the judges declared the boys winners after six rounds of vocabulary dueling. The final word Sujoe spelled was "feuilleton" and the last for Hathwar was "stichomythia."
Earlier on Thursday, "ecribellate" and "taglioni" were just two of the words that began whittling down the finalists' field in Oxon Hill, Maryland.
A dozen spellers, ranging in age from 11 to 15 and from hometowns from California to Jamaica, advanced to the championship finals. Only one repeat finalist was among the group.
The big shocker in Thursday's semifinals came when top contender Vanya Shivashankar of Olathe, Kansas, was eliminated.
Twelve-year-old Vanya, a three-time finalist whose older sister was the 2009 bee winner, correctly spelled both words onstage but didn't get a high enough score on two computerized spelling and vocabulary tests to advance.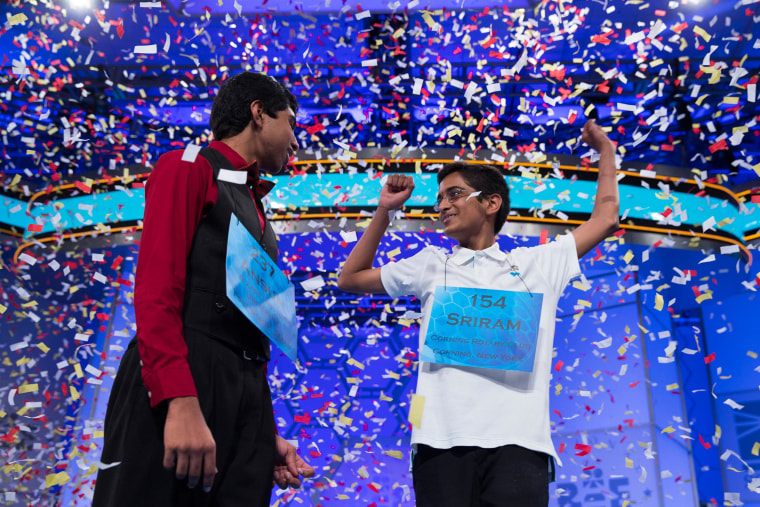 — Becky Bratu and Elizabeth Chuck and the Associated Press contributed to this report.