A former White House ethics adviser says that a sales pitch by Jared Kushner's sister to potential Chinese investors that was centered on a controversial visa program came "very, very close to solicitation of a bribe."
"This is corruption, pure and simple," said Richard Painter, who was an attorney for President George W. Bush and is now a University of Minnesota law professor.
The latest conflict-of-interest uproar to roil President Donald Trump's administration arose this weekend as the Kushner Companies invited wealthy foreigners to sink cash into a New Jersey real estate project via the EB-5 program.
Addressing the crowds in Beijing and Shanghai at an event hosted by a Chinese immigration firm was Nicole Meyer, sister of Kushner, who is one of Trump's most trusted confidants and his son-in-law.
She name-checked Kushner, according to reporters from the Washington Post and the New York Times who attended. Trump's photo also was included in a slideshow that described him as a key decision-maker on the fate of the EB-5 program, but Kushner Companies said that was the work of the Chinese organizer.
The so-called "golden visa" program gives foreigners who invest at least $500,000 in U.S. development projects a faster track to pursue green cards for themselves and their families.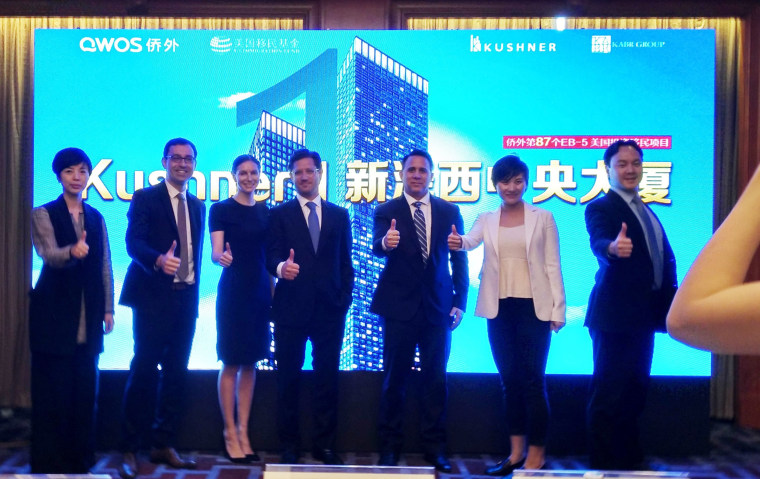 White House spokesman Sean Spicer said Monday that Kushner, who has divested from his family firm, had "nothing to do" with the investor recruitment, and Meyer said through a spokesperson that she was sorry if anyone misinterpreted her mention of her brother.
But Painter and other ethics watchdogs said the episode was appalling and another example of the blurred lines between the Trump administration's business interests and public policy.
Even if Kushner knew nothing about the events, the company "had no right to use his name in this way or to use the president's image to try and raise money for their own family business," Painter said.
He said to avoid even the appearance of a conflict, the Kushner Companies and Trump's businesses should be removed from the EB-5 program, which was extended last week under a bill signed by the president.
At his daily briefing, Spicer said the EB-5 visa program, along with all visa programs, is under review by the White House.
Asked about the presentations in China, Spicer suggested there was no conflict of interest on Kushner's part.
"Jared has done everything to comply with the ethics rules ... and that had nothing to do with him per se," Spicer said at Monday's press briefing.
"He wasn't involved."
Kushner's personal attorney, Blake Roberts of the WilmerHale law firm, said in a statement that Kushner has "no involvement" in the operation of the Kushner Companies.
Kushner has also "divested his interests in the One Journal Square project by selling them to a family trust that he, his wife, and his children are not beneficiaries of, a mechanism suggested by the Office of Government Ethics," Roberts said.
"As previously stated, he will recuse from particular matters concerning the EB-5 visa program."
A spokesperson for the Kushner Companies said in a statement that Meyer mentioned Kushner at the China events "to make clear that her brother had stepped away from the company in January and has nothing to do with this project."
"Kushner Companies apologizes if that mention of her brother was in any way interpreted as an attempt to lure investors. That was not Ms. Meyer's intention," the statement said.
But some event attendees told the newspapers that the company's connection to the White House was a definite bonus as they decided whether to put their money into the project.
"The Trump relationship is an extra point for me," Bi Ting told the Times after a presentation in Shanghai on Sunday.