Cellphone video captured the mayhem that erupted Monday night at the Ft. Lauderdale-Hollywood International Airport after hundreds of travelers became stranded.
Security wrestled with unruly passengers as punches flew, leading to at least three arrests. Screams wailed through the under-construction terminal, as officers wrestled passengers to the ground.
At the Spirit Airlines ticket counters, swarms of distraught customers waited two to three hours in an attempt to learn why they had been stranded in Broward County, Florida.
The cancellations stemmed from an ongoing labor dispute between Spirit Airlines and the Air Line Pilots Association, International. Pilots are arguing for better contracts, which they say are currently below industry standards.
On Monday, Spirit Airlines filed a federal lawsuit against the ALPA in the U.S. District Court of the South District of Florida, alleging the pilots are engaging in a "pervasive illegal work slowdown" and causing "irreparable harm to [Spirit's] goodwill with its customers."
Since the beginning of May, approximately 300 flights have been canceled due to the disruption, according to the lawsuit. It also claims 81 flights were canceled on Sunday.
Twenty-eight more were canceled by Tuesday morning.
"This slowdown is in direct violation of the [Railway Labor Act], which prohibits work slowdowns and strikes during collective bargaining negotiations, as expressly recognized by a series of court decisions, including by this Circuit in Delta Air Lines v. Air Line Pilots Association, International," the lawsuit states.
On Tuesday afternoon, the court ruled in favor of Spirit Airlines, issuing a temporary restraining order, which forced the union pilots to return to work.
"We sincerely apologize to our customers for the disruption and inconveniences they have suffered. We believe this is the result of intimidation tactics by a limited number of our pilots affecting the behavior of the larger group. We are also shocked and saddened by the events that took place yesterday at Ft. Lauderdale-Hollywood International Airport and at other airports across our network," Paul Berry, Spirit Airlines' spokesman, said in a statement.
Berry added that the company hopes the court order will allow the airline and its customers to "put this moment behind us."
A federal preliminary injunction is scheduled for May 15.
APLA said in a statement that it is committed to helping passengers get to their desinations and will resume flying.
"The court has spoken and Spirit pilots will fully comply with the order handed down, which is completely in line with our overriding goal: the resumption of normal operations," APLA said in a statement. "We call on the company to join forces with ALPA and the Spirit pilots to do just that."
The night before the court order, however, hundreds of passengers were forced to figure out new routes after being left without a flight out of Florida.
Brionka Halbert, 18, was scheduled to fly from the Ft. Lauderdale airport to LaGuardia Airport in New York City aboard Spirit flight 710.
She said before takeoff, a flight attendant told the passengers they would have 28 minutes to board the flight or it would be canceled.
"Everyone was stressed. They asked us to take out our boarding passes and be ready," Halbert told NBC News. "Then about 20 minutes after that, they told us the flight was canceled. They sent us to the front desk, so that we could either change our tickets or have our tickets refunded."
She said the passengers then went to the front desk, where approximately 15 police officers were keeping watch.
"People were angry and stressed after this," Halbert said. "Tensions ran high because of the abrupt cancellation. Then, we waited two to three hours at the front desk so that our tickets to be refunded. It got rowdy."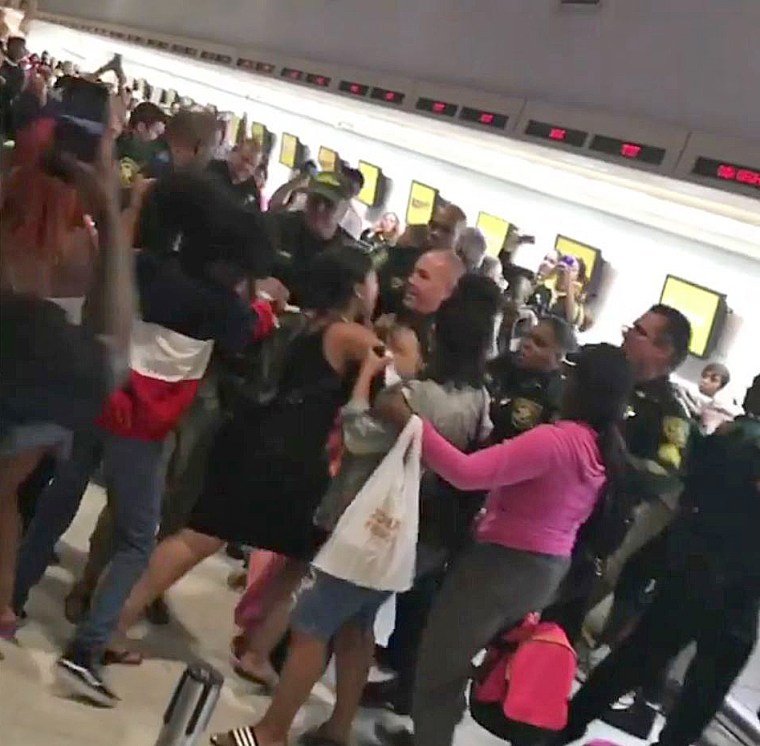 About two hours after her scheduled take off, Halbert said she was inside the terminal witnessing what she described as "excessive force" from the law enforcement officers.
"The cops went about it in the wrong away even if they were trying to do the right thing," she said.
Halbert was still in Florida as of 4:30 a.m. Tuesday morning.
As of Tuesday morning, no additional arrests had been reported. The two men and one woman who were arrested on Monday night were all charged with riot incite or encouraging a riot, disorderly conduct, resisting arrest, and trespassing after warning, a Broward Sheriff's Office spokeswoman confirmed to NBC News.
Dozens of other passengers were forced to sleep on the cold floor of terminal four on Monday night as they figured out how to get home on Tuesday, according to NBC Miami.
Due to the labor disputes, Spirit is currently the airline with the most cancellations worldwide.