NEW YORK — T-Mobile and Sprint have struck a deal that could reshape the U.S. wireless landscape, bringing it down to three major cellphone companies.
T-Mobile on Sunday closed a $26.5 billion agreement to merge with Sprint, upping Sprint's market value to $6.62 per share, CNBC reported.
The deal will help the companies slash costs and could make them a stronger competitor to the larger AT&T and Verizon. But consumers might see higher prices because the combined company wouldn't have to offer as many promotions to lure customers.
T-Mobile Chief Executive John Legere will head the merger and the company, which will be named T-Mobile. In a video announcement posted on Twitter, Legere said the new company will "create robust competition and lower prices across wireless, video and broadband" and lead the way to 5G technology.
"The new company will be able to light up a broad and deep 5G network faster than either company could separately," a press release states. "T-Mobile deployed nationwide LTE twice as fast as Verizon and three times faster than AT&T, and the combined company is positioned to do the same in 5G with deep spectrum assets and network capacity."
The combined enterprise value is projected to be $146 billion, of which Sprint's total value will be about $59 billion. The two companies will merge at the equivalent of 9.75 Sprint shares for each T-Mobile share, the press release states.
The merged company's headquarters will remain in Bellevue, Washington, where T-Mobile's headquarters is located. CNBC reported before the merger that some Sprint executives would remain in the company.
Sprint dropped a bid for T-Mobile more than three years ago after running into concerns in the Obama administration about wireless competition. The two had been poised to combine in October, but that deal was called off, too.
Sprint and its owner, the Japanese conglomerate SoftBank, have long been looking for a deal as the company has struggled to compete on its own.
Sprint has a lot of debt and has posted a string of annual losses. The company has cut costs and made itself more attractive to customers, BTIG Research analyst Walter Piecyk said, but it hasn't invested enough in its network and doesn't have enough airwave rights for quality service in rural areas.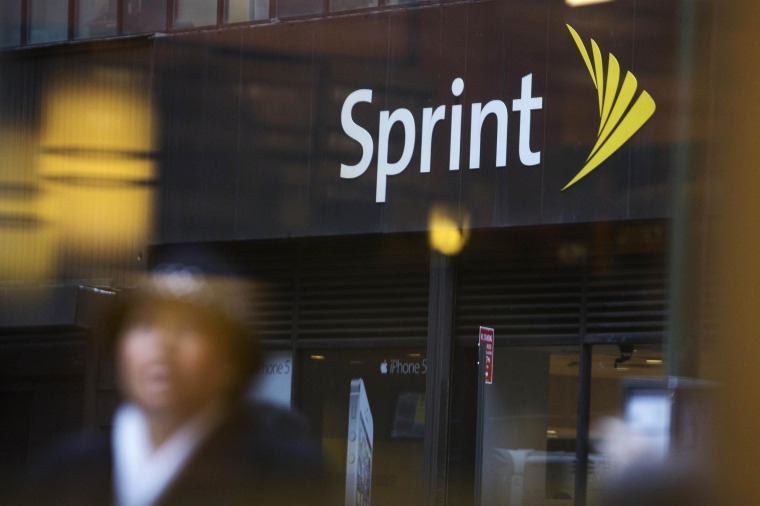 T-Mobile, meanwhile, has been on a yearslong streak of adding customers. After the government nixed AT&T's attempt to buy the company in 2011, T-Mobile led the way in many consumer-friendly changes, such as ditching two-year contracts and bringing back unlimited data plans. Consumers are paying less for cellphone service, thanks to T-Mobile's influence on the industry and the resultant price wars.
"T-Mobile does not need a merger with Sprint to succeed, but Sprint might need one to survive," Piecyk wrote in a research note.
But MoffettNathanson analyst Craig Moffett said T-Mobile's momentum is slowing, which may explain why the company and its parent, Germany's Deutsche Telekom, "have warmed to the idea of a merger sooner rather than later."
The supersized company would have nearly as many wireless subscribers as Verizon and AT&T have now. T-Mobile and Sprint could save money by merging their networks and closing stores.
The Communications Workers of America, a union for telecommunication workers, says the merger will cost at least 20,000 U.S. jobs and reduce competition in wireless, bringing higher prices.
But the cost savings could help the combined company build infrastructure and buy rights to the airwaves needed for faster "5G" service that is expected to be up in running within the next few years.