The former New Hampshire prep school student on trial for allegedly raping a freshman girl testified Wednesday that they had consensual sexual contact that never progressed into intercourse.
Owen Labrie, now 19, was two days away from graduating from the prestigious St. Paul's School in May 2014 when, he said, he wooed the then-15-year-old girl via emails and Facebook messages to join him in a secluded attic on the campus.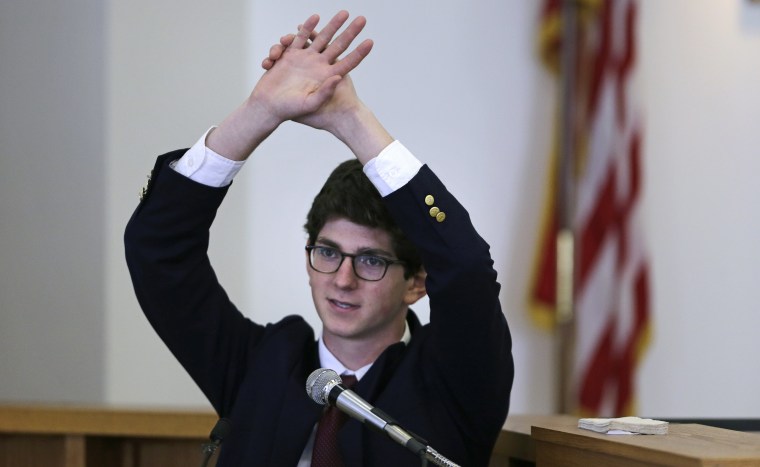 It was ultimately his choice whether they would have sex that night, he testified, and she never indicated that she was against being physically intimate or regretted their encounter in later emails.
"I thought she was having a great time," he said.
Labrie was the only witness for the defense, which rested Wednesday afternoon. Closing arguments were scheduled for Thursday morning.
Related: Friends Testify That Owen Labrie Said He Had Sex With Accuser
Friends of Labrie testified Monday that at the time, he said he had sex with the alleged victim. But he testified Wednesday that he only said that to look good in front of his peers.
Labrie's testimony is a key part of the defense's case that he never raped the younger student — despite her allegations that he became aggressive and continued to touch her even when she said "no." NBC News is not identifying her because she is a minor.
Labrie testified that it was not his intention to have intercourse with the girl when he invited her to meet him as part of the "senior salute" tradition — when seniors typically ask younger students to have a fling before graduation.
Labrie and the girl had a "pretty flirty" and "affectionate" friendship, he told his defense lawyer, Jay Carney, from the stand.
Their meeting on the night of the incident was meant to be a secret, Labrie added, because the girl's older sister had briefly dated him.
The pair first ventured onto the roof of a building — a romantic setting, Labrie testified — before they went into an attic area and began kissing each other and taking each other's sweatshirts off. They kept their underwear on while they lay down on a blanket that Labrie had brought. They touched each other, and they playfully teased and laughed, he added.
"That all seemed as if we were leading up to having sex," Labrie said.
He added that he got up and went to pull a condom out of his wallet. He put it on without taking off his boxer shorts. At that moment, he said, he no longer felt like having intercourse.
They continued to kiss, he added, but when it didn't feel right to continue, they both stopped becoming physical. Labrie said they had planned to go to a school concert that night and if they had had intercourse, the moment would have been rushed.
"It wouldn't have been a good move to have sex with this girl. It wouldn't have been a good choice for me to make," he said.
But before he left, "we shared a big kiss goodnight. ... It was a close kiss," he testified before the trial took a lunchtime break.
Related: St. Paul's School Rape Trial: Accuser Tells Court 'I Felt Like I Couldn't Say No'
But the girl shared a different scenario during her testimony last week.
"I was raped," the girl tearfully said while being questioned by Carney. "I was violated in so many ways."
The girl also testified that Labrie bit her breast while they lay on the blanket, which the defendant denied when he took the stand Wednesday.
Labrie has pleaded not guilty to charges of aggravated felony sex assault, misdemeanor sex assault and using a computer to lure his alleged victim to meet him via email and Facebook. A charge of endangering the welfare of a child was dropped without explanation Wednesday, the Merrimack County Superior Court judge said.
Labrie said he has plans to attend Harvard University on a full scholarship and wants to enroll in divinity school after graduating.