History has not been kind to Army Pfc. George Burns or Marine Sgt. Louis Burmeister.
Both military photographers were on Mount Suribachi on Feb. 23, 1945, when six U.S. warriors raised the Stars and Stripes to alert the world that the bloody battle of Iwo Jima was all but won. And both claimed they took their own versions of the iconic shot that won Associated Press photographer Joe Rosenthal a Pulitzer Prize.
That's where military history becomes mystery. The photos they said they shot have never been seen by the public and may be forever lost. Or perhaps they never existed, which is the Marine Corps' explanation.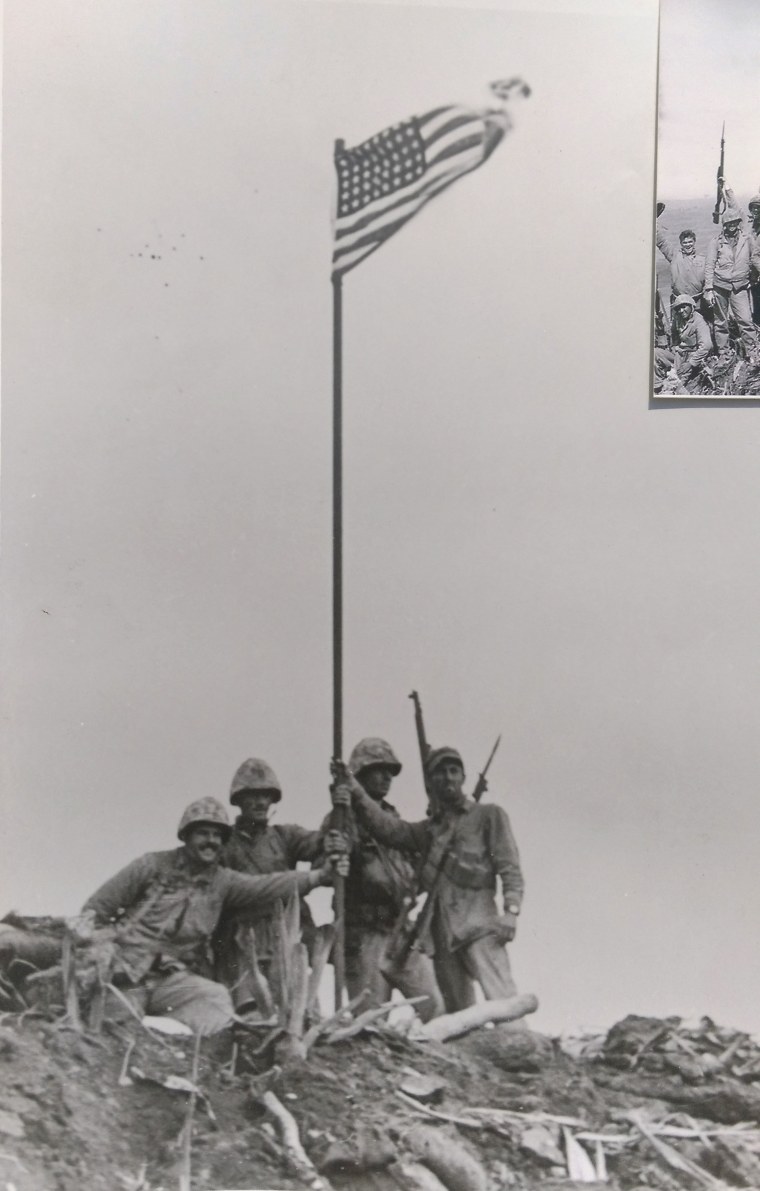 With Rosenthal's photo back in the news now that the Marines are investigating whether they inadvertently misidentified one of the men immortalized in the picture, the forgotten cameramen and their missing photos are getting new attention. If either photo could be found, that could put to rest any questions about who hoisted the flag for the second time, replacing a smaller one placed atop the volcanic cinder cone earlier in the day.
Related: Marines Investigating Possible Historic Snafu With Historic Iwo Jima Photo
Burmeister gained a measure of recognition in 1980, when an inquiry to the Pentagon on his behalf led to the discovery of a half-dozen of his photographs from that day — though not the photos he said he shot of the flag-raising captured in Rosenthal's photo.
Some of the other photos that Burns shot that day were published in Yank, the GI magazine for which he worked. But the shot he said he took of the second flag-raising also never surfaced.
It was not among the many photos Burns left behind when he died on May 7, 1988, at age 71, family members say. And it has not turned up in any government or private collection.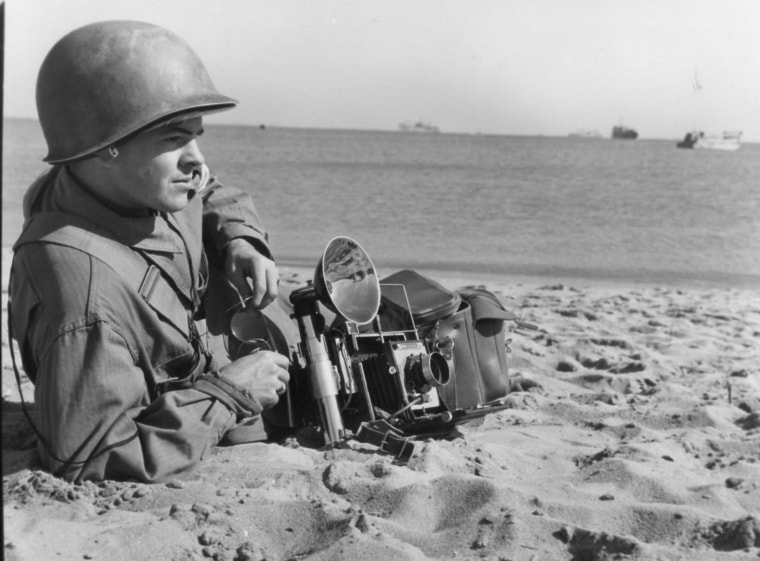 As a result, Burns' story largely faded into obscurity. Many of the accounts of the flag-raising and Rosenthal's shot don't even mention his presence.
That makes his missing photo even more intriguing, said historian Parker Albee, co-author of "Shadow of Suribachi: Raising the Flags on Iwo Jima."
"It is a real mystery," he told NBC News. "We know George Burns was there at the time. But very little has been written about him or his photo."
Many historians suspect the photos of the second flag-raising shot by Burns and Burmeister were deliberately suppressed by the U.S. government to avoid drawing any attention away from Rosenthal's image, which received widespread acclaim and stirred patriotic fervor from the moment it was transmitted by the AP and picked up by hundreds of newspapers around the country.
"It turns out the Marine Corps wanted to emphasize Rosenthal's photo, so the others they either didn't publish or circulate," said Albee, who is among those who suspect a conspiracy.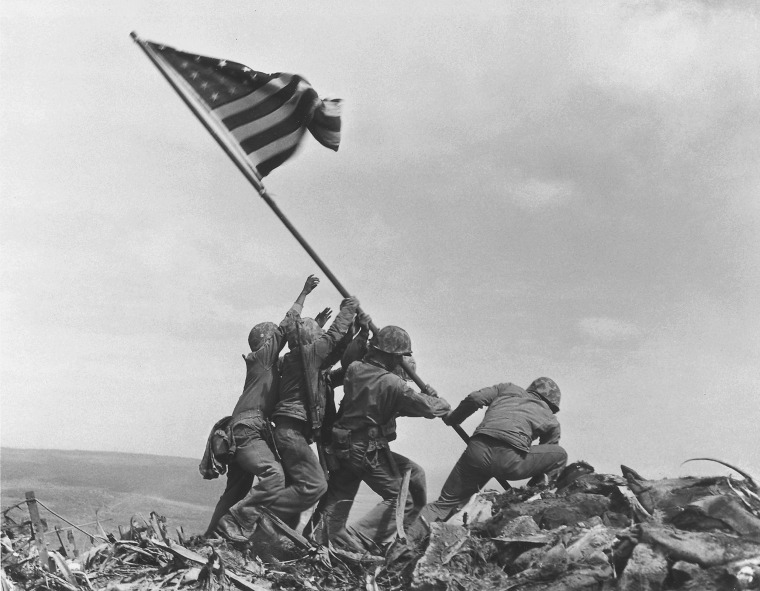 Several members of Burns' family, who have kept his memory alive through stories passed down over the generations, also subscribe to that theory and argue that it's time he got his due.
"The fact is that two photographers were there, both got the same picture, and one got all the credit," said Burns' nephew Chris Burek, of Troy, New York, referring to Rosenthal.
For Iwo Jima historians like Dustin Spence of Grass Valley, California, finding Burns' lost photo or photos has become a quest.
"I can tell you I've discovered some other pictures by him from Mount Suribachi," Spence said of Burns. "There's even a photograph of him with Rosenthal, so we know he was there. But I still have not found this one yet."
Burns and Burmeister actually beat Rosenthal to the top of the 554-foot peak by several hours, snapping photos of the Marines posing along the smaller flag raised earlier that day. They hung around and were joined by Rosenthal, two other Marine cameramen — Pfc. Bob Campbell, and Sgt. Bill Genaust, who shot motion picture film of the second flag-raising — and a Coast Guard photographer who has never been identified, according to Albee.
A piece that Burns wrote for New York Mirror Magazine, published on March 16, 1968, provides the fullest account of his actions that day.
"At the time Joe made his famous picture I was standing just to the right of him and took the same action," he wrote. "Rosenthal's pictures went back with mine through Navy censorship to Guam."
Once there, Burns wrote, it was a photo coordinator named Murray Befeler who "selected the flag-raising photo that was radiophotoed to the world."
If he knew what happened to his photo, Burns did not say in the article.
Befeler died in August 1968, but his son, Mike, told NBC News that his dad probably wouldn't have had anything to do with deciding whether to transmit Burns' photos.
"I heard my dad talk about Rosenthal … but I never heard anything about George Burns," he said. "I'm not sure he would have seen military photographs. He only dealt with AP photos."
An article published by the International Combat Camera Association in 200 blamed military bureaucracy for Rosenthal's scoop.
"Burns got the same shot but was the unlucky one; his pictures were delayed in the Signal Corps Laboratory, allowing Rosenthal to score a historic beat," it said without attribution. It did not say what became of his photos after the initial delay.
"While Burns did take some photos up on Suribachi, there was nothing similar to the Rosenthal photo in anyone's camera roll."
Contacted by NBC News, researchers at the National Archives searched for Burns' second flag-raising Iwo Jima photo and were unable to find it. Nor could the U.S. Army Public Affairs locate any record of it.
Marine Corps officials in Washington, who spoke with NBC News on condition of anonymity, said there is a good reason for that. They don't believe it exists.
"The only Burns photograph that fits this description is a close match to Rosenthal's "Gung Ho" photograph, not the second flag-raising itself," they said, referring to a shot showing Marines posing in front of the flag after it was flying. "While Burns did take some photos up on Suribachi, there was nothing similar to the Rosenthal photo in anyone's camera roll."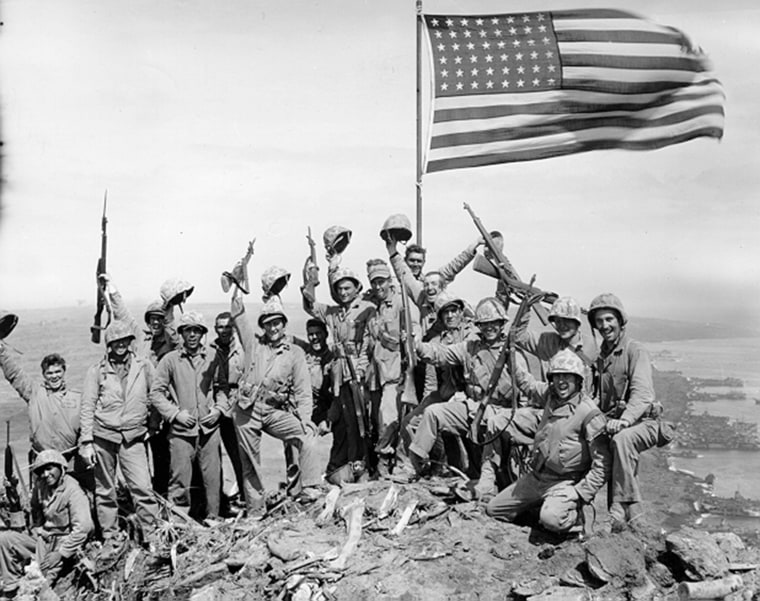 The story of Burmeister's photos is in some ways even stranger. He first told his dad not long after the battle that he had been with Rosenthal on the summit and "I got the same shot," according to Albee.
"I took a picture of Rosenthal taking a picture … and then I stepped right in and took the same picture," he said, in an account first published in the book by Albee and Keller Cushing Freeman.
But none of Burmeister's photos was published in the days and weeks after the Battle of Iwo Jima and Albee said the originals were not returned to him. It was only in 1980 — 35 years after the event — that the Pentagon released some of the photos that Burmeister took on that day, Albee said.
The Medina Gazette newspaper of Ohio, where Burmeister lived and ran a camera and gem shop after the war, reported in 1991 that a film packet holding 10 frames that the Marine shot that day was taken by runners to ships docked offshore for processing. The runners did not bring back finished prints, it said.
"I think he was a proud Marine and he accepted it."
Louis Burmeister, who died Nov. 2, 1993, at 69, told the newspaper at the time: "The guy from The Associated Press was famous with his picture of the flag-raising — and I had the same one — but I didn't even care."
"I think he was a proud Marine and he accepted it," his son, John Burmeister, told NBC News this week.
He also said the photos his father took of the first flag-raising earlier in the day were in some ways just as powerful than Rosenthal's shot.
"I can tell you the original flag raising photos my father took were completely different from the Rosenthal photo," he said. "There was only three or four guys and they were exhausted, they were smoking cigarettes, they were like, 'Oh my God we did it. We conquered Mount Suribachi.'"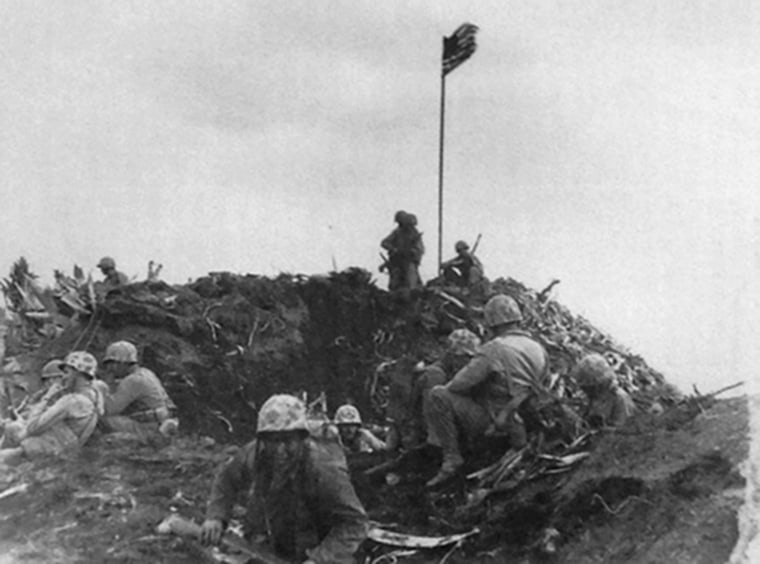 The Marine Corps officials confirmed that Burmeister's photos were discovered in 1980 after a request was submitted on his behalf, but did not include any shot resembling Rosenthal's. They did not say who made the request.
They also did not respond to a request for comment specifically on whether the rival photos were suppressed, apart from saying there is no evidence that the photos that Burns and Burmeister claimed to have shot ever existed.
Spence, the historian, notes however that in addition to not wanting to divert attention from Rosenthal's photo, the Marines had another reason to quash the other photos.
"They didn't want to reveal that there had been an earlier flag-raising and raise suspicions that the second one was staged," he said.
Albee agrees that could have been a motivation for Marine brass to keep a lid on the other images, noting that photos shot by another Marine photographer, Sgt. Louis Lowery, of the first flag-raising also received short shrift.
Related: Vet Remembers Bond With Football Teammate Who Raised Iwo Jima Flag
"He too was chagrined that his photos didn't get noticed," Albee said of Lowery, who worked for the Marine-oriented Leatherneck magazine.
If the other photos were downplayed in an effort to avoid controversy, those efforts were ultimately unsuccessful. Rosenthal, who died in 2006, went to his grave combating reports and rumors that his shot had been set up. His account was backed by both Burns and Burmeister.
Author James Bradley tried to puncture the propaganda rumors once and for all in 2000, writing in his best-seller "Flags of our Fathers" that the second flag was ordered raised by a military commander to make it more visible to American troops and to keep the secretary of the Navy from claiming the first banner as a souvenir. Nonetheless, the belief that the second event was a fake persists to this day.
If Burns was bothered by his demotion to the footnotes of history, he didn't ever let on.
"Joe, as a seasoned professional, was the one who caught the exact instant that was just right. His was the picture that made history."
His stepson David Wood says that like many World War II veterans, Burns did not talk much about the war. And outside of a few interviews with local media, Burns kept his story to himself and close family.
"George never said much about that day, he never bragged," he said.
And in his written account of that day, he gave Rosenthal credit for taking the picture that mattered.
"Joe, as a seasoned professional, was the one who caught the exact instant that was just right," he wrote. "His was the picture that made history."
Burns, who worked for his hometown newspaper, the Albany Times-Union, and the AP before enlisting in the Army when the war broke out and becoming a staff photographer for Yank magazine, did get other moments of recognition.
He covered the U.S. landings in the Marianas, Leyte and Okinawa in the Pacific and was one of the first to photograph the aftermath of the atomic bomb that destroyed Nagasaki. He also scooped the international press by being the first to report on — and photograph — the suicide attempt by Japanese Prime Minister Hideki Tojo.
Wood, Burns' stepson, said the photographer later gave him what he said was the sword Tojo used in his failed attempt at killing himself. "He said he took it off Tojo," Wood said.
"George was the kind of guy who never looked for recognition, although he certainly deserved it."
After the war, Burns came home to upstate New York and continued working as a photojournalist for magazines like Life, Look and the Saturday Evening Post. He was also General Electric's chief news photographer. There he worked for a time with another World War II vet, novelist Kurt Vonnegut, who wrote press releases for GE before gaining fame with "Slaughterhouse-Five," depicting the firebombing of Dresden.
"George was a fun guy, an adventurer," Ginger Strand wrote in her 2015 book, "The Brothers Vonnegut: Science and Fiction in the House of Magic." "George shot the famous flag-raising at Iwo Jima for Yank magazine. His was not the version that became famous, but he was easygoing enough not to care."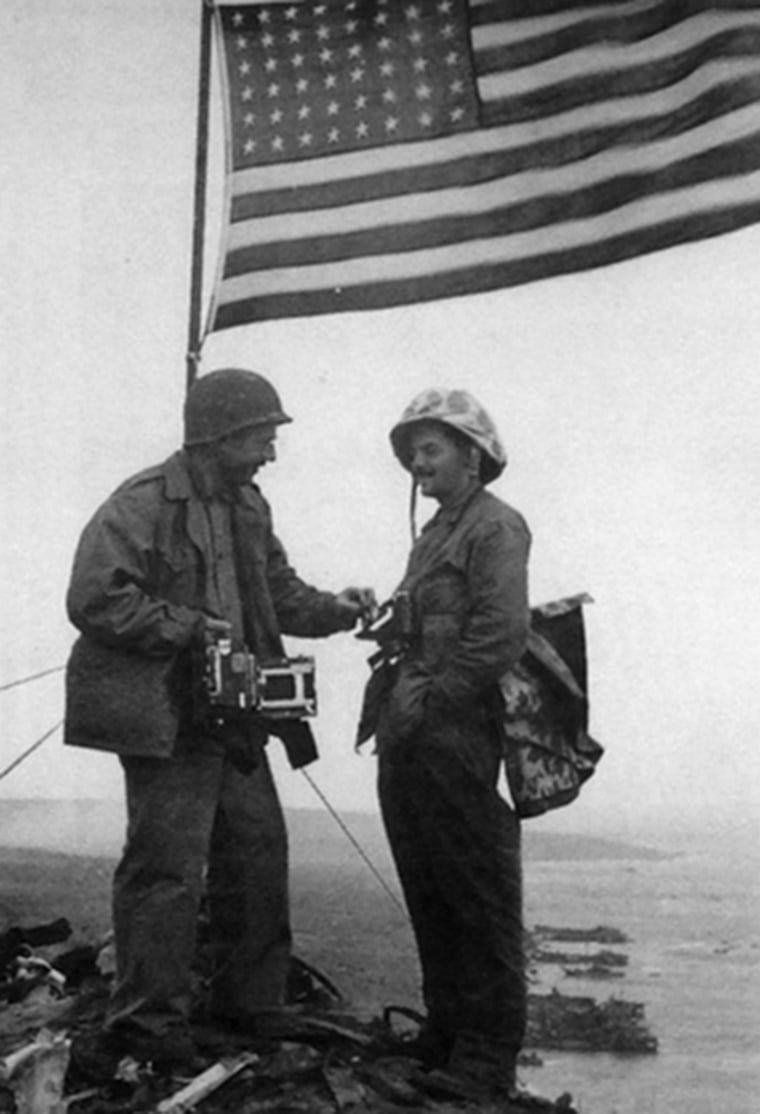 Wood said Burns may not have cared, but he and his other surviving family members do.
"This man kept such a low profile," he said. "George was the kind of guy who never looked for recognition, although he certainly deserved it."
Burek said Burns, his uncle by marriage, passed away before he was born. But Burns loomed large in his imagination because his mother and aunts use to regale him with stories about how his uncle braved bullets at Iwo Jima.
And as the U.S. pauses to remember the men and women who died while serving in the nation's armed forces, Burek said his uncle deserves a moment of his own.
"I want George Burns to be remembered on Memorial Day," he said.