"Star Wars" has lost its most beloved princess.
Carrie Fisher, best known for her portrayal of the plucky Princess Leia in George Lucas' epic intergalactic movie series, died Tuesday, days after suffering a heart attack on a plane. She was 60 years old.
"It is with a very deep sadness that Billie Lourd confirms that her beloved mother Carrie Fisher passed away at 855 this morning," Simon Halls, a representative for Fisher's daughter, said in a statement to NBC News. "She was loved by the world and she will be missed profoundly."
Related: 'Our Princess Has Passed Away' — Stars Mourn Carrie Fisher
Fisher, who had recently wrapped the filming of "Star Wars: Episode VIII," the second of three new "Star Wars" films, was in the midst of a tour to promote her eighth book, an autobiography called "The Princess Diarist," when she suffered the medical emergency.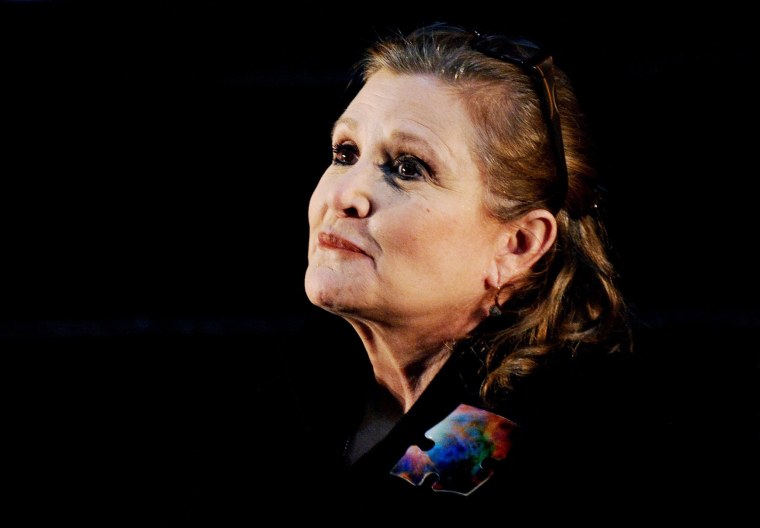 During a Nov. 21 appearance on TODAY, Fisher showed no sign of being ill while she bantered with the hosts and dished about her affair with co-star Harrison Ford.
Photo Gallery: Carrie Fisher: Actress, Author and 'Princess'
"It was a three-month one-night stand," she said.
But on a flight from London back home to Los Angeles last Friday, Fisher went into cardiac arrest. Sources said members of the United flight crew, joined by a doctor and a nurse on board, performed emergency measures on her.
Lucas said in a statement that Fisher "was extremely smart; a talented actress, writer and comedienne with a very colorful personality that everyone loved."
"In Star Wars she was our great and powerful princess — feisty, wise and full of hope in a role that was more difficult than most people might think," he said. "My heart and prayers are with Billie, Debbie and all Carrie's family, friends and fans. She will be missed by all."
Co-star Harrison Ford echoed the sentiment, and said in a statement that "Carrie was one-of-a-kind ... brilliant, original. Funny and emotionally fearless. She lived her life, bravely."
Born October 21, 1956, Fisher was Hollywood royalty before she became a member of the fictional Organa royal family in the "Star Wars" movies.
The daughter of singer Eddie Fisher and actress Debbie Reynolds, Fisher was just two when her parents divorced and she went to live briefly with starlet Elizabeth Taylor.
Reynolds thanked those who "embraced the gifts and talents of my beloved and amazing daughter" in a post on Facebook following Fisher's death, adding, "I am grateful for your thoughts and prayers that are now guiding her to her next stop."
Following in her mother's footsteps, Fisher made her film debut in the 1975 movie "Shampoo." But it was her turn as the tough-talking princess who defies the Evil Empire in "Star Wars" two years later that rocketed her into fame and turned her into a feminist icon at the tender age of 19.
And she relished the role.
"And as much as I may have joked about 'Star Wars' over the years, I liked that I was in those films," she later wrote in her autobiography. "Particularly as the only girl in an all-boy fantasy. They were fun to make. It was an anecdote of unimaginable standing."
In 1983, Fisher became a sex symbol for a whole generation of "Star Wars" fans when she appeared in a memorable metal bikini chained to the villainous Jabba the Hutt in "Star Wars: Episode VI - Return of the Jedi."
"What's funny is I wish I had known I was a sex symbol," she later told The New York Daily News. "That's so odd. Because I don't think that way. I don't look at myself even remotely that way."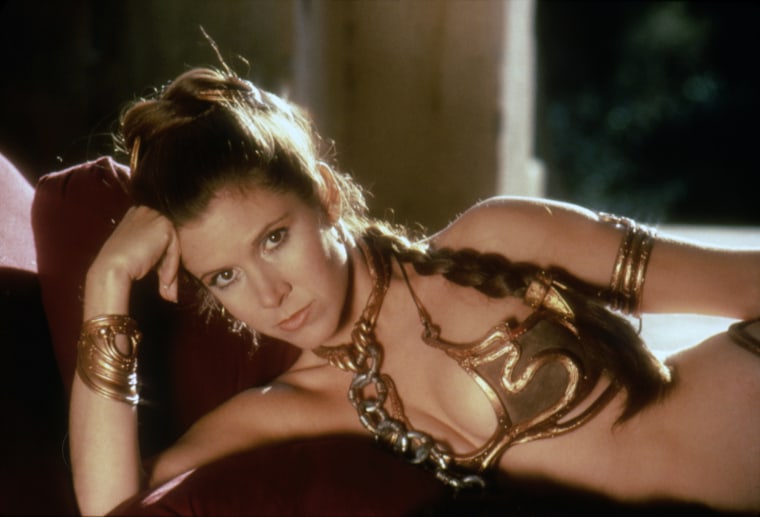 Fisher went on to appear in other movies, landing scene-stealing supporting roles in "The Blue Brothers," "When Harry Met Sally" and "The Burbs."
Recently, Fisher played the annoying mother in a British TV comedy called "Catastrophe" that streams on Amazon.
In 1987, Fisher published her first novel "Postcards from the Edge," a semi-autobiographical book that drew on her real-life battles with drug addiction, bipolar disorder and her fraught relationship with her mother.
It was a bestseller that was turned into a 1990 movie starring Meryl Streep and Shirley Maclaine.
Fisher continued making movies and became one of Hollywood's most in-demand script doctors. She also found a new generation of fans with appearances on shows as varied as "Entourage," "30 Rock," and "Sex and the City." She also was the voice of Peter Griffin's boss Angela on "Family Guy."
In 2014, Fisher confirmed that she was reuniting with Ford and Mark Hamill in "Star Wars: The Force Awakens."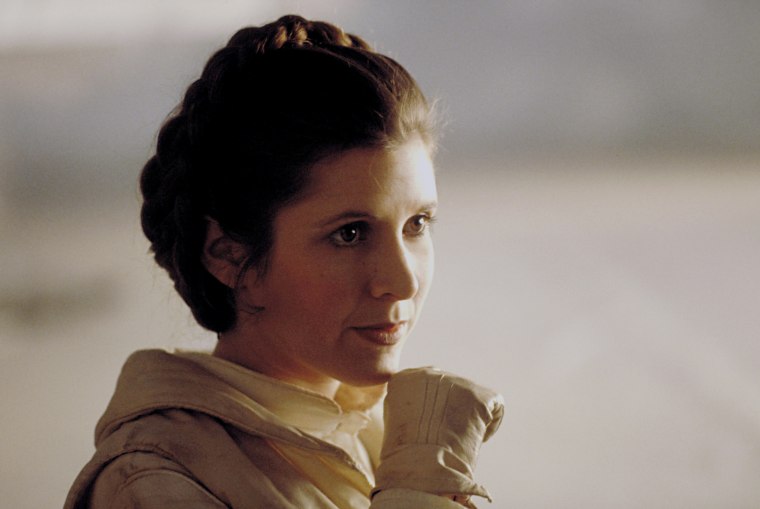 But after the movie came out, the actress was barraged with hateful tweets from body shamers who said she'd aged badly. Fisher fired right back at them.
Two years later, Fisher released her tell-all book, that included her claim of an affair with Ford and the admission that she thought her days as Princess Leia were over.
"I was surprised. As surprised as you can be and still be so far over forty," she wrote. "I mean, I thought they might make more Star Wars movies — not that I thought it all that much — but I doubted that I would find myself in them. And now it looked like I would! Hallelujah!"
Fisher was in a long-term relationship with musician Paul Simon and married to him for a year before they divorced in 1984. From 1991 to 1994, she was involved with talent agent Bryan Lourd — a relationship that produced her one child, actress Billie Lourd. She was also briefly engaged to comedian and actor Dan Aykroyd, whom she met on the set of "The Blues Brothers."
Funeral plans are not yet finalized.