"Star Wars" actress Carrie Fisher was in a critical condition after suffering a heart attack on a flight from London to Los Angeles on Friday.
Fisher, 60, world-famous for playing Princess Leia in the blockbuster franchise, was rushed to a local hospital after suffering full cardiac arrest on the flight. Fisher's brother, Todd Fisher, told E! News that Fisher is in intensive care, but couldn't say more and needed to speak with doctors.
Related: Stars Rally Behind Carrie Fisher After Heart Attack
The Los Angeles Fire Department was contacted just before United Flight 935 landed at about 12:11 local time and performed "advanced life support," the department said. Paramedics arrived at the gate and took her to Ronald Reagan UCLA Medical Center, officials said.
United Airlines said in a statement that a passenger became unresponsive on Flight 935 from London to Los Angeles but did not name the passenger. "Our thoughts are with our customer at this time," the airline said.
Two actors tweeted that they were on board the plane when Fisher fell ill.
Fisher had recently wrapped filming for "Star Wars: Episode VIII," the second of three new films in the massively popular sci-fi saga.
She was promoting her eighth book, a collection titled "The Princess Diarist," in which she revealed her affair with co-star Harrison Ford during the filming of "Star Wars."
Fisher, the daughter of singer Eddie Fisher and actress Debbie Reynolds, was 19 when she was cast in the role of Leia, which thrust her into superstardom. She appeared in two sequels, "The Empire Strikes Back" and "Return of the Jedi," along with several other films.
Her first novel, 1987's "Postcards from the Edge," was a semi-autobiographical account of a drug-addicted actress in Hollywood. It received widespread acclaim, and was made into a 1990 film starring Meryl Streep and Shirley MacLaine; Fisher wrote the screenplay.
But she has always been best known as Leia.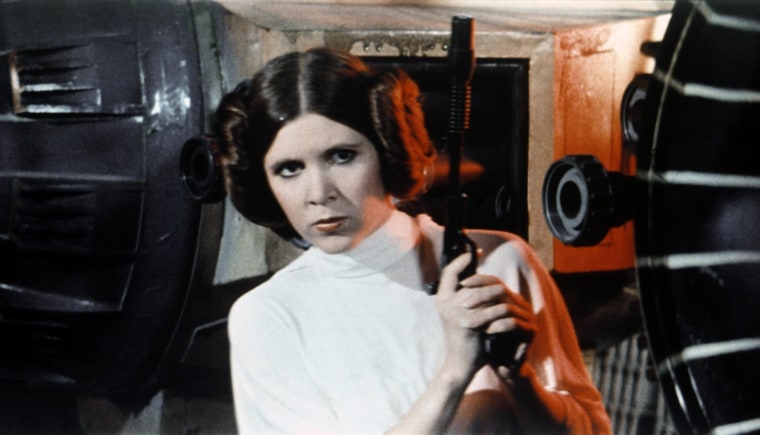 Fisher's sister, actress Joely Fisher, tweeted Saturday to fans that "your love and prayers are deeply felt."
Her former co-star, Mark Hamill, who plays Luke Skywalker in the "Star Wars" series, tweeted his hopes that she'd recover.
Peter Mayhew, who plays Chewbacca, called her "everyone's favorite princess."