WASHINGTON — The Syrian regime has built a crematorium 45 minutes outside of Damascus where the U.S. government believes they are burning the bodies of the thousands of prisoners executed inside the walls of the Saydnaya military prison — an institution nicknamed "the slaughterhouse".
The prison is believed to kill at least 50 detainees a day often by mass hangings, acting assistant Secretary for Middle Eastern Affairs Stuart Jones briefed reporters on Monday. Jones also presented aerial photos of the prison complex showing the crematorium's construction in 2013.
The international community previously believed that the bodies were being disposed of in mass graves. The building of a crematorium allows the regime to cover up the extent of mass murders they undertake while leaving behind little evidence, Jones said.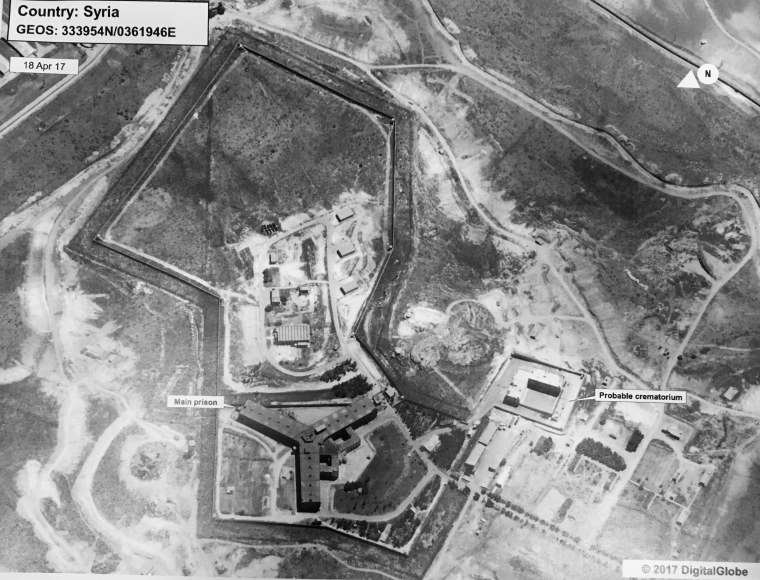 The executions were carried out "seemingly with the unconditional support of Russia and Iran", Jones said adding that the U.S. does not believe Russia or Iran are involved with the crematorium.
"This information has been developing and with the meeting last week between Foreign Minister Lavrov and the Secretary, this was an opportune time to remind people about the atrocities that are being carried out inside of Syria," Jones said.
Related: At Least 13,000 Hanged in Mass Executions at Syrian Prison: Amnesty International
The findings are part of declassified information available to the intelligence community and humanitarian organizations. An Assad former regime photo documentarian working under the name "Ceaser" shared more than 10,000 photos of Assad's victims with the international community, Jones said.
Non government organizations and human rights groups have long asserted that the Assad regime has abducted and detained between 65,000 and 117,000 people between 2011-2015 as that nation's bloody civil war rages on.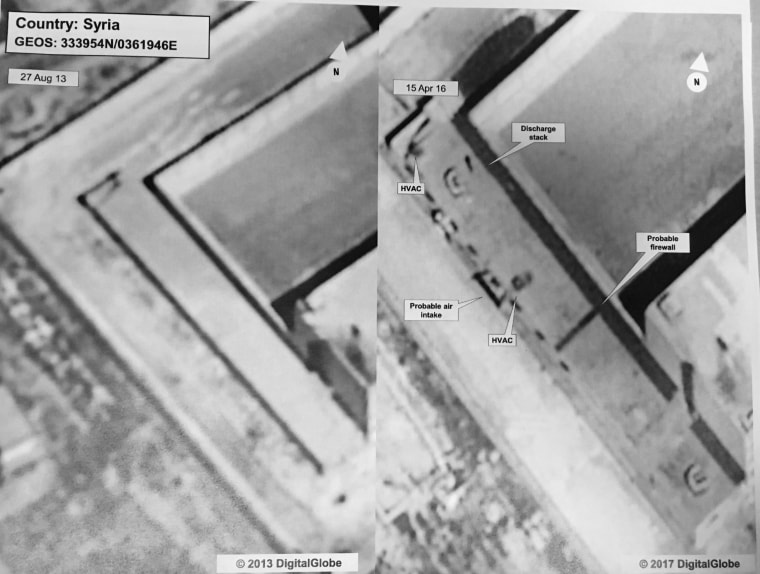 Once detained, prisoners are often beaten, tortured, electrocuted and raped, officials said.
Sometimes as many as 70 prisoners are crammed into cells that were meant to hold five people.
During his meeting with President Donald Trump and Secretary of State Rex Tillerson last week, Russian Foreign Minister Sergei Lavrov discussed their nations' differences on how to best proceed in the six-year Syrian war which has left more than 500,000 dead and displaced millions.
Russia supports Assad, while Washington has said Syrian leader Bashar al-Assad can't remain in power.
"We do not have a notion of an exit strategy," Lavrov said during the press conference at the Russian embassy on Wednesday. The "obsession with ousting particular leaders — look what it has led to. Why don't we try to learn from our mistakes, focus on process, defeating terrorism."
The U.S. and Russia also disagree on Assad's role in last month's chemical gas attack, which left dozens of civilians dead. Trump ordered the launch of 59 cruise missiles at a Syrian airbase in retaliation.
Heather Nauert, the new State Department spokeswoman, in her first time at the podium, said "Tillerson was firm and clear with Minister Lavrov, Russia holds tremendous influence over Bashar al-Assad, a key point that took place in that meeting was telling Russia to use its power to reign in the regime. Simply put: the killing and devastation has gone on for far too long in Syria."