A glowing description of President Donald Trump's Florida estate, Mar-a-Lago — calling it the "winter White House" — was posted on State Department websites, bringing criticism from ethics watchdogs and Democrats.
The item, published ahead of an early April meeting with China's president at the Palm Beach club, recounted the club's history and Trump's purchase and gilded redecoration of the property where he's spent half his weekends since taking office.
Under the heading "A Dream Deferred" — drawing on a famous line from the Langston Hughes poem "Harlem" — it said the original socialite owner wanted Mar-a-Lago to be a retreat for American presidents but notes it didn't happen until Trump won the election.
The text appeared on the website for Share America, a State Department platform intended to "spark discussion and debate on important topics;" the website for the U.S. Embassy in the United Kingdom and the Facebook page for the U.S. Embassy in Albania.
Democratic House Minority Leader Nancy Pelosi was among those taking to Twitter to question whether the posts violated government ethics rules.
The State Department initially declined to comment on the posts, but later unpublished them and said, "The intention of the article was to inform the public about where the President has been hosting world leaders. We regret any misperception and have removed the post."
Three ethics watchdogs who reviewed the posts before they were taken down told NBC News they were troubling.
"They represent violations of a federal ethics regulation which prohibits the use of public office to endorse a product or enterprise," said Kathleen Clark, a professor at Washington University Law.
"Calling it the 'winter White House' appears to suggest that Mar-a-Lago has an official governmental role, which would appear to provide a governmental endorsement."
Jordan Libowitz of Citizens for Responsibility and Ethics in Washington said the post "reads almost like an ad for Mar-a-Lago."
"If they weren't trying to drive business there, you have to wonder what they were doing," said Libowitz, who has previously sued Trump over other alleged ethics violations.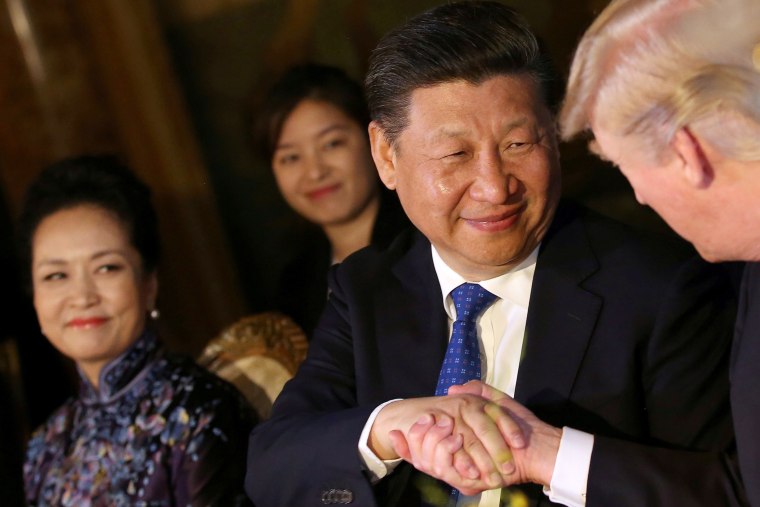 John Wonderlich of the Sunlight Foundation said it didn't matter that the context for the posts was Trump's meeting with China's Xi Jinping.
"Publishing promotional materials for the President's private business is clearly inappropriate, whether he is using it for official business or not," he said. "There is only one White House. If you're telling the story of Mar-a-Lago, it's the president's private business."
Mar-a-Lago has been a lightning rod for those accusing the Trump administration of conflicts of interest.
While Trump has turned over control of his businesses to his sons, critics have pointed out that initiation fees were doubled to $200,000 after his election and that the president's frequent appearances there could provide unique access to him for those who can pay.
An encounter between Trump and two former Colombian presidents, who were invited by a Mar-a-Lago member, also raised questions — with the White House denying there was a secret meeting to discuss opposition to a Colombian peace deal with revolutionaries.
As NBC News has reported, since his January inauguration, Trump has spent seven of 14 weekends at Mar-a-Lago and at least 28 percent of his term traveling to or staying at the estate.