Turkish Ambassador Serdar Kiliç was called in to the State Department to meet with U.S. Under Secretary of State Thomas Shannon hours after President Recep Tayyip Erdogan's guards violently entered a crowd of protesters, U.S. officials said Thursday.
"We can confirm that Ambassador Kilic was summoned to the State Department and met with Under Secretary Shannon on Wednesday," a State Department official told NBC News.
And new video revealed Thursday shows Erdogan — who hours earlier had met with President Donald Trump — watching the fracas from his car outside the Turkish embassy. Before it begins, a guard bends to speak to the Turkish president. That guard talks to another man who then begins the fight.
Initial video only showed the bodyguards charging the protesters and the bloody aftermath.
The State Department confirmed that two members of the Turkish security team were briefly detained after the brawl, and then released. International law protects heads of state and members of their entourage from arrest.
Nine were hurt and two Kurdish protesters were arrested, police said on Wednesday.
The Turkish government placed the blame at the feet of the protesters, claiming that they were affiliated with "terrorist" groups.
"The violence and injuries were the result of this unpermitted, provocative demonstration," read a statement from the Turkish embassy on Wednesday. "We hope that, in the future, appropriate measures will be taken to ensure that similar provocative actions causing harm and violence do not occur."
Related: Flynn Delayed Anti-ISIS Plan That Turkey Opposed
They did not provide any evidence to support their assertion of the protester's ties.
U.S. government officials have been roundly critical of the guard's actions. The initial response from the State Department condemned the violence.
"Violence is never an appropriate response to free speech, and we support the rights of people everywhere to free expression and peaceful protest," State Department spokeswoman Heather Nauert said Wednesday
Senators Dianne Feinstein, D-Calif., and John McCain, R-Arizona, sent a sharply worded letter to Erdogan on Thursday that demanded he punish his bodyguards and noted that it reflected his government's oppressive tactics.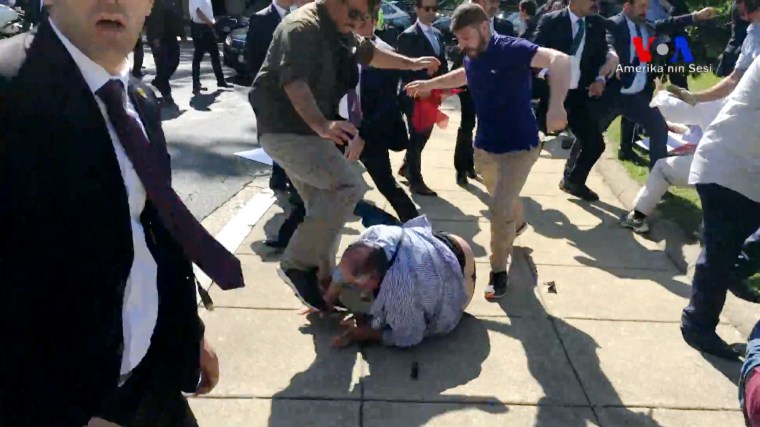 "The violent response of your security detail to peaceful protesters is wholly unacceptable and, unfortunately, reflective of your government's treatment of the press, ethnic minority groups and political opponents," the letter said.
Earlier in the day, McCain was slightly less diplomatic in an appearance on MSNBC's Morning Joe, saying, "We should throw their ambassador the hell out of the United States of America."
This is not the first time that Erdogan's entourage has been embroiled in a physical fight with protesters on U.S. soil. His security detail scuffled with demonstrators as well as members of the press outside the Brookings Institution in Washington D.C. in March 2016.
"The actions of your staff violate the constitutional protections of freedom of the press and freedom of assembly enjoyed by all Americans," Feinstein and McCain wrote in Thursday's letter. "Your staff's blatant violation of these rights on American soil is an affront to those freedoms and reflects poorly on your government."