An Arizona state worker who checks on road conditions is a local hero after he raced from work in his car to rescue a tiny white puppy that got a little too brave for her own good this week.
Gil Estrada was monitoring Phoenix traffic cameras Monday night as part of his job with the state Transportation Department when he spotted the puppy dodging speeding vehicles on State Route 51.
When she got to the median separating the north- and southbound lanes, she stopped and tried several times to hop onto the concrete barrier before she made it and lay down.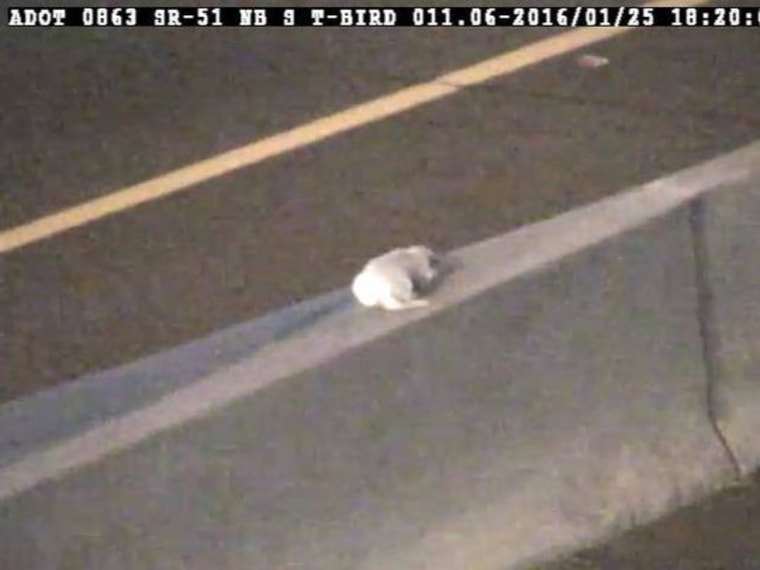 So Estrada rushed to his car and drove several miles to rescue the puppy, which had been cowering on the narrow barrier for an hour.
"She was lucky, and she was brave, too," Estrada told NBC station KPNX.
"She knew that she was in peril if she moved anywhere, and she just stayed there," he said. "I was just happy to go out there and pick her up."
The puppy is now at an Arizona Equine Rescue Organization shelter. It usually handles large animals like horses, but "something about this puppy's situation motivated us to branch outside of the norm," the organization said in a Facebook post Monday night.
Authorities haven't been able to find her owner. Shelter officials said Wednesday night that she doesn't belong to any of the several people who've contacted it because their dogs are missing, but because "she appears well cared for, we are hopeful we can track down her owner."
"Right now she is catching up on her sleep," it said.
In the meantime, the shelter has named her Dottie — get it, DOT? — and local residents have suggested that the Department of Transportation make her its new mascot.