Many states began reopening their economies Friday, allowing more people to get back to work and giving them more opportunities to get out of their homes as governors eased coronavirus restrictions.
Business owners cautiously welcomed the relaxation of rules amid an apparent stabilization of the coronavirus death rate.
"We're following the guidelines and we hope the government is guiding us in the right direction," said Charlie Yin, who's preparing to open three of his four restaurants in Nebraska on Monday. "I definitely think this is saving jobs."
In Texas, malls, stores, restaurants and movie theaters were allowed to open Friday at 25 percent of their previously permitted capacity. Medical and dental offices could also take patients with non-essential needs.
Effie Stees, owner of the Why Not Envy Me Boutique, which sells jewelry and chocolate in Spring, Texas, said displays and tables were placed six feet apart, hand sanitizer stations were set up and only five customers at a time were allowed inside.
"It's a new normal," Stees said. "But people are grateful they have a place to go."
Among states relaxing restrictions Friday were Iowa, Utah, Wyoming and Maine. Ohio allowed medical officers, dentists and veterinarians to open and permitted retail sales by curbside appointments. Tennessee Gov. Bill Lee Friday announced new guidelines, including 50 percent capacity for houses of worship.
In Oklahoma, businesses not already allowed to operate were told doors could be reopened so long as social distancing was observed.
Chavez Haydon, general operations manager of Oklahoma Extreme Tumbling and Trampoline in Bixby said the 2,000-square-foot facility was allowing only 10 to 15 people inside at a time.
"They come get their temperatures checked at the front door and, as they leave, they go through the back door so no one crosses each other," he said.
In Pennsylvania, Gov. Tom Wolf announced Friday that he would allow a limited reopening of businesses May 8 in 24 counties, where restaurants and bars could make carryout transactions and retailers could operate, although curbside pickup was deemed preferable.
"We'll need stores to use no-contact options like curbside pickup and delivery, as much as possible," Wolf said. "This is to continue allowing workers to telework as much as possible."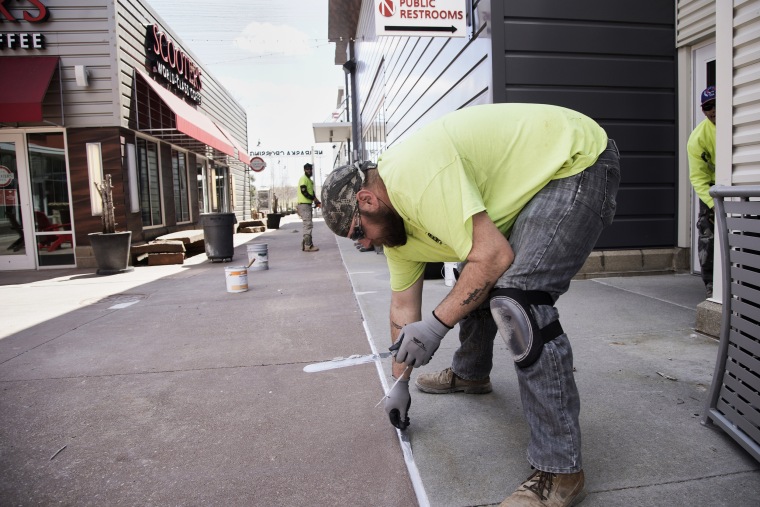 In Indiana, Gov. Eric J. Holcomb said that in most counties social gatherings of up to 25 people would be allowed, retailers could operate at 50 percent capacity, and manufacturers, industrial locations and "infrastructure operations" not earlier considered essential could get back to work. But those 65 and older were told to continue staying at home.
Louisiana's stay-at-home order was scheduled to be lifted May 15. But on Friday, restaurants were allowed to let customers eat at well-distanced outdoor tables.
Mandy Perrilloux, a manager at Trey Yuen Chinese restaurant in Mandeville, said the location has gardens and koi ponds that could facilitate outdoor dining. But she was still deliberating about whether it would be safe.
"We're still cautious because we don't know where this is going to go," she said. "Our No. 1 thing is making sure we do everything safely."