For three days this week, protesters marched outside Sacramento County District Attorney Anne Marie Schubert's office, demanding she charge two officers who shot to death Stephon Clark, an unarmed 22-year-old father of two, in a dark backyard on March 18.
The case, still under investigation by police, hasn't yet made it to her desk.
But that hasn't stopped reform advocates from plotting to boot her from office and replace her with someone they believe is more likely to hold police accountable for abuses of power — and pursue policies aimed at curbing mass incarceration.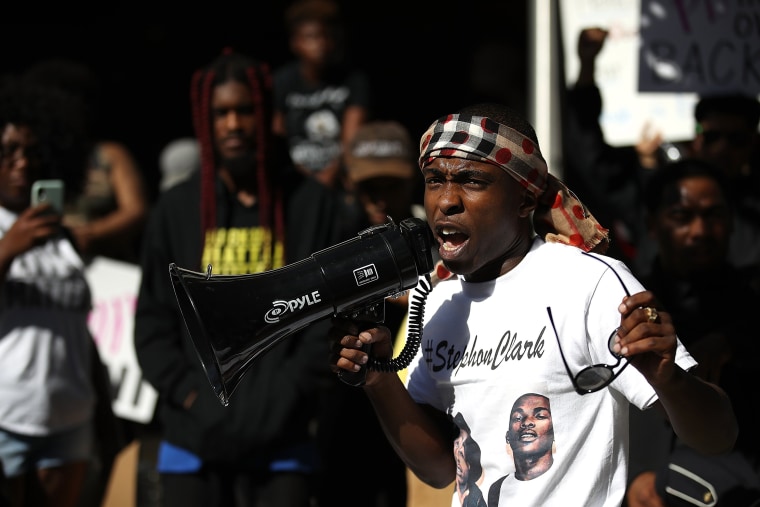 Schubert, a Republican career prosecutor who won office by a large margin in a Democratic-leaning county four years ago, is running for re-election June 5 in a rapidly transforming political climate. With Clark's death likely to dominate the campaign, the race has become a battleground in a national movement aimed at sweeping into power progressive prosecutors.
Last week's shooting is an opportunity to tell voters "that this is not just about justice for Stephon Clark. It's about the criminal justice system and how it operates in Sacramento," said Becky Bond, a former Bernie Sanders operative and executive director of Real Justice PAC, which this week endorsed and began funneling money to Schubert's Democratic opponent, Noah Phillips.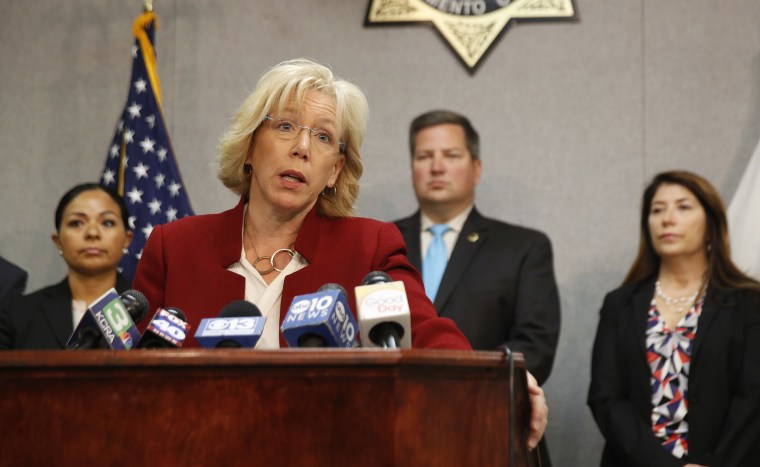 Schubert and Phillips, a prosecutor in Schubert's homicide unit, are the only names on the June 5 non-partisan primary ballot, meaning that the winner will take office without the need for a general election in November.
The race is among several in California and around the country targeted by Real Justice PAC and other groups that advocate for district attorneys to adopt platforms that aim to divert people away from prison and jail. The list of key prosecutor elections includes Los Angeles; San Diego; Oakland, California; Baltimore; Charlotte, North Carolina; St. Louis and smaller counties in Massachusetts, Oklahoma and Oregon. The groups aim to build on recent successes in Philadelphia, Houston and Chicago, where they helped reform-minded candidates beat more conservative opponents.
For activists like Bond, whose agendas typically align with Democratic policies, the Sacramento district attorney race is an ideal venue to press their agenda. Hillary Clinton won 57 percent of the county's vote in 2016, and registered Democrats outnumber registered Republicans by more than 100,000. They see untapped potential in the many voters in highly policed neighborhoods who haven't cast ballots in prior elections. Criminal justice reform is already underway in the city of Sacramento, the county seat and state capital,driven by a 2016 police killing of a man armed with a pocket knife.
"The culture shift that people in the community want to see comes down to voting," said Gabby Trejo, executive director of Sacramento ACT, a faith-based community-organizing group that tries to improve the relationship between the public and law enforcement. But, she said, "many people don't even know they get to elect their local DA."
Sacramento ACT is partnering with the American Civil Liberties Union to change that through voter-education efforts, including public forums and door-to-door canvassing. The two groups do not endorse candidates, but encourage voters to support those who align with a reform agenda.
"In the case of Mr. Clark, people are ready to see a fair and just investigation and charges pressed," Trejo said. "That's something that has to happen."
That sentiment stems from lingering anger over the 2016 case, in which Schubert declined to prosecute two officers who shot to death Joseph Mann, 50.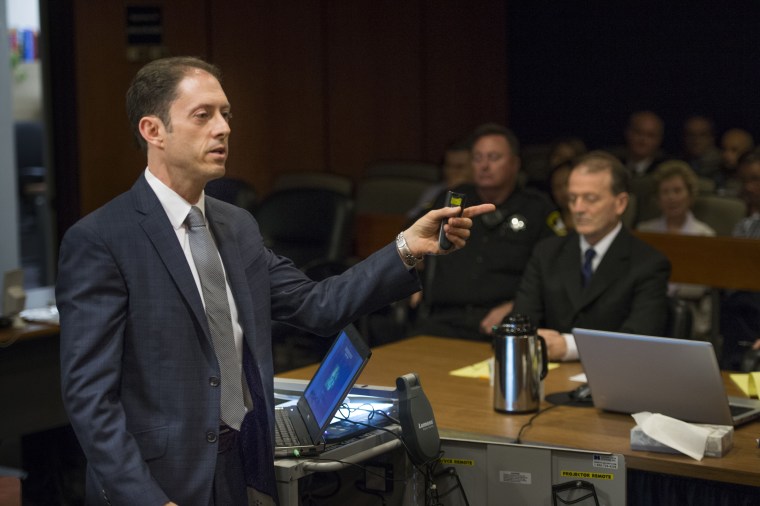 Phillips said he would reopen the Mann case if elected, part of his pledge to "hold law enforcement transparent, which my opponent does not believe in." He was less clear about the Clark case, saying he would visit Clark's family, give the public "an opportunity to be heard," and hold officers accountable for any "criminal wrongdoing."
Schubert, in an interview, defended her decision on Mann, which she explained in a January 2017 public report. "The review process was completed in a fair and independent manner," she said.
She declined to comment on the Clark case beyond calling it a "tremendous tragedy" and promising to "conduct a full, fair and independent review" when police investigators hand the case to her. She also said she welcomed a move by the state attorney general this week to oversee the investigation.
Schubert said she has worked to improve her office's relationship with the public, through youth law enforcement academies and literacy programs. She also said she enjoys support of the county's top Democrats and Republicans.
Critics, including Phillips, Bond and their backers, note that Schubert campaigned for a state ballot question in 2016 that sped up the capital appeals process so that people sentenced to death actually get executed. She is also a leading voice in favor of a proposed state ballot question that would roll back laws aimed at reducing the state's prison population. The proposal includes an expanded list of violent crimes for which offenders cannot be released early from prison and lower thresholds for the amount of stolen goods counted under the crime of serial theft.
An ACLU of California website aimed at helping people find out more about their local district attorney notes that Schubert was out of step with a majority of Sacramento voters on ballot initiatives aimed at reducing prison populations.
Schubert said the characterization of her as resisting reform was false.
"This is a very measured approach, not designed to put more people in prison," she said.
She said she has prosecuted officers for other serious offenses, including rape. And she said she supports changing state law so that people who participate in a crime that leads to someone getting killed would not face as much prison time as those who did the killing.
She called Phillips "an opportunist" who has wrongly tried to link her to President Donald Trump; Schubert said she did not vote for the president.
On Thursday, as the Sacramento chapter of Black Lives Matter planned a third consecutive day of protests outside her office — with signs that implored her to "do your job" and "don't be an accomplice" — Schubert said she recognized that Sacramento is going through "difficult times."
But she said she was confident in the process, and her role in it.
"We want the community to trust whatever outcome there is," she said.