NEW YORK — The remains of a 70-million-year-old dinosaur that was falsely labeled as a cheap replica and smuggled into New York earlier this year can be returned to its native Mongolia, the United States Attorney's Office said on Tuesday.
A federal court judge in the Eastern District of New York ruled that the skull and vertebrae of the Alioramus dinosaur, a relative of the Tyrannosaurus Rex, must be forfeited by the French fossil dealers who exported the remains.
"We are determined to expose and halt the flow of stolen cultural property entering our ports," Loretta Lynch, United States Attorney for the Eastern District of New York, said in a statement.
In January, U.S. Customs and Border protection officials seized the dinosaur fossils, sent to New York from France by Geofossiles Inc, which claimed that the skull was a French-made replica, the statement said.
In a petition for the items' release, Geofossiles later conceded that the fossils were genuine, originating from Mongolia, and provided forged documents claiming that the remains could legally be exported, the statement said. The company also attached a contract to sell the skull for $250,000.
Under Mongolian law, significant fossil discoveries cannot be permanently exported or sold to non-Mongolians, even if privately owned.
Geofossiles could not immediately be reached for comment.
Now that the skull and vertebrae have been forfeited, the Mongolian government, which assisted with the forfeiture case along with the Central Museum of Mongolian Dinosaurs, can submit a petition for the return of the fossils.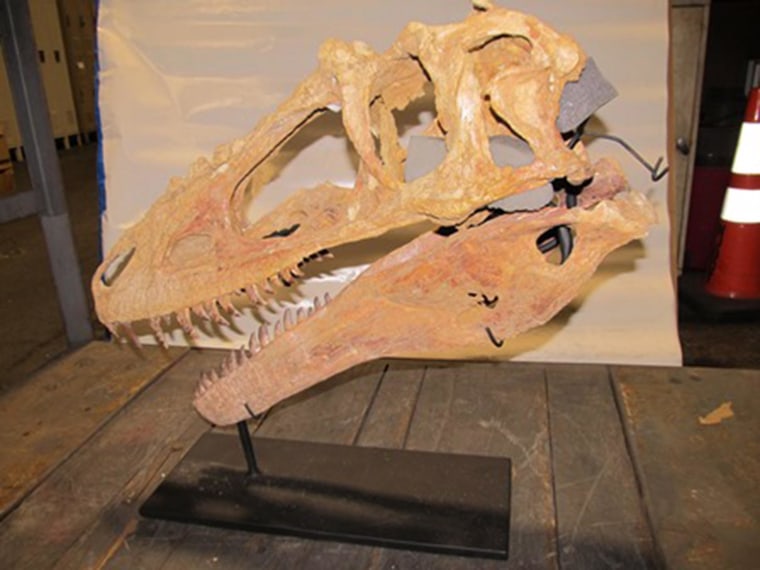 IN-DEPTH
— Reuters