Protesters marched through the streets of Charlotte, North Carolina, Wednesday night, angered by the news that the officer who fatally shot a black man will not face charges.
Warnings of powerful thunderstorms in the area did not deter protesters, who gathered outside of the city's police headquarters. Flanked by officers on bicycle patrol, nearly a hundred people marched through the streets of Uptown Charlotte chanting "No Justice, No Peace!" and "Tell the truth and stop the lies, Keith Scott didn't have to die."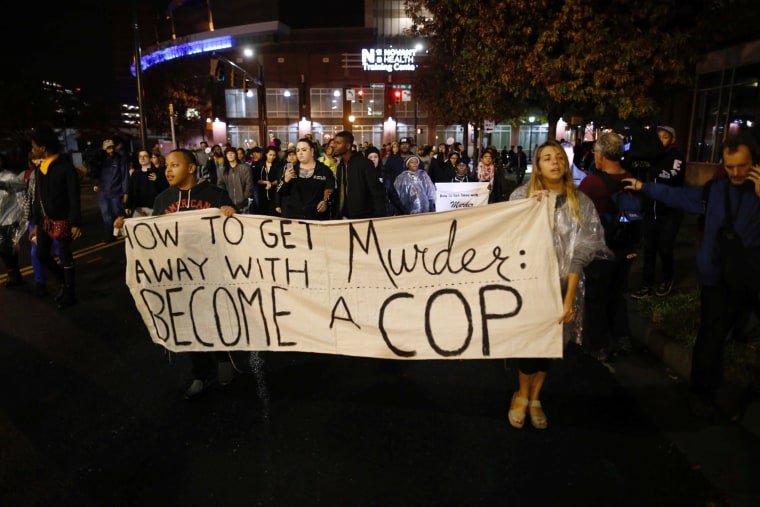 Several members of the local clergy also marched in the crowd asking protesters to remain peaceful. One chanted "The blood of Jesus" over and again.
"I'm out here today to protest the lack of indictment for the officers who murdered Keith Lamont Scott," a local student told NBC News. "To me it reflects the ultimate continued theme of what we've seen throughout this nation's history, where the state protects the states interest."
Related: No Charges in Killing of Keith Lamont Scott, Whose Police Encounter Was Videotaped by Wife
Despite the anger that rippled through small pockets of the crowd, protests remained peaceful. Charlotte Mecklenburg Police said that four protesters had been arrested for obstructing traffic.
Prosecutors announced Wednesday that they would not file charges against officer Brentley Vinson in the fatal shooting of Keith Lamont Scott, 43, in September. Officers shot Scott in a parking lot as they prepared to serve an arrest warrant against someone else.
Scott's wife, Rakeyia, recorded cellphone video of the moments leading to his death and shared them on social media. The footage sparked days of protests throughout the city and lead to several arrests.
At a press conference Wednesday, the Scott family said they were disappointed with the decision and begged protesters to remain peaceful. It is still unclear whether they will file a civil lawsuit against Vinson.