A cold front turbocharged by tropical precipitation brought rare snow and heavy rain to some urban Southern California rooftops over the weekend, with more in the forecast.
Late-winter extreme weather Sunday also affected the Midwest and Plains states.
The leading edge of California's weekend storm was headed east and wreaking havoc as it continued to draw warm energy and clash with cold air, federal forecasters said.
A squall line marched through Oklahoma on Sunday, with reports of multiple tornadoes' touching down. The National Weather Service said a tornado in the area of Shawnee, a city just east of Oklahoma City, was confirmed.
The weather service office in Norman, Oklahoma, south of Oklahoma City, tweeted that a tornado apparently passed nearby, to its south. It was possibly the same vortex.
Shawnee Fire Chief Tony Wittmann said late Sunday that he knew of no injuries, but there was some damage to homes, as well as fractured gas lines and downed utility wires, north of Interstate 40.
Damage to homes, along with uprooted trees and downed wires, were among the reports of damage in Norman, NBC affiliate KFOR of Oklahoma City reported. It wasn't clear whether there were injuries.
As the unstable weather moved away from the area, the state Department of Emergency Management and Homeland Security noted many were still in harm's way.
"Eastern Oklahoma, storms are still headed your way," the department tweeted. "Be sure you have multiple ways to receive alerts and turn up the volume so it will wake you up if you're asleep." 
Nearly 62,000 utility customers were without power in Oklahoma, according to the grid tracker PowerOutage.us. In Texas, where some of the bad weather first appeared, nearly 40,000 were in the dark, according to the site.
Earlier in the evening, the weather service's Norman office called the front a "remarkable, perhaps historic storm system."
Forecasters had warned early in the day of a derecho, or line of sustained, high-power winds of up to 110 mph, which is above the threshold for hurricane force.
The Texas Panhandle and southeastern Kansas, where severe thunderstorm and high wind warnings were in effect.were also subject to the extreme weather, federal forecasters said.
Snow across much of the rest of the country, including the Pacific Northwest, the Upper Midwest and the Northeast, will make travel difficult overnight, the weather service said.
In Michigan, the number of homes and businesses without power dropped to nearly 173,000 Sunday night from nearly 800,000 Thursday, according to PowerOutage.us.
In California, the mix of a relatively warm atmospheric river and cold air from the Gulf of Alaska meant that many residents of high desert communities and Southern California valleys, including Antelope Valley and the San Gabriel Valley, woke up to a fresh dusting of snow Saturday, according to the National Weather Service.
Video also appeared to show snow falling Saturday in Rancho Cucamonga and Fontana, in San Bernardino County.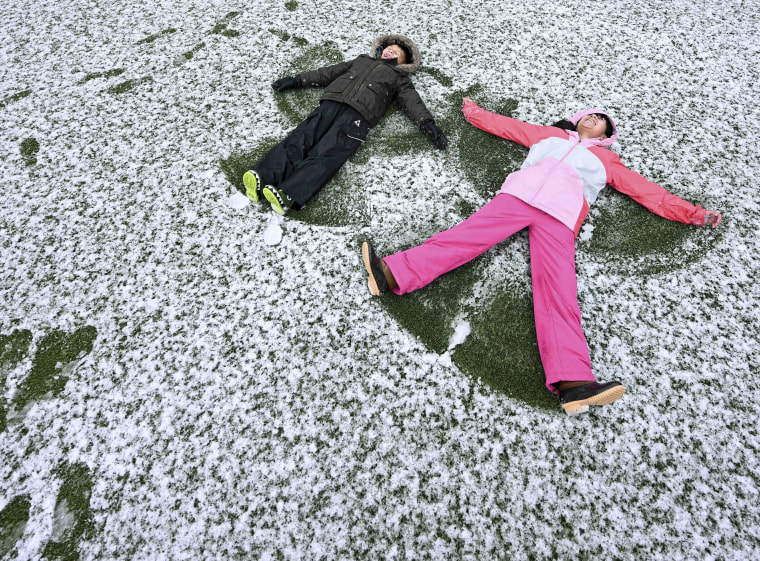 Unheard-of amounts of snow were recorded in mountains from the Sierra Nevada to Southern California's Peninsular Ranges, which stretch into Mexico.
In the last four days, nearly 5 feet of snow was recorded at Donner Summit, the University of California, Berkeley's Central Sierra Snow Lab tweeted. In the same period, Mount Baldy, near downtown Los Angeles, measured more than 3 feet, and Mount Laguna in San Diego County recorded more than 2 feet, according to the National Weather Service.
At Mountain High Resort in Wrightwood, about 75 miles east of Los Angeles, more than 6 feet of snow fell in less than a week — with 5 of those feet in a 24-hour period. So much snow fell that the resort said it closed Saturday to "use what available staff we have to dig out and clean up."
The snow, rain and wind prompted road closures and caused flooding near rivers and washes throughout California as the storm moved south and east from Oregon overnight.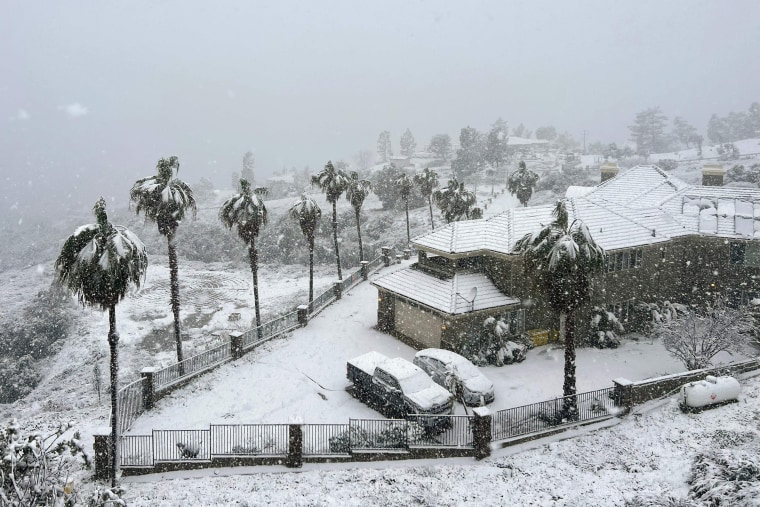 Heavy snow and ice were to blame for the closure of Interstate 5's Grapevine, the main roadway to San Francisco. It reopened Sunday afternoon, according to the California Highway Patrol.
The city of Big Bear Lake warned Saturday that all roads to the community surrounded by San Bernardino National Forest were closed because of snow, with no estimate available on when they might reopen. Yosemite National Park said it would be closed until Wednesday because of severe winter conditions.
More than 64,000 homes and businesses in California were without power Sunday afternoon, according PowerOutage.us.
Several inches of rain fell across Los Angeles County over four days. Topanga Canyon near Malibu got 6.7 inches, Pasadena recorded 7.84 inches, and 4.3 inches fell in downtown Los Angeles, according to the weather service.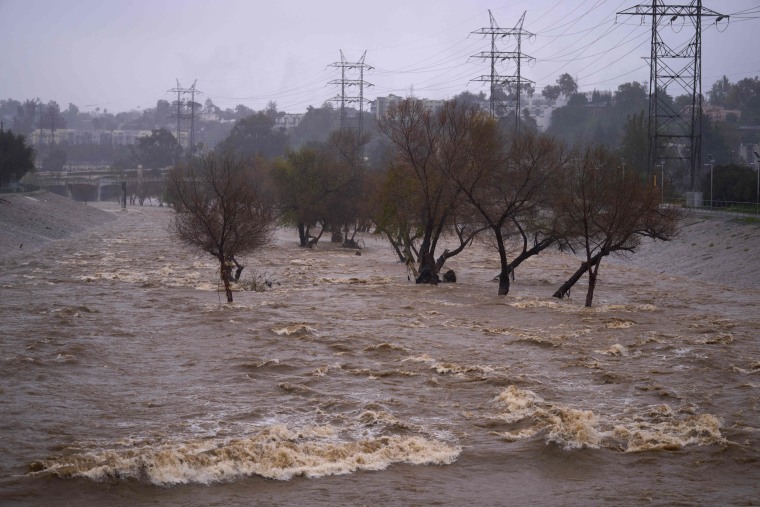 Three RV trailers parked at the Valencia Travel Village RV Resort in Castaic, at the northern end of Los Angeles County, were swept into a storm-swollen Santa Clara River overnight, prompting a helicopter search-and-rescue crew from the nearby Ventura County Fire Department to respond.
A trailer was found, according to the fire department, but no victims were found, and no injuries were reported.
The heavy rain was especially perilous for those without shelter. In Los Angeles, a helicopter rescue crew hoisted two homeless men stranded on islands of dry ground in the Hanson Flood Control Basin to safety Saturday, the Los Angeles Fire Department said in a series of statements.
The men were uninjured and released at the scene, the department said.
Los Angeles County officials shut down 24 miles of beach from Nicholas Canyon in Malibu to White Point Beach in San Pedro for nearly two hours Saturday afternoon after lightning was observed on the shoreline, according to county lifeguards.
In Arizona, where winter storm warnings have also been issued in the north, there was a collision involving about 15 vehicles on Interstate 17. An unspecified number of people suffered non-life-threatening injuries and were being treated.
In Michigan, which has been battered by an ice storm, about 311,000 utility customers were without power early Sunday, according to PowerOutage.us.
Trevor Lauer, the president of DTE Energy, estimated power would be restored to 95% of the utility's customers by Sunday, when warmer weather was forecast to settle in.
The utility said it had more than 4,000 workers restoring electricity and going door to door to check up on vulnerable residents.
The rain-producing front that pummeled California was expected to move east across the country through the early part of the week, bringing rain to the desert Southwest, moving into the Midwest and the Great Lakes and eventually affecting the East Coast with a fresh round of rain and possibly snow, federal forecasters said.
Additional storms from the Gulf of Alaska were forecast for California and the West, but it was unlikely any would mimic the strange brew of tropical precipitation and snow-worthy cold that struck the coast overnight, forecasters said.
"In the future, these can definitely happen," said Adam Rosen, a National Weather Service meteorologist in San Diego. "But they don't happen very often. This was an anomalous event here."