The body of a woman who was swept away by floodwaters as she tried to help another motorist was discovered Monday, Maryland state police said, three days after heavy rains caused extreme flooding in parts of that state and Pennsylvania.
The body of Melissa Anne Lehew, 34, of Darlington, Maryland, was found at around 1 p.m. Monday in the same body of water where searchers had been looking for her, state police said in a statement.
The driver she was trying to help, Daniel Samis, 67, of Abingdon, was found on Saturday morning, police said.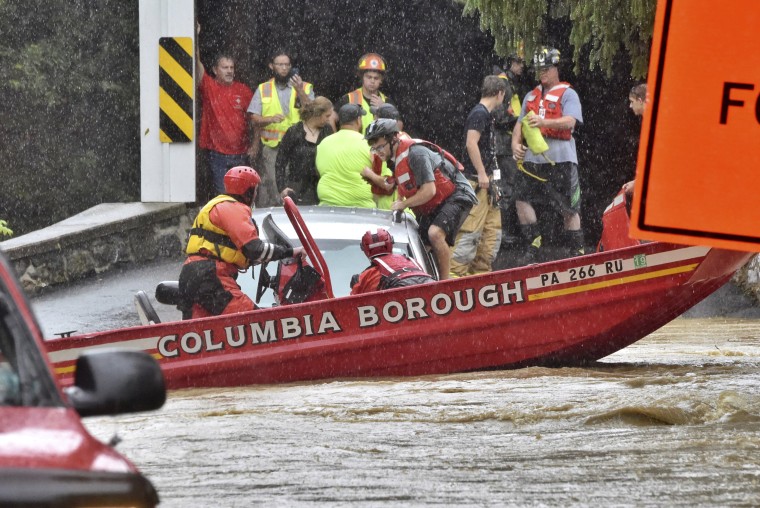 Lehew was swept away after she and another man tried to help Samis, whose vehicle became disabled on a bridge and was submerged up to its roof, at around 6 p.m. Friday, police said. Lehew was swept off the bridge and into the rushing water of Broad Run.
The attempted rescue of Samis occurred as a stationary band of rain caused extreme flooding across portions of Pennsylvania and Maryland on Friday night, forcing authorities to conduct more than two dozen water rescues.
After Lehew was swept off the bridge, the man in the truck raced to a nearby quarry to search for her. He wasn't able to find her, but he flagged people to call 911.
Some areas in Pennsylvania and Maryland saw as much as 10 inches of rain from Friday into Saturday, said James Sinko, a meteorologist at the Weather Channel. It was a unique combination of Atlantic and Gulf of Mexico moisture, which stalled over the region and dumped 1 to 3 inches per hour.
"You get a big storm that blows up over an area, and it just rains and rains and rains," Sinko said. "That creates a lot of flash flooding that will shut down roads and everything."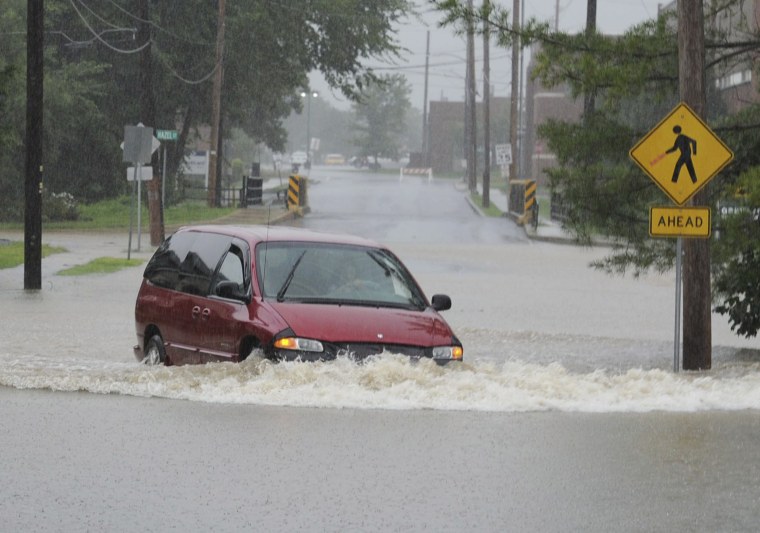 The storm forced authorities in the area to close roads and highways, and it left some stranded in vehicles during the busy holiday weekend.
About 50 miles north of Bel Air in Mount Joy, Pennsylvania, 10.57 inches of rain fell. Roads turned into rivers and creeks jumped up to 10 feet in just a couple of hours, according to NBC News Philadelphia.
The storm hit amid a particularly wet summer for this part of Pennsylvania, NBC News Philadelphia reported. A region that typically sees 41 inches of rain per year has received 30 inches since June alone.
"The ground being saturated isn't helping at all," Lancaster County Commissioner Dennis Stuckey told NBC News Philadelphia. "We had a few days of sunshine but not enough to dry everything out."