Upcoming storms, a flagging drainage system and a fire at New Orleans' Sewerage & Water Board plant have put the Crescent City at risk of serious flooding, Mayor Mitch Landrieu warned residents on Thursday.
Landrieu said a fire at the S&WB plant has left the city with a single working turbine to provide power to the city's drainage pumps and its water treatment plant. He said the city — which the federal government spent more than $100 billion to rebuild and protect after Hurricane Katrina — is "on its last back up power source at the moment."
Residents of New Orleans received an emergency alert about the situation a few minutes after 3 a.m. Thursday. Schools across the city closed Thursday and Friday after the announcement.
"I want to assure the people of New Orleans that we're doing all we can to shore up our drainage system and we will not relent in this effort," Landrieu said in an early afternoon press conference.
With the National Weather Service forecasting rain Thursday and Friday and the city estimating that two inches of rain over an hour — the same amount that fell on parts of the city on Saturday — could lead to major flooding, Landrieu urged residents to "take necessary actions to protect person and property."
Louisiana Gov. John Bel Edwards declared a state of emergency "out of an abundance of caution" after the announcement. The state is expected to equip the city with two additional generators, and Edwards said he will deploy the Louisiana National Guard if necessary.
"If we get the heavier expected rainfall, time will be of the essence," Edwards said at a press conference Thursday. "We are all working well together. Obviously this is a serious situation, but it is not something to be panicked about," he said.
"We do ask Mother Nature to bless us," Edwards added.
The neighborhoods of Mid-City, Lakeview and other areas of the city flooded on Saturday. Aaron Miller, director of homeland security and emergency preparedness for the city, said then that an estimated 8 to 10 inches of rain fell in some parts of the city.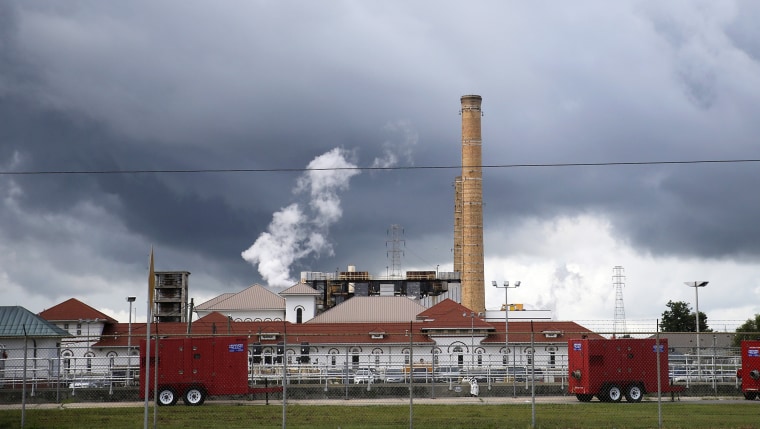 Some residents compared flood conditions to the city-destroying waters after Hurricane Katrina — but without the hurricane.
"I mean, it's hurricane season and the pumps aren't working? It's a slap in the face that it was that bad. Didn't we learn our lesson in '05?," chef Isaac Toups told NBC News in a phone interview.
Two city officials announced plans to resign after Landrieu accused the agency of providing bad information about how many pumps were working during Saturday's flooding, and the mayor on Tuesday asked for the general superintendent of the S&WB, Joe Becker, to be fired.
Becker repeatedly said that New Orleans's pumps were operating at "full capacity" during Saturday's flooding.
S&WB officials later reported that eight pumps were out of service during Saturday's flooding. Then, at a New Orleans City Council meeting on Monday, they upped the number of out-of-service pumps to 14. Officials delivered a fresh revision Thursday morning, revealing at a Sewerage & Water Board emergency meeting that 16 pumps were out of service on Saturday.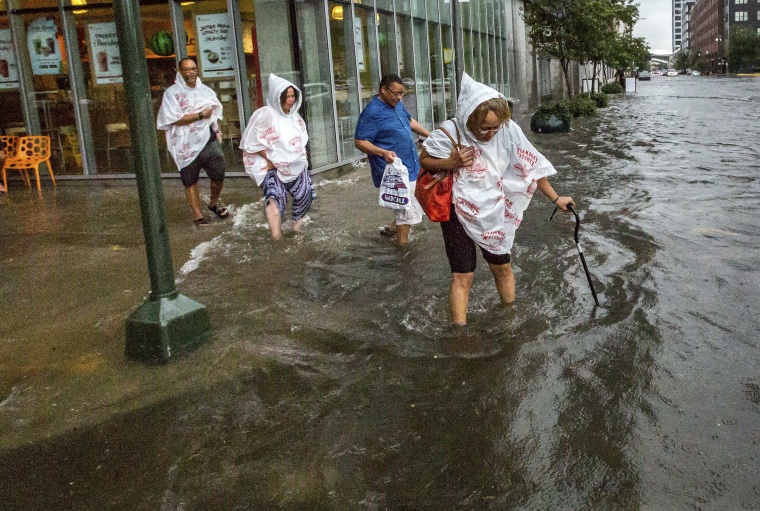 In Lakeview, one of the hardest hit areas of the city, operational capacity plummeted to 52 percent at one point on Saturday, Becker admitted at a city council hearing on Tuesday. In Mid-City, he said pumps maintained 63 percent of total capacity throughout the storm.
S&WB director Cedric Grant announced plans to retire in the fall, after hurricane season ends, and Public Works Director Mark Jernigan resigned, a city spokesperson said.
Landrieu said Thursday he is calling for a third-party private company to temporarily manage the sewerage and water board, citing the changing information. They will also provide an after-action report.
"We will also have a third party independent analysis so that we all can have a better level of trust about the information that we're getting, which all of you know has changed far too much in a short period of time for me to feel comfortable," Landrieu said.
Landrieu said Thursday that there will be no quick fixes to the infrastructure issues that the city faces. Landrieu said that the city's drainage issues should be "exhibit A" to Congress that the entire nation is struggling with an infrastructure deficit which needs to be addressed.
But Landrieu, whose second and last term ends in May, said the city would find a way forward.
"We will look at the amount of money that is going to be required to fix the whole drainage system — the answer is we don't have enough — and then how we triage that," Landrieu told reporters.
"As we've said, we have $2 billion to rebuild our sewage drainage system, which we're working on, but it's a $9 billion problem," he added. "So this will continue for a very long period of time."