Adult film actress Stormy Daniels is cooperating with federal investigators looking into a $130,000 payment she received from President Donald Trump's personal attorney, multiple sources familiar with the proceedings told NBC News.
The cooperation is in connection with a broader federal probe of the attorney, Michael Cohen, which triggered a raid on his office and hotel room on Monday.
Sources told NBC News that the search warrants were executed by the FBI and federal prosecutors in New York in coordination with special counsel Robert Mueller's team.
The search of Cohen's office was not the work of Mueller's prosecutors but involved a matter his team came across and passed on to the U.S. attorney's office in Manhattan because it did not fall under the team's mandate to investigate Russian meddling in the election.
Legal sources familiar with the nature of the search said it involved a $130,000 payment to Daniels, whose real name is Stephanie Clifford, that was facilitated by Cohen shortly before the election.
Clifford alleges she had sex with Trump in 2006 and a decade later signed a nondisclosure agreement in exchange for the money — an agreement she contends is invalid because Trump never signed it.
Trump denies the allegations and last week told reporters he was unaware of the payment. Cohen has said that the money came from his personal funds and that he was not reimbursed by the campaign or the Trump Organization.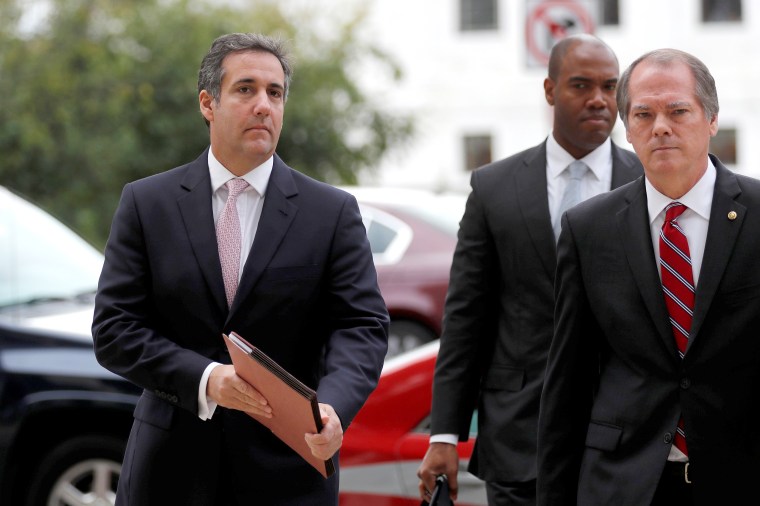 The agents who carried out the raids were also looking for documents tied to a $150,000 payment to former Playboy model Karen McDougal, who says she also had an affair with Trump in 2006, The New York Times reported.
And CNN reported the search warrants sought records related to valuable New York City taxi medallions that Cohen owns.
The president called Monday's raids — approved by Deputy Attorney General Rod Rosenstein — "disgraceful" and part of a "witch hunt."
"It's an attack on our country ... what we all stand for," he said afterward.
Cohen's lawyer, Stephen Ryan, said the court-ordered search warrants were "completely inappropriate and unnecessary" and resulted in the seizure of material protected by attorney-client privilege.
"Mr. Cohen has cooperated completely with all government entities, including providing thousands of nonprivileged documents to the Congress and sitting for depositions under oath," Ryan said.