Stormy Daniels' lawyer is demanding that the Trump Organization preserve all records related to the adult film actress and he plans to subpoena them — citing "unmistakable links" between President Donald Trump's company and a secrecy agreement she signed.
Attorney Michael Avenatti also sent similar requests Thursday to two banks involved in a $130,000 payment facilitated by Trump attorney Michael Cohen to Daniels, whose legal name is Stephanie Clifford.
"We request that you immediately preserve all evidence, documents, tangible things and electronically stored information ("ESI") potentially relevant to the claim," Avenatti wrote to the Trump Organization and the banks.
In a statement to NBC News, Avenatti said, "We intend on using all legal means at our disposal to uncover the truth about the cover-up and what happened. And this is but one of many tools we will use. When we are done, the truth will be laid bare for the American people."
Clifford said in a lawsuit filed earlier this month that she had an "intimate" relationship with President Donald Trump in 2006 and 2007, and she is now locked in a legal battle over whether she can publicly discuss it.
White House Press Secretary Sarah Sanders has said Trump denies the affair. She also has said that as far as she knows, the president was not aware Cohen paid Clifford. Cohen has said he used his personal funds and was not reimbursed by Trump's company or campaign.
Clifford contends that the nondisclosure agreement she filed weeks before the election is invalid because Trump never signed it. Cohen, however, says it's still in force and secretly obtained a temporary restraining order against her from a private arbitrator.
Related: Stormy Daniels passed a lie detector test about sex with Trump
In a filing joined by Trump, Cohen had Clifford's lawsuit moved from California state court to federal court. Court papers say their goal is to push the dispute back into private arbitration and collect $20 million in damages from Clifford.
The legal threats have not silenced Clifford, who gave an interview to "60 Minutes" set to air Sunday and has been tweeting up a storm.
"Technically I didn't sleep with the POTUS 12 years ago," she tweeted this week. "There was no sleeping (hehe) and he was just a goofy reality TV star. But I digress...People DO care that he lied about it, had me bullied, broke laws to cover it up, etc. And PS...I am NOT going anywhere. xoxoxo"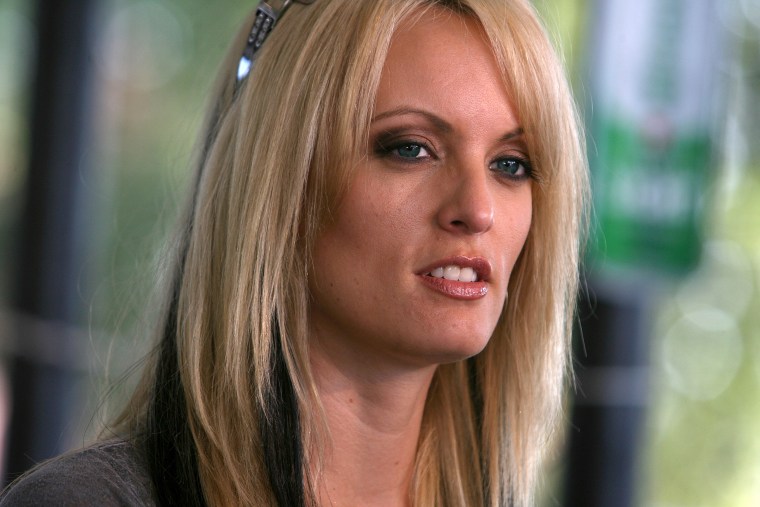 While Trump's team has sought to distance the president and his company from the agreement with Clifford, the letters sent by Avenatti on Thursday highlight ties between them.
They note that Cohen used his Trump Organization email account to correspond with one of the banks; Cohen has said he uses that account for nearly everything. Avenatti also noted that Trump Organization assistant general counsel Jill Martin initiated an arbitration proceeding, which the company says she did in "her individual capacity."
The letter to the Trump Organization requests it preserve all records — including texts, emails, photos, memos and financial statements — related to the Clifford matter. It also asks for records related to a February exchange "whereby Mr. Cohen attempted to interfere with Ms. Clifford/Daniels' ability to hire new counsel (i.e. Michael Avenatti)." Avenatti provided no other details about that.
Related: Lawyer says ex-Playboy model had relationship with Trump
The letter to First Republic Bank, where Cohen and a company he created have accounts, seeks the preservation of all data and records related to the $130,000 wire transfer to Clifford, including a suspicious activity report it filed with the Treasury Department. A letter to City National Bank, where the payment was accepted, seeks similar material.
"You must act immediately to preserve any and all potentially relevant evidence, documents, tangible things and ESI. Failure to do so may subject you to liability," Avenatti warned in the letter.
The Trump Organization, Cohen and the banks did not immediately respond to a request for comment on the letters.