Stormy Daniels filed an amended lawsuit Monday that alleges Donald Trump's personal lawyer defamed her and violated campaign finance law by brokering a "hush agreement" just before the 2016 election.
The new filing in federal court in Los Angeles comes less than 24 hours after a television interview in which Daniels, whose real name is Stephanie Clifford, said she had unprotected sex with Trump in 2006 and was later threatened for telling her story.
Clifford filed suit in state court earlier this month, arguing that the $130,000 hush agreement brokered by Cohen was invalid because Trump never signed it. Cohen, joined by Trump, then had the case moved to federal court with an eye toward pushing it into private arbitration.
The amended complaint alleges that Trump and Cohen "aggressively sought to silence Ms. Clifford as part of an effort to avoid her telling the truth, thus helping to ensure he won the Presidential Election."
It goes on to say, "the Hush Agreement was entered with the illegal aim, design, and purpose of circumventing federal campaign finance law."
In essence, the suit argues that the agreement was meant to keep a lid on information that could damage Trump at the polls and thus functioned as an unreported in-kind campaign contribution way beyond the limit for individual donors.
"Defendants plainly intended to prevent American voters from hearing Plaintiff [Clifford] speak about Mr. Trump," the suit says.
Cohen could not be immediately reached for comment on the amended suit, which mirrors the legal logic of a complaint previously filed with the Federal Election Commission by a watchdog group.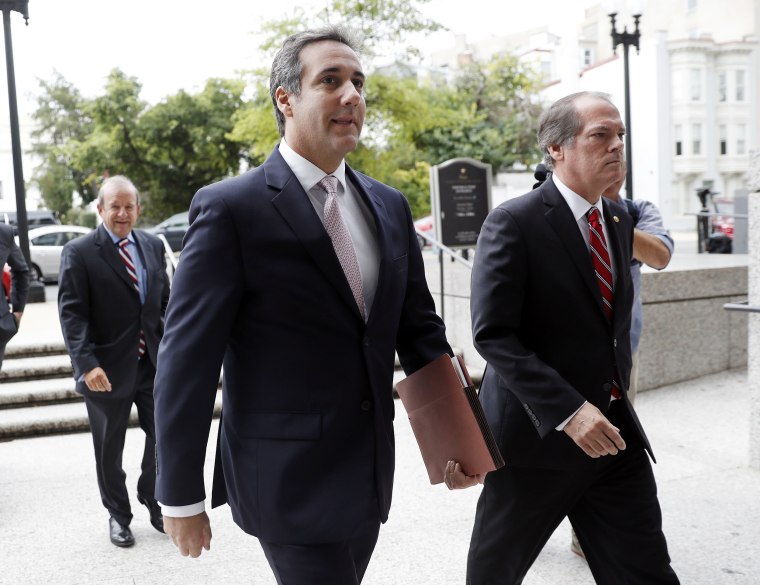 The White House denies allegations of an affair and any involvement in threats. "The President doesn't believe that any of the claims Ms. Daniels made in the interview are accurate," spokesman Raj Shah said on Monday before the suit was filed.
Both the White House and Trump have sought to distance the president from the 2016 agreement and subsequent attempts to enforce it.
But Clifford's lawyer, Michael Avenatti, says a recent email — which he obtained and provided to NBC News — holds proof that Trump was involved.
Cohen sent the Feb. 22 email to Keith Davidson, the lawyer who represented Clifford when she signed the hush agreement.
"It is my understanding that Ms. Clifford has or is seeking the advice of additional counsel regarding the above matter," Cohen wrote.
The "above matter" was outlined in the subject line: "PP -vs- DD NDA" — shorthand for the agreement between "Peggy Peterson" and "David Dennison," which Avenatti says are aliases for Clifford and Trump.
The email went on to say that an exhibit to the agreement that discloses their identities "is deemed Attorneys Eyes Only; specifically naming only you and I."
"Under no circumstances should you forward this document or the exhibits to anyone without my express written consent," Cohen added.
He signed the email: "Michael D. Cohen, Esq., Personal Attorney to President Donald J. Trump."
Avenatti said the email also shows that "as late as one month ago, Cohen was continuing to take steps to prevent my client from getting a new attorney to help her exercise her rights."
And, he added, "Cohen was acting as counsel to Mr. Trump when he was attempting to silence her."