Former adult film star Stormy Daniels told jurors in a federal courtroom Thursday that her former attorney Michael Avenatti stole her book money and repeatedly lied about it.
Daniels, born Stephanie Clifford, is the star witness of the government's criminal fraud case against Avenatti, the disgraced lawyer and onetime cable TV stalwart.
"Michael Avenatti stole from me and lied to me," she told the panel in New York City.
Daniels, wearing a black dress and a maroon full-length sweater, appeared well prepared and confident on the stand as she answered questions from Assistant U.S. Attorney Robert Sobelman.
Avenatti, 50, has pleaded not guilty to allegations that he pocketed about $300,000 of the $800,000 advance that was paid to Daniels for her 2018 book, "Full Disclosure," which included details about an affair she says she had with Donald Trump.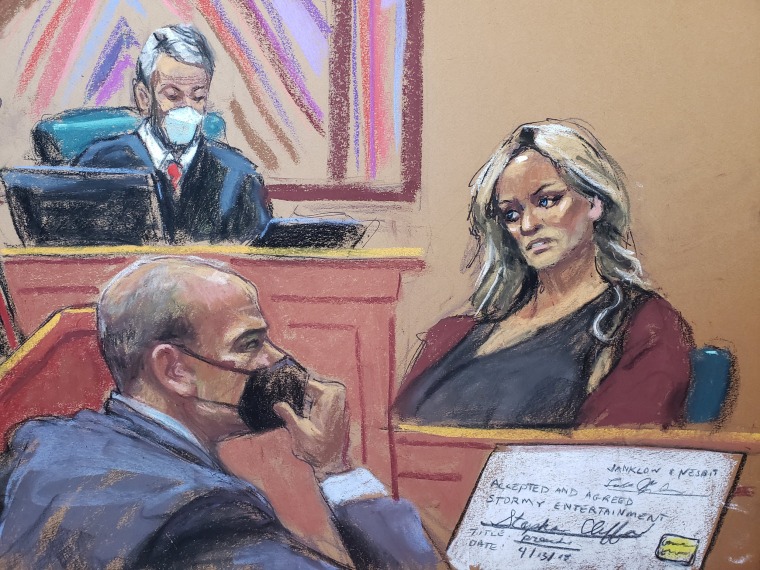 Daniels recalled how overjoyed she felt getting her first check from publishers and said she screamed so loudly that she lost feeling in her face.
"'Congrats. Enjoy. You deserve it. You are an American hero," she testified Avenatti told her.
She said Avenatti pledged to never take a dime of her book money.
"He said, 'Don't worry about it, I would never take a penny,' because I was courageous and earned it and deserved it," she told jurors.
But when second and third installments of the payment never arrived, Daniels said, she got worried.
She recalled texting Avenatti: "I did not get paid today, I'm not ... happy, they're in breach of contract by about four weeks."
She said Avenatti told her a second payment was sent by her publisher — but the funds were sent to his office and to not her.
"'At least we got it,'" she quoted him saying. "And he said he would deposit it for me."
After the prosecutor finished his questions, Daniels, in a highly unusual scene, faced cross-examination from the defendant himself, Avenatti.
U.S. District Judge Jesse M. Furman this week granted Avenatti's request to act as his own attorney as he faces charges of wire fraud and aggravated identity theft. Avenatti cited a "breakdown" with his lawyers over trial strategy, and Furman allowed the unorthodox move.
Avenatti's early questioning of Daniels was straightforward and relatively cordial given the bitter feelings between the two.
When Avenatti asked Daniels whether she had any email, text message or recording to show that he agreed not to take money from her book deal, she replied: "No."
She also confirmed that he never promised to work for a token fee of $1.
That answer was aimed at rebutting testimony Wednesday from a friend of Avenatti's, California lawyer Sean Ernesto Macias, who recalled Avenatti's telling him one day that he would represent Daniels for $1.
Avenatti's cross-examination of Daniels is set to continue Friday morning.
The trial is the latest moment of Avenatti's descent from his days as one of then-President Donald Trump's best-known critics.
Avenatti was convicted in 2020 of extortion, transmission of interstate communications with intent to extort and wire fraud in connection to threats he made against Nike, the sports equipment and apparel giant.
Last year, a federal judge sentenced him to 2½ years behind bars for those crimes. He is set to report to prison for that conviction later this year.