It took Frank Hilscher only a half-hour to figure out what to do as the scale of the Camp Fire, the deadliest wildfire in California history, began to dawn on him.
Hilscher first heard about the fire on Nov. 8, the day it ignited near Poe Dam, on the North Fork Feather River in Butte County.
Authorities said Sunday night that the fire has killed 77 people and left 993 yet to be accounted for, a drop from almost 1,300 on Saturday. As of Sunday night, the fire was 65 percent contained and firefighters expect it to be fully extinguished only by the end of the month. With more than 10,300 homes destroyed, search and rescue teams have arrived to comb through the debris looking for victims.
"I woke up the next morning, and they talked about how devastating it was," Hilscher said Sunday. "I sat around for about 30 minutes and thought about what we could do to help."
Hilscher, 37, owns the Sexy Panda Food Truck, which sells Asian-themed street food in Sacramento, the state capital. So he called up Alex Hader, who manages the truck, and headed to a restaurant store, where he emptied out his business account.
Soon, "we filled up the truck and went on our way," bound for Chico, about 90 miles north. They've been going 24-7 ever since, handing out supplies and serving thousands of meals a day to victims of the fire from the parking lot of a Walmart, Hilscher said.
"It's started to grow into its own animal. We wound up constructing a full outdoor kitchen," where a team that has grown to about 25 volunteers has served as many as 20,000 meals, he estimated.
"It's grown so much bigger than I could imagine," he said. "It's crazy."
The devastation has drawn all kinds of people from around the region eager to lend a helping hand — people like Kris Piacente of Alamo, about 10 miles east of Oakland.
Piacente and her husband, Al — a veteran of 33 years with the Foster City Fire Department — journeyed to Chico to meet up with Shelly Wright; her boyfriend, Greg Wagner; and Wagner's 17-year-old daughter, Danielle. They're from Paradise, a city of 27,000 people that was utterly destroyed.
The Piacentes arrived with badly needed clothes for the trio. "'Don't buy us Christmas presents,'" Piacente quoted her 16-year-old daughter as having said. "'Use the money to buy family presents.'"
Wright said in an interview that her brother lost his home, too, and is staying at their parents' house. She, Wagner and Danielle are crashing at a hotel.
Both of Danielle's parents lost their homes, "and she's just trying to cope," Wright said. But given their circumstances, she said, she and her loved ones feel "blessed through everything."
"It's been wonderful — the kindness and generosity of people," she said.
Esther Cowan, her husband, Chris, and two of their three sons drove about an hour and a half from Auburn, north of Sacramento, to distribute sleeping bags, blankets, pillows, clothing, toys and hair accessories to three generations of Ballentines.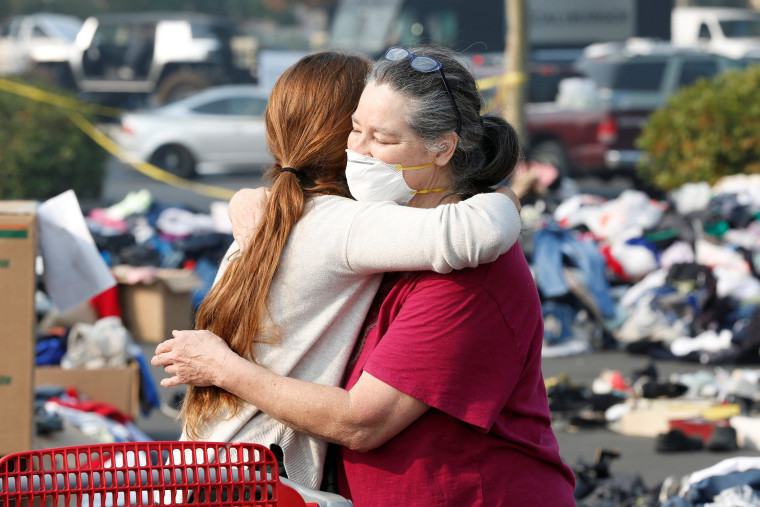 Like the Piacentes, the Cowans were motivated by Paradise Fire Adopt a Family, a Facebook group where thousands of people have signed up to be paired with families to help. The Ballentines are the second stricken family they've assisted.
"It felt like it was a blessing for us to do that," Cowan said in an interview.
"There's a lot of tragedy," she said. "It's heart-breaking how many people are without homes."
Back at the Sexy Panda Food Truck, Frank Hilscher said he's been just as blessed.
"I've fallen in love with the people here. I've met people who will likely be lifelong friends," he said.
"We're staying up here as long as we're needed," Hilscher added. "Like I said, it's gone so far beyond food."