PAWNEE, Okla. — A record-tying earthquake in the edge of Oklahoma's key energy-producing areas rattled the Midwest from Nebraska to North Texas on Saturday, and likely will bring fresh attention to the practice of disposing oil and gas field wastewater deep underground.
The United States Geological Survey said a 5.6 magnitude earthquake happened at 7:02 a.m. CT (8:02 a.m. ET) Saturday in north-central Oklahoma, on the fringe of an area where regulators had stepped in to limit wastewater disposal. That temblor matches a November 2011 quake in the same region.
Saturday's quake was centered about 9 miles northwest of Pawnee, Oklahoma. Earlier this week, the same spot, which is about 70 miles northeast of Oklahoma City, saw a magnitude 3.2 temblor.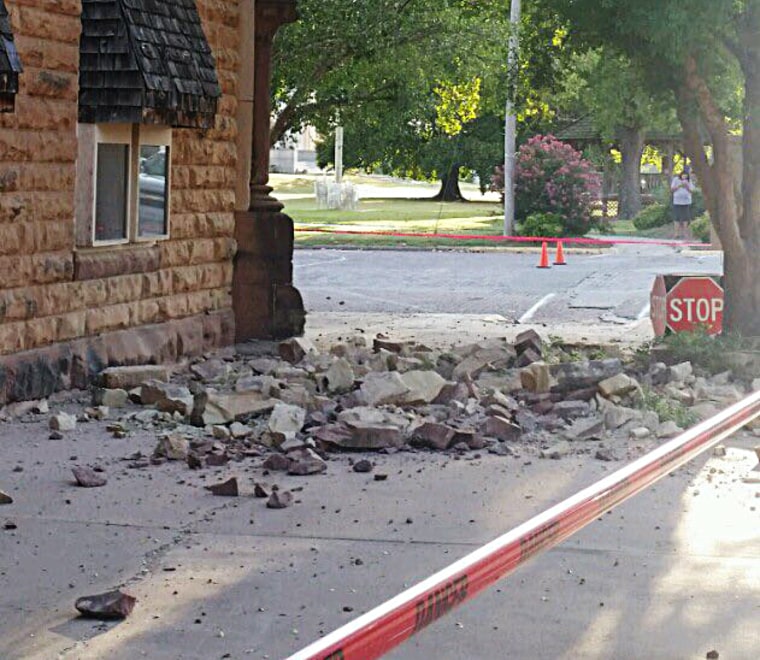 In rural Pawnee County, three homes were damaged and one homeowner suffered minor injuries and was treated at the hospital, tweeted Oklahoma Gov. Mary Fallin.
The Oklahoma Corporation Commission directed dozens of wastewater disposal wells within an approximate 500-square-mile radius of the epicenter to shut down as a precaution.
People in Kansas City and St. Louis, Missouri; Chicago; Gilbert, Arizona; Fayetteville and Little Rock, Arkansas; Des Moines, Iowa; Memphis, Tennessee; and Big Lake in southwest Texas, all reported feeling the earthquake.
Mike Waters, the sheriff of Pawnee County, told NBC News that there were no immediate reports of injuries, but officials were assessing any damage.
"There are a couple buildings with light to medium damage in the City of Pawnee," Waters said, adding that the jail has some structural concrete damage, but it has not been evacuated.
Related: Surge in Oklahoma Earthquakes Linked to Oil and Gas Waste Wells
Officials are also "closing some businesses in downtown district since they are ... rather older buildings and will need to be inspected for safety reasons. One building made of sand stone had visible damage with bricks falling to the street," he added.
The Tulsa Police Department also confirmed earthquake-related damage in Pawnee, and asked residents to stay away from town.
Cameras at NBC affiliate KJRH in Tulsa captured rumbling felt at its station:
An increase in magnitude 3.0 or greater earthquakes in Oklahoma has been linked to underground disposal of wastewater from oil and natural gas production. State regulators have asked producers to reduce wastewater disposal volumes in earthquake-prone regions of the state.
Some parts of Oklahoma now match northern California for the nation's most shake-prone, and one Oklahoma region has a 1 in 8 chance of a damaging quake in 2016, with other parts closer to 1 in 20.
Oklahoma residents, however, woke up to the rattling of this latest quake in disbelief.
Keith Boyd, an investment banker from Oklahoma City, said he was still in bed with his wife when the house started shaking for about 10 to 15 seconds.
"At first, I thought it was my dog moving around, but it became pretty violent," he told NBC News. "The windows were rattling and the chandelier above our tub was shaking and clinking. My dog got very scared, jumped off the bed and was trembling. Needless to say, it was a very rude awakening."
Sean Weide in Omaha, Nebraska, told The Associated Press that he'd never been in an earthquake before and thought he was getting dizzy. Weide said he and one of his daughters "heard the building start creaking" and said it "was surreal."