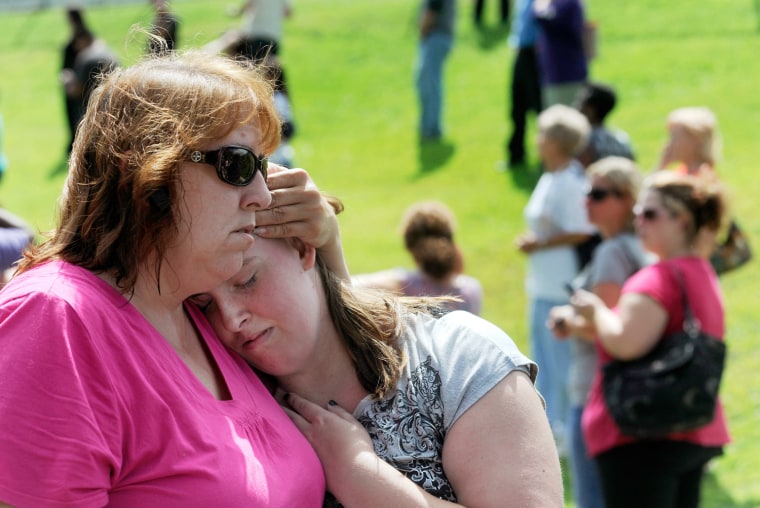 Updated at 5:54 p.m. ET: A Baltimore County, Md., high school student opened fire Monday in the school cafeteria on the first day of classes, critically injuring a classmate before he was rushed and subdued by teachers, authorities said.
The 15-year-old suspect was taken into custody. Police said the teen was cooperating with investigators.
Police said they didn't believe the victim, a 17-year-old male, was targeted by the shooter, who is also a student at Perry Hall High School in Perry Hall, Md. Police recovered the firearm, but would not say what type of weapon it was.
Baltimore County Police Chief James Johnson said the suspect acted alone. During a press conference in Perry Hall, Johnson did not answer numerous questions from reporters about a possible motive.
Johnson said at about 10:45 a.m., a student walked into the cafeteria and pulled out a gun. He fired one shot before being rushed by teachers, and another shot went off as teachers grabbed him, Johnson said.
Miranda Wienecke, a junior at the high school, said she saw the suspect with a "huge black thing." "I saw people getting under the table," Wienecke told The Baltimore Sun. "Then I saw people running. We heard this huge boom, then there was another one, everything happened very fast."
Kelsey Long, another junior at Perry Hall, said she was in the cafeteria when she heard gunshots. "I heard a loud popping noise and we thought it was someone popping a bag, but then we heard it again and everyone started screaming and ran out to the front of the school," Long told The Associated Press in a Twitter message.
Another student who didn't want to be identified said everyone then started running. "There was no thinking. I just ran. There was nothing I could do," the student told WBAL-TV. "As soon as I hit the front door, I saw people going out the side door. This one girl was on the ground getting stepped on."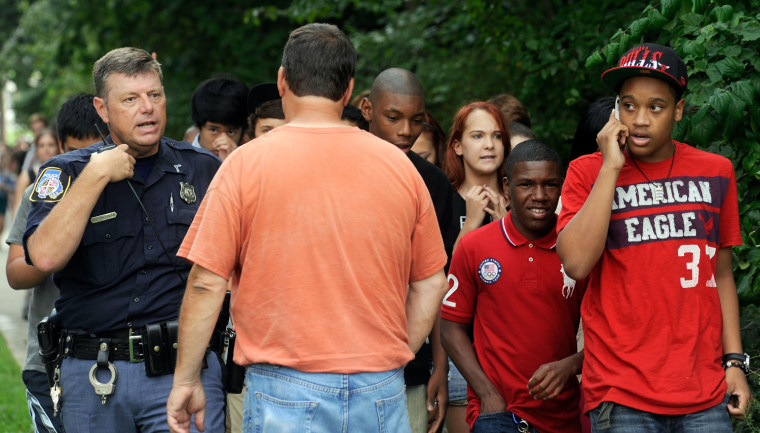 Police said several other students suffered minor, non-shooting injuries during the incident.
"We have some heroic and brave faculty members," Schools Superintendent Dallas Dance told the AP. "They responded very quickly to minimize damage."
The school was evacuated, and students were escorted to a nearby shopping center and middle school.
WJZ-TV showed video of a shirtless male with his hands behind his back being put into a police cruiser.
Perry Hall is a middle-class community along the Interstate 95 corridor, northeast of Baltimore city. The school is the largest in the county, with 2,200 students.
County Councilman David Marks, who lives next door to the school, told The Associated Press he had received dozens of phone calls and text messages from worried parents and residents. "This is a very comfortable, very safe community, and it's an excellent high school," said Marks, who graduated from Perry Hall. "I think this is an aberration, but clearly one that is horrifying, particularly on the first day of school."
Television coverage showed scores of police cars surrounding the school and parked on neighborhood streets. A group of officers with weapons drawn staked out a corner of the building, one of them lying prone on the ground and appearing to cover a particular area of the campus. Hundreds of students streamed away from the school toward a nearby shopping center where they met their parents.
Cathy Le, 15, said students were panicking as they tried to find out what was happening, texting and calling each other frantically as they waited in lockdown.
Le said she and other students were locked in their classrooms for more than an hour.
At the scene, buses, emergency vehicles and parents in cars filled the roadway between the high school and the shopping center. There were obvious signs of relief displayed as parents found their children.
Kristin Kraus, whose son James attends the school, described hearing about the shooting as "absolute terror." However, Kraus said, "within a couple of minutes he texted my husband that he was OK."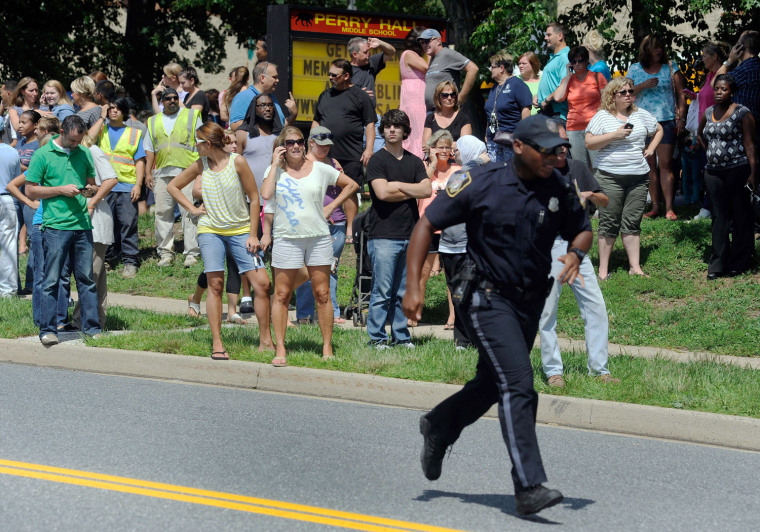 The Associated Press contributed to this report.
More content from NBCNews.com: