One of three students who leaped into action to stop a school shooter at a Denver-area school this month said Tuesday that he was acting on instinct, and that he wants to train as an EMT after the killing that left his friend dead.
Joshua Jones, 18, told reporters that he and two other classmates, Kendrick Castillo and Brendan Bialy, were in a British literature class at STEM School Highlands Ranch watching "The Princess Bride" on May 7 when "the shooter came in."
"He retrieved a gun from what he was carrying it in, he brought it up, said 'nobody move,'" Jones said. "Me, Brendan and Kendrick all got up ... pretty much at the same time."
Jones said that Castillo pushed the gunman against a wall, Jones pulled him to the ground and Bialy got the gun away from him. Jones was shot twice in the leg, and Castillo was killed.
"It was Kendrick that started it, and then Brendan, and then me," Jones said. "It was very quick, though. It was split-second for all of us."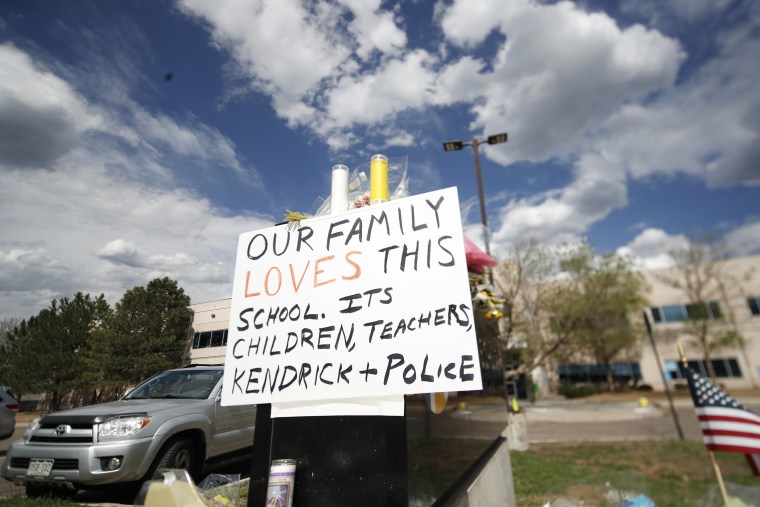 Two students were arrested in the deadly shooting, which also injured eight students at the school south of Denver.
Devon Erickson, 18, and a juvenile who police identify as a girl but who prefers male pronouns, are accused of entering the K-12 school with handguns that day. NBC News is not naming the juvenile suspect.
The two are being held on suspicion of murder and attempted murder, and prosecutors are expected to reveal Wednesday if they are going to charge the juvenile as an adult, the Associated Press reported.
Jones would not say Tuesday which suspect he and the other students confronted and disarmed, citing the ongoing police investigation.
"There wasn't a whole lot going through my mind," he said, adding that he was full of adrenaline and "tunnel vision." Jones said he does not remember much about the shooting.
"I had been taught — every time anybody ever talked about this kind of thing, they said, you know, get away, escape from the shooter and wait for the authorities to arrive," Jones said.
"But in that moment, I just did what was best for me," he said. "And I'm sure everybody else in the room did the same thing."
Jones is a senior and said his upcoming graduation will be somber, knowing that Castillo will not be there with his classmates.
"We're missing one of the kids who's been with us since the very beginning," Jones said. "Kendrick has been there for as long as I can remember." He said that he, Bialy and Castillo were "all really good friends."
Jones, who thanked the community and his Church of Jesus Christ of Latter-Day Saints for their support after the shooting, said that he plans on going on a church mission next year but then hopes to train to become an emergency medical technician.
He said he had thought about becoming an EMT before — along with other possible careers — but his treatment after the shooting helped make his decision.
"The EMTs were just so incredibly helpful and kind that, you know, I want to do that and I want to be able to help those that need it," he said.
Jones said does not consider himself a hero, but is glad with the choice he made that day. "I just hope that nobody else ever has to make that decision again," he said.